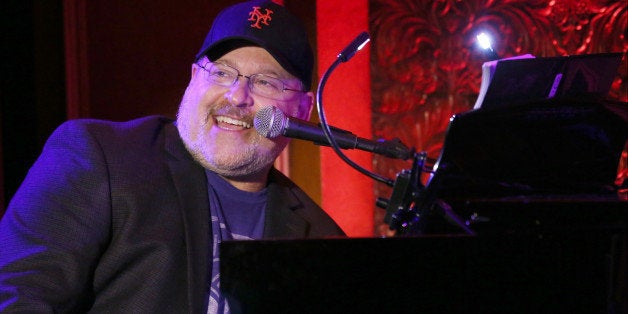 It might seem safe to assume that with more than a half dozen Broadway openings under your belt, success could be measured by incredible talent and critical acclaim. However, in the case of composer Frank Wildhorn, this formula comes with a curious nuance - on Broadway, he's often faced with both critics and acclaim, but hasn't been able to build a bridge to span these divergent shores of opinion.
In many ways 'the everyman's Sondheim,' the composer of underappreciated pop-infused works including Jekyll & Hyde, Wonderland, Bonnie and Clyde, and more, however, won't let criticism deter him from his life's work. "I think the key is that you've got to have some perspective on your life," Wildhorn said. "If you base your happiness or your self-worth or your esteem on reviews, then you're in trouble. You're not on a solid foundation."
I had a chance to catch up with Wildhorn on the eve of several shows at Broadway supper club, 54 Below (December 2-6), which will celebrate his prolific body of work - a version of his "Frank and Friends" concerts that have been performed internationally with symphony orchestras at a much larger scale. The evenings at 54 Below will feature performances by talent including celebrated jazz singer Jane Monheit, Janet Decal (Wonderland), Adrienne Warren (Bring it On), and two of Broadway's most recognizable young stars, Jeremy Jordan (Newsies, "Smash") and Laura Osnes (Cinderella, Anything Goes) - who assumed the title roles in Wildhorn's short-lived Bonnie and Clyde.
An example of his critiques, Charles Isherwood of The New York Times once described Wildhorn's shows bluntly as "the crab grass of Broadway..." "just [like] weeds [that] will crop up wherever lawns are laid..." despite being "liberally sprayed with herbicidal reviews." Stinging yet not surprising, as in recent years pop-centric musicals have often been received with a cold - sometimes lukewarm - reception by New York critics. On the other hand, they may still be embraced by audiences (not unlike shows in Las Vegas, or the pop-phenomenon of the last decade in London's West End), for being accessible and offering up a catchy score. The original production of Jekyll & Hyde, for instance, ran an impressive four years on Broadway despite mixed reviews.
When asked where he feels all the highs and lows have left him in his career, Wildhorn said, "I feel very, very much that this is a journey and I'm still in the beginning of it. I don't know where it's going to take me. We'll see."
Wildhorn's optimism is not unwarranted, either. Despite critics, his accolades reflect that of one of today's most successful contemporary pop composers and his achievements don't seem to be coming to a halt any time soon. In 1999 he became the first composer in nearly a quarter century to have three musicals running concurrently on Broadway (Jekyll & Hyde, The Scarlet Pimpernel, The Civil War) and in total has earned four TONY nominations. He penned Whitney Houston's #1 hit, "Where Do Broken Hearts Go," collaborated with megastars ranging from Kenny Rogers to Patti LaBelle, and had songs performed at the Olympics, Super Bowl, World Series and World Cup.
Wildhorn also helped shape the career of ex-wife and "Star Search" winner, Linda Eder, who played Lucy in the original production of Jekyll & Hyde. She has achieved considerable fame herself as a concert and recording artist, with more than a dozen or so albums featuring among their tracks many songs written for her by Wildhorn.
Although Wildhorn's short-lived shows on Broadway have failed to turn a profit, they continue to achieve international acclaim through approximately twenty titles including those performed in New York, as well as Svengali, Carmen, Excalibur, and Never Say Goodbye, among others. Wildhorn recently celebrated the 10th anniversary of Jekyll & Hyde in Korea (the country's longest running show) and is also developing several new works including Death Note, and Mata Hari.
"My philosophy in life is to always be a student," Wildhorn says, shedding new light onto his voracious drive and passion for composing. "Whether it's life, or sports, or sex, or love, or food or whatever it is, if you can always be a student, you're always going to be young, you're always going to be open to new things to learn."
Reflecting on his personal journey, Wildhorn added, "I think it's nice to have a hit show. I've had hit shows. It's so much nicer to have a hit life."
Divorced but with two kids and a new fiancé, Wildhorn points out, "If you have all of those things, and the music that you've written has taken care of you, your family, your friends, and done so much for so many people... if you can't wake up and appreciate what you've got, then you've got a real problem." He continued, "I try to keep that perspective and that balance in my life. In fact, that feeds into my work. My work is joyous. My life is a celebration. My music is as well."
However, the self-taught musician from Queens, New York who spent his formative years in Hollywood, Florida and describes himself as "the closest thing to a blue collar songwriter," Wildhorn admits that life wasn't always lush. In the 1980s his livelihood was dictated one song at a time, and the success of individual recording artists. "If that didn't happen," he says, "I was in trouble." But, talent and time helped him earn enough of a foundation to safely extend his pop career into the theater, through hits by Whitney Houston, Hootie & the Blowfish, Johnny Mathis, Trisha Yearwood and Natalie Cole, among other stars of the time.
He admits that he "never left the pop world behind," but rather sought to combine his love for it and the theater. "I was always kind of romantic enough to think that I could be a bridge between the two." His hunch paid off as the success off Jekyll & Hyde in turn helped add to his presence in the pop realm and vice versa, with among other examples, stars like Johnny Mathis and Styx recording hits from the show, like "Once Upon a Dream," the Moody Blues recording "This is the Moment," and celebrities like Danny Glover, James Garner, Ellen Burstyn and Patti LaBelle contributing to his concept album of the then Broadway-bound, The Civil War.
Despite being the place where he's met the most criticism, Wildhorn admits, "My God, when I do come back to Broadway, I will be so happy that I'm here. It's tough sometimes. I want to be here, I can't lie," adding the analogy, "if you're a baseball player, you want to play Yankee Stadium. I always want to be on Broadway."
"As far as dealing with critics and things like that, for whatever the reason, it's just this city (New York). At the same time, this city has given me eight Broadway openings, three at the same time, and done wonderful things for me. At the end of the day, I have nothing to complain about... nothing at all."
For information and tickets to "54 Below Celebrates Frank Wildhorn," visit www.54Below.com.