Bob Rizzo, Contributing Writer, March 22nd, 2016
Choreographer Lorin Latarro is one busy woman these days. Aside from appearing in 14 Broadway shows, she choreographed Broadway's Waiting For Godot with Sir Patrick Stewart and Sir Ian McKellen and is the Associate Choreographer of The Curious Incident of the Dog In The Night-Time and American Idiot. She's also the Associate Artistic Director for Bucks County Playhouse where she recently directed and choreographed the new musical, A Taste Of Things To Come. Lorin is presently the choreographer for Broadway's new production of Waitress, based on the beloved film by Adrianne Shelly. She's making Broadway history as part of an all-female creative team with this show that features original music and lyrics by 5-time Grammy nominee Sara Bareilles ("Brave," "Love Song"), a book by acclaimed screenwriter Jessie Nelson (I Am Sam) and direction by Tony Award winner Diane Paulus (Pippin, Finding Neverland).
Waitress stars Tony Award winner Jessie Mueller (Beautiful) as Jenna, a waitress and expert pie maker in a small town who dreams of a way out of her loveless marriage. A baking contest in a nearby county and the town's new doctor may offer her a chance at a fresh start, while her fellow waitresses offer their own recipes for happiness. But Jenna must summon the strength and courage to rebuild her own life.
I spoke with Ms. Latarro during a break from rehearsals regarding her work on this highly anticipated new show.
Congratulations on this new Broadway production of Waitress. How did the job come about?
Thank you! I had been in conversations with Diane Paulus for a while and we met a few times for lunch where I shared my ideas for the show. My approach was to get inside the lead character's (Jenna) head and make it more psychological than literal. I was more interested in letting audiences see what was going on inside Jenna's mind while she was baking the pies, rather than always sticking to watching her baking pies. I put some of my ideas on their feet and Diane felt we were both on the same page.
What does it feel like to be making history as part of the first all-female creative team on Broadway?
It feels pretty great and here's to more and more parity. And yes, it's thrilling that we're an all female team, but more importantly, my collaborators, Diane Paulus, Sara Bareilles, and Jesse Nelson, are at the top of their respective fields as artists.
How closely does the musical follow the 2007 movie?
It's actually quite close. In the film you have the beauty of close-ups whereas on stage you have to replace that with something else...like a song, an expressionalized moment, a dance.
Had you been familiar with the music of Sara Bareilles before starting the show?
Absolutely. I tease her all the time that in my mind we've been friends for many years. I think her music is beautiful and if you hear a song once you never forget it. Her lyrics are intricate and intelligent and the melodies are stunning. I own every one of her albums. She writes in a way that feels present and cool, and the waitresses in our show sing the way people sing on the radio today.
What's it like to choreograph to her music?
Sara's music choreographs itself. There are so many moments when she is so completely inside the characters head that the lyrics tell you exactly what needs to happen. Sara's music has a trance like quality at times, while other songs in the show are very funny patter songs.
Is there a significant amount of dance in the show? Are there many big production numbers?
I would say that it's more like physical theatre. My years dancing with Momix and Robert Wilson, lessons learned from my mentor Steven Hoggett, plus a personal passion for Bunraku come into play here. There's a lot of movement and dance but not in a way a show like "The Producers" has big numbers. But it's very physical and we are working on some lifts and lots of movement phrases and transitions. There are many moments of internal life that are physicalized so I work closely with the actors to come up with material and then there are a few numbers that happen inside the diner where people just get up and start dancing.
What is it about Diane Paulus's style that makes her such a great director? How do you two collaborate together?
Diane is very open in the room. She allows the process to happen. We come in with an idea and if things morph on their feet, she's okay with that. We end up with a bigger, bolder idea than where we began and I find that very exciting.
It's been a great collaboration as we share the same point of view as to where the show should be headed. Few things make me happier than when Diane gets up and starts dancing around the room.
Well, it's more like she jumps into their skin for a moment and shows them, "and then you come over here, and you put the salt and pepper down there, and then you run over here." It's really fun to watch.
Now that sounds like a true collaboration. Can you tell me a little about the cast?
Jessie Mueller is our leading lady. She's not only a lovely person, but also a beautiful actress. We also have a lot of Broadway debuts, which is very exciting. A lot of them are singers and actors first, so I'm giving them warm-ups including push-ups and sit-ups. I think I'm pushing them in a direction that feels like new territory for them, so it's a growing period for all of us.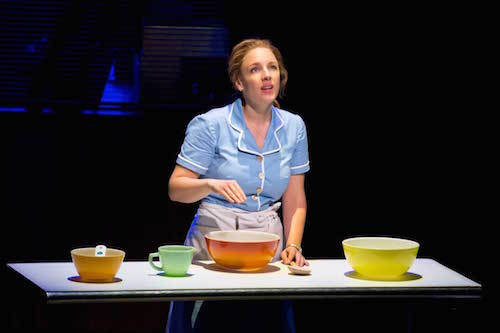 Jessie Mueller in the Broadway-bound musical 'Waitress' at its American Repertory Theater production, Photo by Jeremy Daniel
So how do you work with non-dancers versus dancers?
Well both excite me very much. Actors approach the material with questions that are always textual as opposed to dancers who are really excited by the kinetic energy. Actors don't let you get away with any lies. They want to know the truth of the scene first, the logic, so it forces me as a choreographer to make the dance come out of that truth. I have a very organic approach to the choreography so it stems more from their characters. That way it feels more like people dancing in a diner rather than a group of dancers dancing in a diner. Don't get me wrong, I also love working with dancers and love classic musical theatre equally as much as modernism. I'm happy to use whatever tells the story in the most unique and crystalized way.
Is there anything else you'd like to share about working on Waitress?
It's a show from a female protagonist's point of view, and it's refreshing and fun. Plus, it's a new musical, so we're making it up as we go along. It's all of us deciding how we want this beautiful thing to develop, behave and move- there are no rules, no blue print. For me, I'm literally floating on air coming to work everyday. I love the work and it's a very creative time.
Thank you, Lorin. I look forward to seeing the show!
Read more about Waitress, and other Broadway musicals opening this spring here.
Complete arts & culture news from ZEALnyc is available here.
REAL LIFE. REAL NEWS. REAL VOICES.
Help us tell more of the stories that matter from voices that too often remain unheard.