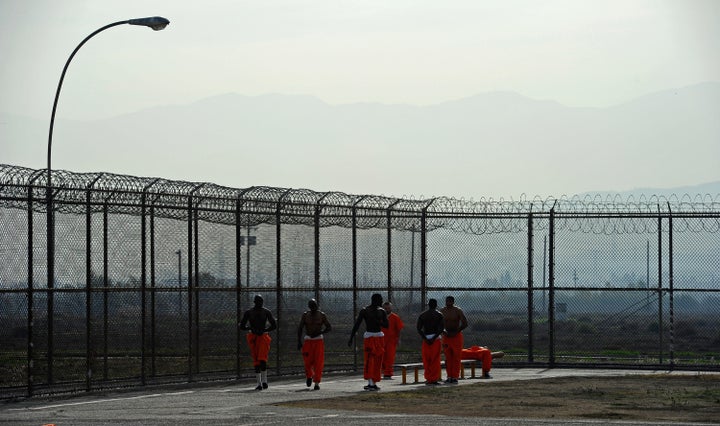 "A restaurant, a mosque, a study hall, a bedroom, a life all in six cubic feet." ~ Aly Tamboura
On a sunny California morning I made my way over the Richmond San-Rafael Bridge towards San Questin State Prison. My first trip to a prison in California was the result of an invitation from Zoe Mullery, a writer and teacher, and Larry Brewster, a professor at the University of San Francisco. Zoe's creative writing class, Brothers in Pen, was celebrating the release of their anthology, Brothers in Pen: Six Cubic Feet with a reading.
From a distance, San Quentin is a daunting site. It's a hunk of a building perched on an edge of land overlooking a magnificent view of the ocean. An ocean some of the men inside might never enjoy.
I was keenly aware of this walking through the fortress-like checkpoint. Getting our IDs checked, walking through double sets of iron clad doors; this all seemed routine. This is always what it feels like to enter a prison. To know you are being watched, tagged, followed and monitored. It's supposed to make you feel safe, but for some reason, it always leaves me with an uneasy feeling.
As I walked into the Catholic Chapel where the reading would be held, the Brothers were already inside greeting their audience. I walked up the aisle, shaking hands with as many men as I could. I was met with warm smiles and a symphony of "hello's, "welcome's" and "thank you for coming's." I then settled into the second row pew. I didn't want to miss anything.
The reading began with a recitation of Pulitzer Prize winning author Junot Diaz's forward. The final words of his essay read " ...let these stories, these poems, these testimonies, these songs from behind bars, serve ever to remind us of the people we are locking up -- men and women who are, for all they have done and that has been done to them, our brothers and sisters."
This was so fitting because every single reading -- all twelve of them -- illuminated some aspect of the human experience. These were stories about loss, failure, revolution, science fiction, success, pain, wonder, pride and love. These were stories about men who had made mistakes, men who had sacrificed for their families, men who were trying to envision a new and different world.
Troy "Kogen" Williams was visibly surprised when he was called to read first. His story set the tone. As he read his story about the election of Barack Obama from an incarcerated man's perspective, these words stuck in my memory: "For the first time in Tem's mind, he felt as though this country had accepted his people -- that they were not just former slaves but Americans of African Descent."
I cried listening to Andrew Gazzeny's story, a stocky man with a gentle smile who struck up a conversation with me before the reading began. He told me that he never thought of himself as a writer. In fact, he found Zoe's class by accident. That first class, he sat there and listened, his interest piqued. He continued to attend the class for months before actually signing up. He finally decided to take it after having written something and getting positive feedback from people. "I thought I could write when I wrote something people actually wanted to read," he said. Andrew's reading described his life as a set of failures. His reflection on his own aspirations, his insurmountable admiration for his father and his struggle to get things right spoke to each of us in that audience and reminded us of just how arbitrary a good life can sometimes be.
Finally, just when I thought I would burst of stories and voices and emotion, Keshun Tate aka Daleadamown Abu Muhsin gave the performance of a lifetime. From the back of the chapel, he enacted the role of a slave at the moment of emancipation; a slave who could not accept the concept of freedom. He transformed that space, not just because he was no longer wearing the standard blue prison garb with a CDC label or because he was picking imaginary cotton from the pews, but because his body and voice dictated another time and place. As an actor, I was taught that acting is living truthfully under imaginary circumstances; this man -- this artist -- was doing that.
Throughout the entire reading, fellow Brother in Pen JulianGlenn "Luke" Padgett spoke with confident and witty authority, introducing each writer to the podium with respect, admiration and camaraderie.
These men were not prisoners. They were writers, friends, teachers, creators, lovers, brothers, sons and fathers. In each of these stories lay the foundation of humanity. In word, inflection and intention was the truth: everyone has a story. One story is no better than the other, but collectively, they make up life as we know it.
Last month, the state of Georgia executed Troy Anthony Davis. He, too, had a story. Some believed him, some didn't. But in the end, he was human like everyone else. Isn't that valuable? It is hard to believe that we live in an age where people are so filled with hate that taking a life is satisfying. I hope that through books like Six Cubic Feet, we can see humanity, regardless of who people are or what they've done (or in some cases, what they have not done). Troy Davis' humanity was expressed, like the Brothers in Pen, in words from his final letter to the public:
"I want to thank all of you for your efforts and dedication to human rights and human kindness. In the past year I have experienced such emotion -- joy, sadness and never ending faith. It is because of all of you that I am alive today. No matter if that is in physical or spiritual form, I will one day be announcing, 'I AM TROY DAVIS, and I AM FREE!'" (Letter from Troy Davis)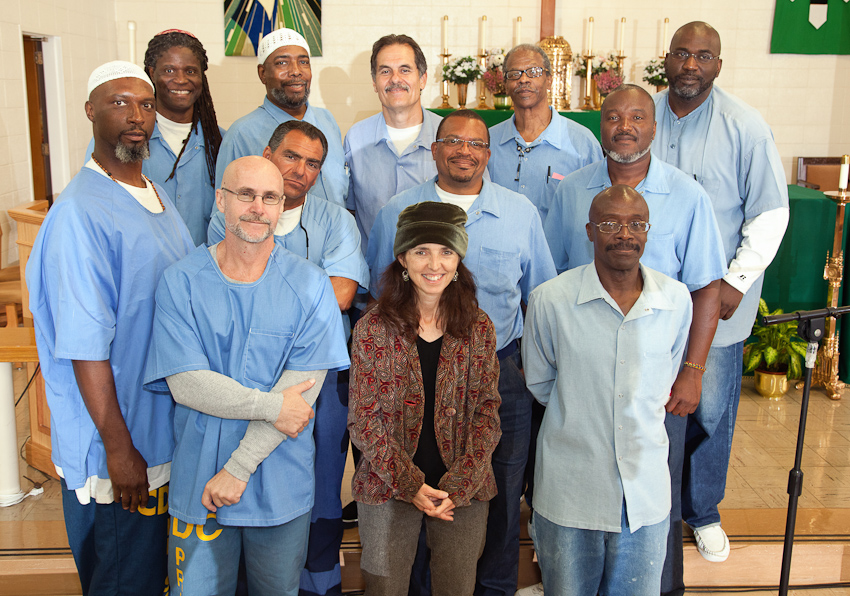 Brothers in Pen with Zoe Mullery. Photo by Peter Merts, Courtesy of William James Association