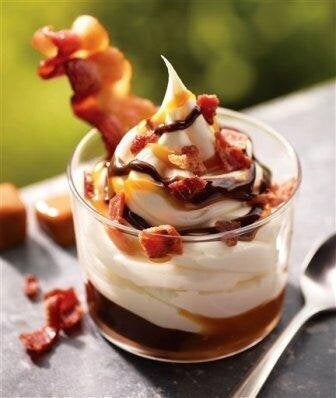 News flash: everyone loves bacon. That's why Burger King has rolled out a Bacon Sundae nationwide as part of their "Summer Menu," which also includes Frozen Lemonade, Sweet Potato Fries, BBQ Pulled Pork sandwich and BBQ burgers and chicken sandwiches. These items were originally tested in Nashville, TN, earlier this year.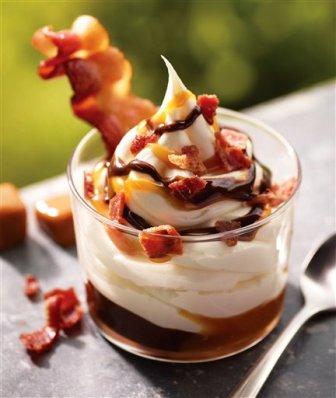 Here's what I say to all the bacon zealots out there: if you love bacon so much, why don't you marry it?! Oh, wait...you did. I've said it before and I'll say it again, bacon is good. I like it by itself. I like it on burgers. I sometimes like it on sandwiches. But other than that, I generally don't want it anywhere near my food, especially if said food is sweet. Bacon and sweet things do not go together. It's wrong.
The worst experience I've ever had with bacon was definitely the Bacon Shake from Jack in the Box. In fact, I even said "I would rather lick a urinal cake from a Jack in the Box bathroom than have another Bacon Shake," which is true. Of course, that doesn't really count as bacon invading my food because it didn't actually have any bacon in it, which is even worse. Bacon-flavored things suck even more than bacon-infused things, because they never taste quite like bacon.
Despite my hatred for such products, I agreed to try it out. It couldn't hurt, right? I'll just go get it, take two bites, throw the rest away and write about how much it sucked. Sound good? Good.
So I went to my local BK and asked if they had the Bacon Sundae. The girl at the drive-thru very excitedly said, "Yes, we do." She said she hadn't had one yet but that one of her co-workers said it was delicious. My expectations remained alarmingly low. Like Adam Sandler's "That's My Boy" low. I dished out $2.59+tax and went on my way.
Burger King describes this porcine confection as such:
Sweet and savory made with cool, creamy and velvety vanilla soft serve, chocolate fudge and smooth caramel, made to order with our new thick hardwood smoked bacon.
It's a decent-size sundae, with plenty of chocolate and caramel sauce. More surprisingly, it features a good amount of bacon. Aside from the full strip impressively standing at attention (shocking for fast food bacon), I would estimate there were 2-3 strips cut up on top of the sundae. Of course, the fact that they didn't skimp on the bacon doesn't automatically make it a success.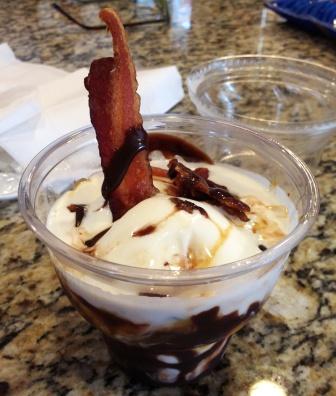 I stuck my spoon in, afraid of what would come when I took that first bite. When it first hit my mouth, it was sweet; no bacon flavor. But as I continued to chew, the bacon came through. It was crunchy, salty and smoky. I kind of wished the bacon wasn't there, but I didn't hate it. As I continued to eat it, I enjoyed the Bacon Sundae more and more. The saltiness of the bacon was a nice contrast to the sweetness from the rest of the ingredients. I also really liked that the bacon added a crunchy element to the smooth soft-serve.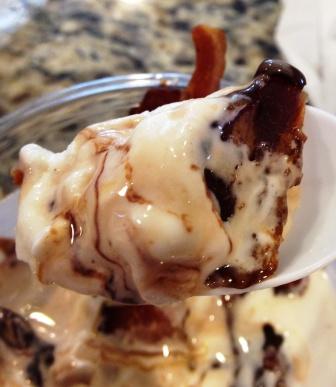 As I got near the bottom, I was amazed that there was still bacon left. It was like the exact opposite of a McFlurry, where the toppings are all on top so when you get to the middle you're really just having soft-serve. Then as I finished, there was still one thing to take care of: the fudge-covered strip of bacon. That was the best part.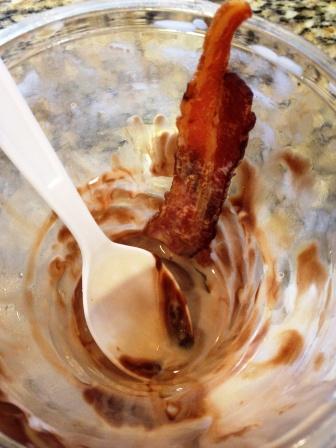 I'll be honest, I'd still rather have a fudge and caramel sundae with no bacon. But my expectations for the Bacon Sundae were greatly exceeded. I probably won't eat it again; in fact I can almost say with 100% certainty that I will not. However, that doesn't mean it was not a success. The ingredients went together extremely well, and this guy, the one who hates bacon in sweet things, ate the entire sundae and didn't have to hold his breath while doing so. In fact he quite liked it, and gives it 7/10.
If you're not a bacon lover, I don't think I need to tell you to stay away, but if you like bacon, you should absolutely try Burger King's Bacon Sundae. At $2.59, you get a good-sized sundae with bacon in every bite. It's only available for a limited time, so you better put on your elastic sweatpants and waddle down to BK soon!

Nutrition Facts: 510 calories, 15g protein, 75g carbohydrates, 61g sugar, 18g fat, 10g saturated fat, 0g trans fat, 40mg cholesterol, 670mg sodium
Related