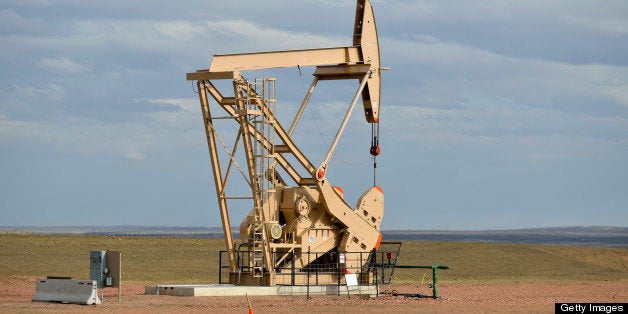 SAN FRANCISCO -- California fracking opponents put three new feathers in their caps on Monday as a trio of bills that would halt the controversial practice took major steps forward in the state legislature.
The bills in question, which were given the stamp of approval by the state Assembly's Natural Resources Committee, would place an immediate moratorium on the process of hydraulic fracturing, an oil and natural gas extraction technique that involves injecting a high-pressure mixture of water, sand and assorted chemicals into the ground.
"They're all good bills and they would all do pretty much the same thing," said the Center for Biological Diversity's Patrick Sullivan, a fracking opponent who explained that some of the bills may eventually be combined. "There's clearly support in the assembly for a moratorium on fracking."
Assemblyman Richard Bloom's (D-Santa Monica) bill would put a moratorium on fracking and require legislative action to lift it, while Assemblywoman Holly Mitchell's (D-Los Angeles) bill would only lift the moratorium after an independent commission studies the practice's environmental effects. Assemblyman Adrin Nazarian's (D-Van Nuys) bill only applies to the area surrounding sources of groundwater that could theoretically be contaminated by the release of fracking wastewater.
While nearly a dozen new laws aimed at fracking regulation are currently making their way through the California legislature, the ones that passed the Natural Resources Committee earlier this week took the most aggressive stance against the practice.
Other bills, such as one introduced by state Sen. Fran Pavley (D-Agoura Hills), would require drillers to apply for a permit before fracking a well, publicly release the composition of all chemicals used in fracking, notify all adjacent property owners at least 30 days in advance and require an independent study looking at health effects of fracking.

The Golden State doesn't currently have any rules specifically regarding fracking, although officials at the California Department of Oil, Gas and Geothermal Resources are in the process of developing a new set of regulations they hope to impose sometime next year.
"There is a new interest in regulating fracking this session because the people are demanding it," said Kristin Lynch, a director at the environmental organization Food And Water Watch, when asked why legislators are suddenly introducing a flurry of measures when the process has been used in the state for decades. "You look at the sentiment of Californians about global warming and moving to renewables and you see how fracking is a hindrance to that."
Lynch noted that fracking opponents sent some 10,000 emails to the members of the Natural Resources Committee over the issue.
However, industry advocates argue that fracking's record in the state is spotless and that enacting a moratorium could hurt California's economy. The Sacramento Bee reports:
Paul Deiro, a lobbyist testifying on behalf of the Western States Petroleum Association, said previous bills were "far more reasonable than the three moratorium bills you hear today" and argued that there is no evidence that fracking is unsafe.

"The proponents of a moratorium have often said we don't know, we need to collect information and find out," but there are no cases of proven well failure or groundwater contamination in California, Deiro said. He added that a fracking ban would mean the energy-rich Central Valley "loses the potential of creating millions of jobs."
Industry-run disclosure site FracFocus, where energy producers publicly release fracking activity on a voluntary basis, reports that the technique has been employed at 851 wells in California -- the vast majority of which are in Kern Country, near Bakersfield.
The three fracking moratorium bills are expected to head to the California Assembly Appropriations Committee later this month.
Calling all HuffPost superfans!
Sign up for membership to become a founding member and help shape HuffPost's next chapter
BEFORE YOU GO
PHOTO GALLERY
Drilling And Fracking Photos