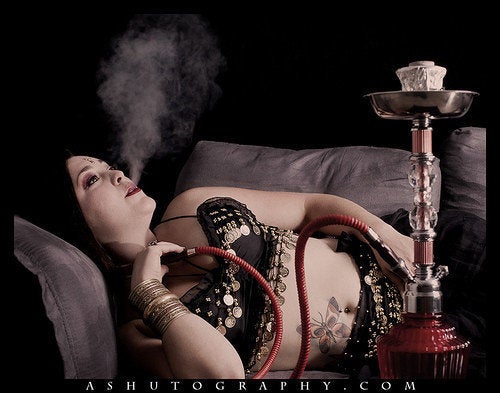 Cigarette smoking in California has fallen sharply in recent years, but new research finds that hookah use is on the rise, especially among young adults.
Between 2005 and 2008, the number of California adults who had ever used a hookah jumped by more than 40 percent, to 11.2 percent among men and 2.8 percent among women, according to researchers at UC San Diego. Among young adults ages 18 to 24, 24.5 percent of men and 10 percent of women had used a hookah in 2008.
The findings, based on data from the California Tobacco Survey, offer the first look at hookah use in the state over time. The study was published online last week in the American Journal of Public Health.
Researchers first asked about hookahs – glass pipes used to smoke water-cooled tobacco that is typically flavored – in the 2005 survey. When they asked the question again in 2008, the result was startling.
"We were alarmed and rather surprised," said Wael Al-Delaimy, co-author of the study and chief of the global health division at UC San Diego's Family and Preventive Medicine Department. "While cigarette smoking is declining … this is going up."
In California, hookah use is most prevalent among 18- to 24-year-olds, men, whites and those with college educations. Its use among women, who are not the traditional consumers of smokeless tobacco products, is rising rapidly: Among all adult women, use jumped 47.4 percent between 2005 and 2008, the study found.
The data do not show whether people currently smoke a hookah or how often, but future surveys will ask these questions, Al-Delaimy said. Still, he said, more education and policies are needed to curb hookah use.
"The education level about it is very low," he said.
Earlier this year, Al-Delaimy published a study that found 59.5 percent of high school students believed a hookah was more socially acceptable than cigarettes, and 46.3 percent believed it was safer. About 26 percent of the students, all from San Diego County, said they had smoked a hookah before.
Al-Delaimy said hookah lounges, which are especially popular with college-aged adults, encourage the water pipes' use. He and his fellow researchers called on policymakers to consider bans on hookah lounges, which they said imply that hookah smoking is safer and more socially acceptable than cigarette smoking.
Several California cities and counties have placed restrictions on hookah lounges, and the number of local laws targeting smoking is on the rise, said Paul Knepprath, vice president of advocacy for the American Lung Association in California. Last month, for example, San Francisco public health officials threatened to shut down an estimated 17 hookah lounges that they said were violating state and local bans on indoor smoking.
"Smoking hookah is not safe; it's a tobacco product, it's harmful to your health and to people around you," Knepprath said. "It needs to be made crystal clear that hookah is tobacco and carries with it the same risks for lung disease and other health problems (as) any other tobacco product, like cigarettes and cigars."
This year, the association co-sponsored a bill that would have effectively halted hookah lounges by eliminating exemptions for tobacco retail shops and owner-operated businesses in the California's smoke-free workplace law. But the bill, by Sen. Mark DeSaulnier, D-Walnut Creek, was quashed in July in the Assembly Governmental Organization Committee.
In the hearing, the committee chairman, Assemblyman Isadore Hall, D-Los Angeles, said he would put SB 575 to a vote only if DeSaulnier accepted three amendments, including one to retain exemptions for owner-operated businesses.
"This bill will die if I take a vote on it," Hall said. "I'm not willing to take a vote and to hear the bill unless you're willing to take all three amendments."
DeSaulnier argued that the owner-operated business provision was an important one because many businesses were claiming to be owner-operated when they were not, thereby allowing smoking in their facilities. He declined the amendments and says he will work on getting the bill approved next year.
"SB 575 closes loopholes in the original smoke-free workplace law," he said. "This will make it easier to enforce the law and clamp down on hookah lounges."
Joanna Lin is an investigative reporter for California Watch, a project of the non-profit Center for Investigative Reporting. Find more California Watch stories here.
Related
Popular in the Community