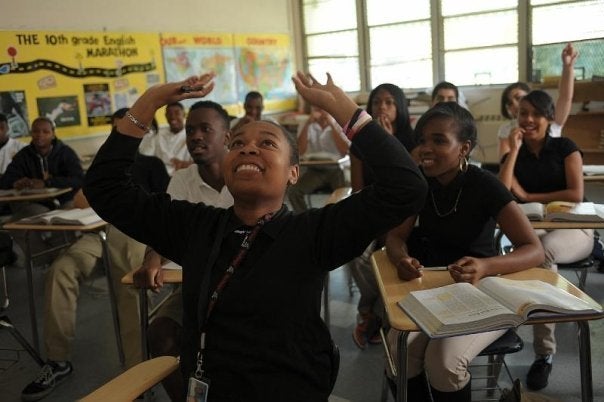 Hurricane Sandy gave Southern California school districts a few extra days to send their applications to Washington D.C. for $400 million in Race to the Top grants.
But even with the extra time, several school districts say they have to pass on the "free money" because local teachers' unions won't sign off on the applications -- an eligibility requirement.
Los Angeles Unified Superintendent John Deasy and United Teachers Los Angeles officers met last week and talked over the weekend but the union refused to sign off on the district's hefty application for the $40 million grant.
The applications were due at the Department of Education in Washington D.C. Tuesday, but the deadline was pushed back because mail and deliveries were delayed by Hurricane Sandy.
The two sides resumed informal discussions on Monday after the deadline was extended because of Hurricane Sandy, but still couldn't reach an agreement.
"It seems that UTLA can't sign the grant," said a frustrated Deasy. "Their reasoning is difficult to pin down. I don't understand it."
UTLA President Warren Fletcher said the union analyzed the district's proposal, which focused on keeping middle school students on track for high school graduation, and determined that the numbers simply didn't pencil out.
"Race to the Top costs more than it brings in," Fletcher said. "You're essentially setting up a system with a lot of bureaucracy, and those pieces have to stay
in place after the grant period."
Fletcher said previous concerns about a more rigorous teacher evaluation -- a requirement of Race to the Top -- weren't a contentious issue since the UTLA and the district are already negotiating a new system under a court order.
Still, he said, "There were enough issues out there that were complex enough that we could not get to the point where we could get together with the district."
Race to the Top grants have previously been awarded at only the state level, with California losing out on its two bids for funding.
The first-ever district grants focus on efforts to reform underperforming schools and close the achievement gap among struggling students. Just 15 to 20 allocations will be made, with $10 million for the smallest districts up to $40 million for large districts like LAUSD.
Glendale Unified hoped to win $40 million, with plans to hire 60 teachers and counselors to help struggling elementary and middle school students in the 26,250-student district.
Superintendent Richard Sheehan said Glendale Unified's 70-page application was strong, and would have helped close the achievement gap among English-learners and students with special needs.
However, the union balked because district officials refused to guarantee there wouldn't be teacher layoffs even if they get the grant and voters approve Proposition 30 next week, averting $5.4 billion in cuts to the state's public schools.
"The foundation of the education system is having teachers in the classroom," said Glendale Teachers Association President Tami Carlson. "Race to the Top is like adding a new room onto the house. You need the foundation to be solid for the new addition to be stable."
West Covina Unified also can't submit its application because the teachers association was uncomfortable basing the grant requirement on its newly implemented evaluation system. That means, Superintendent Debbie Kaplan said, that the district will miss out on $20 million to promote science and technology programs.
"Of course it's disappointing," Kaplan said. "Although there's no guarantee that we would have gotten it, I think it made us feel that in these financial times, we can do something proactive to try to support our students."
When the new Race to the Top competition was announced in August, nearly 900 districts nationwide indicated they planned to compete, including 76 from California.
The Santa Monica-Malibu Unified and Lancaster School districts were among them, but their superintendents said Monday the application procedure was too arduous to complete.
It does appear that Southern California will have one applicant in the running.
Green Dot, a 12-year-old charter schools organization, filed its application for a $30 million grant that it wants to use to boost its science and social studies courses, expand its use of technology and strengthen its support of college-bound students.
CEO Marco Petruzi said the 530 members of Green Dot's teachers union not only endorsed the application but were part of its development.
"They view themselves as partners in our mission," he said. "They share the responsibility for getting our students college, leadership and life-skills ready.
"They want to win the money as much as we do.
Los Angeles Unified school board member Steve Zimmer said he'd hoped the Race to the Top application would help create that type of collaborative relationship between the district and UTLA.
Zimmer, a veteran teacher and counselor, said he'd been involved in the weekend discussions and was disappointed the two sides couldn't reach a compromise.
"Race to the Top is not a make-or-break issue, but it is symbolic," he said. "If we'd put together the application, it would have meant that we had to work together.
"This was the opportunity to do things in a very different way."
barbara.jones@dailynews.com
twitter.com/LADNSchools ___
(c)2012 the Daily News (Los Angeles)
Distributed by MCT Information Services
Popular in the Community