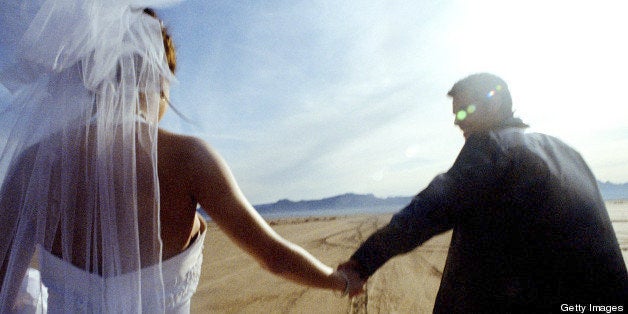 "I promise to be true to you, in good times and in bad, in sickness and in health. I will love you and honor you all the days of my life."
Little did my husband, Alex, and I know that a mere four years after reciting these vows -- when we were just entering our 30s -- we would be asked to live up to them. That was when we discovered that Alex had advanced testicular cancer, and his surgery and chemotherapy treatment would begin right away.
Learning that your husband has cancer is shocking at any age, but hearing this news when you are just starting to build a life as a couple and a growing family is surreal. Like so many other young adults, your first thought when your husband complains about an ache or pain is not, "Oh boy, he must have cancer" it's more like, "Buck up, I just delivered a 9.5 lb. baby with no medication!" Yet, at a time when we should have been picking out paint colors for our new condo, enjoying our then 1.5 year old daughter and planning our next vacation we were thrust into roles we thought we had decades to prepare for. Overnight, I went from young wife, mom and graduate student to caregiver. Alex went from healthy husband, father and new employee to patient. So, we put aside the Benjamin Moore paint wheel and replaced it with a countless number of fact sheets comparing and contrasting the efficacy and side effects of chemo regimens. I spent days at a time on the phone sorting out our rarely used health insurance coverage, short term disability benefits, family medical leave policies and figuring out who was going to take care of our daughter when we were in the hospital for 5-6 hours a day, five days a week for Alex's infusions. And of course, we cannot forget the trips back and forth to the sperm bank since the cherry on top of the cancer sundae is that the chemotherapy that Alex was about to receive would most likely make him infertile.
Yet, it was after Alex's treatment ended, when the meal deliveries from friends, email messages, and daily support started to slip away when we found our real journey began. There are the common survivorship concerns that we discuss and keep an eye out for: recurrence, increased risk of early heart disease, kidney damage, neuropathy, fatigue and infertility to name a few. Then there are the not so expected "life" side effects we have dealt with, such as: applying for a mortgage and needing to explain why you had been on short term disability, not feeling free to change jobs (because you don't want to rock the health insurance boat), securing life insurance, worrying about every ache and pain, and the most hurtful: a shift from an optimistic view on life to a pessimistic one. For us, these ongoing logistical and emotional aftershocks of cancer have changed not only who we are individually but who we are as man and wife. Battle scars inside and out, we now know that we are living a life that we could never have envisioned when we walked down the aisle mere kids nearly nine years ago. Our love and adoration in each other's strength and compassion is limitless. And although cancer has taken so very much from us it has also given us a great gift that many of our young adult peers cannot boast. Our marriage has been tested- and it has been found worthy.