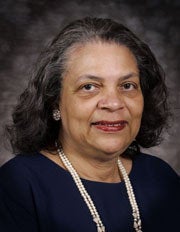 The Democratic vice chairwoman of the Kansas state Board of Education said redistricting is complicating her efforts to defeat challenger Jack Wu, a Republican, who she said would turn the state into a "laughing stock" again.
Carolyn Campbell said a federal court redistricting plan, which placed several new counties into the 4th District, is making her bid for a second term tougher as she seeks to introduce herself to new voters outside of her Topeka base. She noted that straight party line voting could help Wu, who is running on an anti-evolution platform and said he believes the state's public schools teach children to be thieves, perverts and murderers.
"I am concerned that people go straight down the ballot," Campbell told The Huffington Post. "A lot of people don't study who the best candidate is. I am working hard to get my message out to the new counties that I have."
Wu, who moved from California to Kansas to join Fred Phelps' Westboro Baptist Church, has generated headlines with his platform. On his website, Wu crusades against the teaching of evolution, which he has made the centerpiece of his campaign. He has called the city of Topeka "evil" and the state of Kansas "perverse." Public schools in Kansas and the United States are teaching students to be "liars, crooks, thieves, murderers, and perverts," he said.
Wu also made news Tuesday amid accusations he did not know where the state Capitol building in Topeka was, charges he denied.
Wu is calling for scripture to be taught in place of science textbooks and to revoke the teaching licenses of pro-evolution teachers. "Let's be specific. Evolution should never be taught in public schools as science. Evolution is false science! God made the heaven and the earth and created humans from the dust of the earth," Wu wrote on his website. "The very bad teachers that teach that men descended from apes via evolution need to have their teaching licenses revoked. Yes, students should be taught that God created everything."
Campbell said that she is pro-evolution and that she wants to avoid having the debate come up again in Kansas. In 2005, the state Board of Education voted to downplay the teaching of evolution in favor of intelligent design following several months of hearings.
"I don't want our children to go off to college without all of the information they need to know," she said. "We need to teach evolution to our children. I don't want Kansas to be the laughing stock of the world as we were with the fiasco a few years back."
Campbell criticized Westboro Baptist Church, known for protesting military funerals, saying that she finds Phelps and his members' "hatred ... very, very sad."
She also addressed rumors in the community that she is not a Christian because she is pro-evolution. "I am a Christian," she said. "I have believed in God all my life. I have not let my personal beliefs interfere on any issue. I do what is best for our children."
Wu did not return an email request for comment.
Campbell said she understands the governor's decision. "It would have been nice if he could have made a lukewarm comment, but I understand politics," she said.
Her focus in a second term is on early childhood education, job skills training and increasing the teaching of the African-American experience in Kansas, said Campbell.
Campbell also fought back against Wu's description of Topeka and Kansas. A Topeka native, she stressed, "I love, love, love Topeka."
"There was plenty of that in California. He could have stayed there and helped California."
*************************
What's happening in your district? The Huffington Post wants to know about all the campaign ads, mailers, robocalls, candidate appearances and other interesting campaign news happening by you. E-mail us any tips, videos, audio files, and photos to election@huffingtonpost.com.
Calling all HuffPost superfans!
Sign up for membership to become a founding member and help shape HuffPost's next chapter
BEFORE YOU GO
PHOTO GALLERY
2012 Swing State Polls