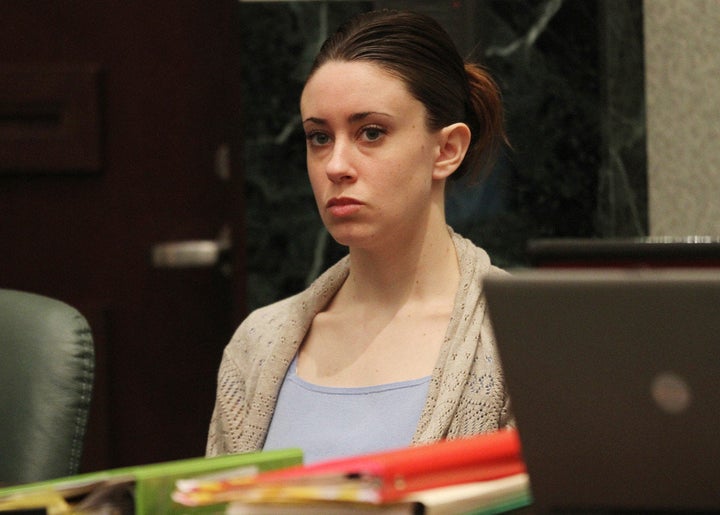 During opening statements, Casey Anthony's attorney shocked a packed courtroom when he said her 2-year-old daughter Caylee was the victim of an accidental death and not a murder.
Today, prosecutors dropped their own bombshell when they provided her attorney with a notice of discovery that suggested Anthony may have stolen that story from a fellow inmate at the county jail.
Addressing the courtroom outside the presence of the jury this afternoon, Assistant State Attorney Linda Drane Burdick said authorities received the information late last week when a citizen called the Orange County Sheriff's Office and left some information about April Whalen, an inmate who may have had contact with Anthony at the Orange County Jail.
"Apparently [Whalen's] child died in a swimming pool and was found by the child's grandfather, who immediately administered CPR and called 911," Burdick said.
Whalen's tragedy occurred in her family's backyard pool in eastern Orange County on Christmas Day 2007. According to police, 15-month-old Isaiah Whalen was left unattended and was not found for about 20 minutes. The child was later pronounced dead at Florida Hospital East.
Anthony, 25, is accused of multiple charges including capital murder, aggravated child abuse, aggravated manslaughter of a child and misleading law enforcement in the death of her daughter. The prosecution is seeking the death penalty.
During opening statements, Anthony's attorney, Jose Baez, said "Caylee Anthony died on June 16, 2008, when she drowned in her family's swimming pool."
According to Baez, Casey Anthony, Caylee, and Casey's father, George Anthony, were home alone on the day the alleged accident occurred. The attorney said it was in the early morning hours of June 16 that George noticed Caylee was missing and he and his daughter began a frantic search -- looking under beds and in the garage. It was during that search that George Anthony decided to take the search outside, to the above-ground pool, Baez said.
"As Casey came around the corner [of the pool] she saw George Anthony holding Caylee in his arms," the defense attorney told the jury. "She immediately grabbed Caylee and began to cry. Shortly thereafter, George began to yell at her: 'Look what you've done. Your mother will never forgive you and you will go to jail for child neglect for the rest of your frigging life.'"
Whalen's and Anthony's stories are eerily similar; the only apparent difference being that Whalen's family immediately contacted police, whereas Baez claims his client did not -- something he also had an explanation for during opening statements:
"Casey should have been stronger. Casey should have called 911. Casey should have done the right thing and that's what she's guilty of," Baez said. "[But] she's not guilty of murder."
WATCH (STORY CONTINUES BELOW VIDEO):
According to Burdick, Whalen, 30, spent a "brief period of time" in a cell adjacent to Anthony's in June 2009. Whalen said she did not talk to Anthony but could not remember if she discussed her child's death with any of the other inmates.
"So, at the present time, it's being explored if there was indirect contact," Burdick said.
Also listed in the state's new notice of discovery is information allegedly recovered from a hard drive on the Anthony family computer on the morning of June 16, 2008 -- the day Caylee allegedly drowned.
"An examination of the hard drive indicates there was substantial computer activity that would rebut a lot of what Mr. Baez said in opening statements," Burdick said.
The prosecutor added: "Our use of these items would be exclusively in rebuttal if Ms. Anthony or another witness were to testify about specific activity occurring on June 16."
Baez objected to the possibility of the items being entered into evidence, saying they were a direct violation of Judge Belvin Perry's discovery order. Perry disagreed and overruled Baez.
Meanwhile, the defense called a small handful of witnesses to testify on their behalf today, including Orange County crime scene investigator Jennifer Welch, forensic botanist Dr. Jane Bock and Yuri Melich, the lead detective in the case.
Welch was shown photos of the crime scene and questioned about missing vegetation, which she explained was removed because it was obstructing the view of investigators.
Bock testified she examined the crime scene in February 2009 and also reviewed investigative reports and photos. An examination of "the pattern of leaf litter" in the area indicates Caylee's remains could have been placed there about two weeks before they were found, she said.
The defense questioned Melich about searches he had conducted of the Anthony family home and asked him if, during those searches, he found any evidence of chloroform. Melich said he did not, but also pointed out that he was not initially looking for items related to the chemical.
Testimony in the case is scheduled to resume at 9 a.m. on Wednesday.
SEE CASEY ANTHONY'S PERSONAL PHOTOS:
PHOTO GALLERY
Casey Anthony Personal Photos
REAL LIFE. REAL NEWS. REAL VOICES.
Help us tell more of the stories that matter from voices that too often remain unheard.