Wouldn't it be great if you could do something relatively easy to improve yourself, and your family?
Now let's scale it up. What if that same action could help your neighborhood? Your city? Your state?
Whoa, now it's starting to get intimidating ... and, hopefully, intriguing.
Here's the deal: Tuesday is World Heart Day, and this year's theme is creating healthy heart environments. While this might sound like a lofty challenge best suited for people with deep pockets and powerful connections, it truly requires nothing more than being inspired.
If you're willing to merely invest some time and effort, everything else is in place to help you make a difference in your life and the lives of those around you.
It's already happening in communities around the country -- such as Dayton, Ohio, where Dr. Mary Chace is helping lead the charge.
Get a school to open its fields, gymnasium and/or weight room to the public when those facilities are not being used by students.
Get someone knowledgeable to organize programs, from spin classes to jazzercise, running clubs to badminton leagues, tai chi to Zumba.
Spread the word.
The concept is called "shared use," a name that's perfect because we all learned about sharing in school. It is even more perfect when you line up a few other facts.
Let's start with the most obvious, that schools are paid for by taxpayers.
Then there's the cruel reality about Americans: Most of us weigh more than we should and exercise less than we should. Surely it's not a coincidence.
Put it all together and you and your family could partake in fun, healthy activities at a nearby place built and/or maintained by your taxes.
Nothing is ever as easy as it seems, and there are some challenges any grassroots campaign might face. There's good news about that, too: Easy-to-follow toolkits are a few keystrokes and mouse clicks away thanks to people like Chace.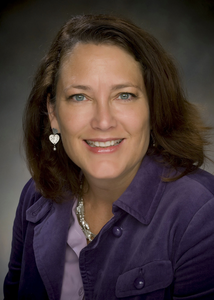 Growing up in Redwood Falls, Minnesota, Chace recalls spending her Saturdays roller skating, ice skating or at the high school gym.
"We'd drop 40 or 50 cents in a box to pay the monitor who was there to watch over things," she said. "We spent all day there playing volleyball, dodgeball and basketball."
Chace's fondness for those days may have led to her career choices. She earned degrees in health-fitness and biology, a Ph.D. focused on exercise and wellness education and a Master of Public Health in Health Education. She's now an assistant professor in the Kinesiology and Health Departments at Wright State University, and the director of the school's public health education program.
And, in perhaps her most important role, she's the mom of a ninth-grade daughter.
Put it all together and you have someone who is personally and professionally motivated to make a difference. She also believes the saying that "knowledge is not enough; it's your responsibility to speak up and make change." So in addition to studying shared use, she's taken action.
I'm proud to say that one of the many ways she contributes is through the American Heart Association's Ohio Advocacy Committee. She's provided leadership and strategic guidance for many issues, such as testifying to state legislators and being a spokesperson for a variety of issues.
Her expertise will soon be evident in a scientific paper about to be published in the Journal of Physical Activity and Health. It is called "Opening the Doors to Health," and it's based on several years of researching how schools across Ohio were sharing their facilities with their communities for physical activity outside the school day.
"The doors were open to some extent, but the majority were informal agreements, not written down," she said. "We need to make it sustainable and part of the regular daily life for people."
So let's go back tour initial three-step approach, with Chace's insight on each:
Get a school to open its fields, gymnasium and/or weight room to the public when those facilities are not being used by students.
"The hard part is getting started -- that first step of saying `Yes, we want to do something,'" Chace said. "Nobody is expecting schools to do this alone. We know their primary job is educating children. But if they've got the resources that we've all paid for, it just makes sense. Let's work together.
"It's got to happen from the grassroots up. People need to push for it. Sometimes it just takes a parent or community member going to school board and asking them. Be patient, though. It might take time."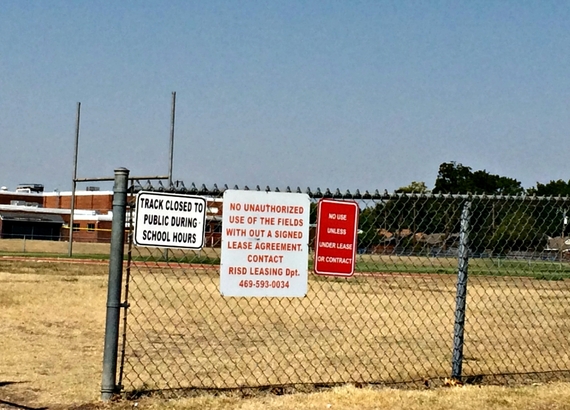 Chace's research showed that a primary barrier was concerns over liability. Since then, Ohio has passed a law resolving that. Solutions exist for states without such legislation.
Voices for Healthy Kids -- a joint initiative of the American Heart Association and the Robert Wood Johnson Foundation that works to help all children grow up at a healthy weight -- is among the organizations that provide a how-to toolkit featuring all the necessary paperwork, and more.
"Nobody has to reinvent the wheel; the hard work has been done," Chace said. "Just Google 'shared use toolkit' and you'll find it all."
Another concern is cost -- paying for oversight and maintenance, plus utilities and other unforeseen expenses.
Harkening back to the gym coin box of her youth, Chace said: "Nobody is expecting schools to incur a lot of costs or extra staff time. It makes sense for them to charge a nominal fee. Those are things that can be worked out. That's what a shared-use agreement does. And it should be in writing and posted somewhere for everyone to see."
Another potential barrier is coaches who've bought expensive equipment for their players and don't want to share it. This could especially be true when the funds came not from taxpayers but from boosters.
Chace found little evidence of it. In fact, quite the opposite was true -- many coaches, principals and superintendents were visionary enough to realize they could expand their base of supporters by welcoming in their neighbors.
"Most schools really want to find new opportunities to engage their communities; they just haven't thought of this as a way," she said. "Whether a person's kid goes to that school or not, using those facilities makes them feel connected to the school. They're more likely to contribute when the lacrosse team is selling things to pay for new uniforms or the civics club is holding a car wash to raise money for a trip to Washington, D.C."
Get someone knowledgeable to organize programs, from spin classes to jazzercise, running clubs to badminton leagues, tai chi to Zumba.
"Once there's a spark, it's up to each community to find out what people have a passion for," Chace said. "It's going to be different in each community. You also have to think about the activities that might be the best fit for a certain target group. The best scenario is multiple generations doing an activity together. Imagine a grandma playing badminton with middle schoolers."
The next step is finding people to make it happen.
While some community members may have expertise in certain areas, there are other win-win solutions available.
"Right here at my college we have a lot of sports science majors who would love to create programs, leagues or classes in the community. That's their passion," she said. "And that's just one example."
Spread the word.
Technology makes this easier than ever.
In addition to old-school methods such as signs and posters, write-ups in the local newspaper and stories on TV and radio, there are also new-school tactics such as email, Facebook, Twitter and more.
Schools can tap into their social networks. Take advantage of neighborhood associations.
The key is getting the communication going. Chace also recommends keeping conversations going with school leaders.
"Shoot a quick email to the superintendent to say you appreciate using the track," she said. "Let them know it's being used and that they are helping make a difference."
There's something else important to know. There are many variations of "shared use."
While the details could fill another column (or several), Chace offered these:
In Oberlin, Ohio, there's a partnership between the city, public schools and Oberlin College to share a track, tennis courts, swimming pools, football stadium and more.
In Mayfield, Ohio, the school district recently spent2 million to turn its fieldhouse into a more comprehensive sports and fitness facility; the district then turned management over to the parks and recreation department. It's gone from being open 32 hours/week to nearly 90.
In Lake County, Ohio, the physical education program in the schools is tied in with the city parks and recreation department, enabling students to have cross-country skiing and water skiing as part of their PE classes.
And while schools have been our main focus, Chace also emphasized that there are other options you can tap into to bring this concept to your community. Any business or church with a gym, large meeting room or even a big outdoor space could be options.
"I'm a true believer that exercise doesn't have to be done in a formal setting -- it can be any green space," she said. "Most communities have what we need. So ask yourself, 'How can I connect the pieces in my community that are already there to make the healthy choice the easy choice?'"
All it takes is a spark. Here's hoping World Heart Day 2015 can ignite you create a healthy heart environment.


Popular in the Community