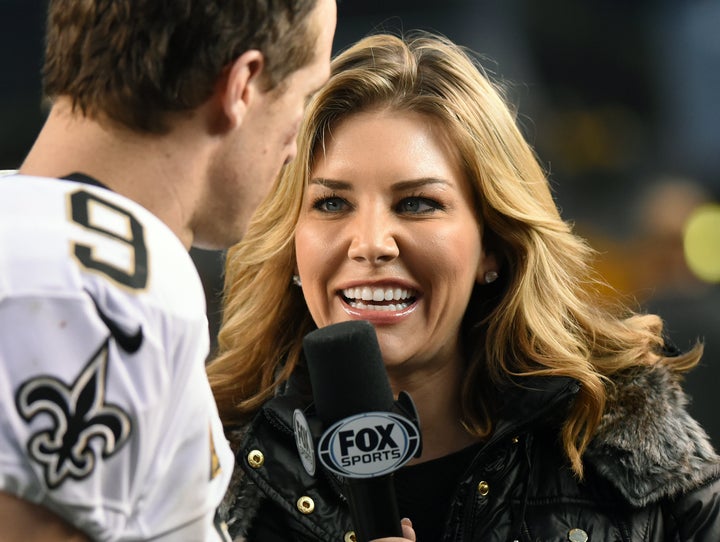 Charissa Thompson knows how difficult it can be to work as a woman in sports media. Despite the growing presence of women in visible jobs like sideline reporting, studio hosting and on-air analysis, women are commonly harassed and even threatened because of their job and gender.
Thompson, who normally appears on Fox Sports 1 and hosts Fox's NFL Sunday kickoff show, has faced her own challenges while progressing up the ranks from an entry-level Fox Sports HR position to a full-time studio host. Whether it's taking flak from blogs over her appearance or handling racist remarks directed toward her as a white woman dating a black man in sports media, she's experienced a range of unfair and outdated criticism. There's simply no place in today's media landscape for what Thompson and many other female sports reporters have faced.
The 33-year-old recently spoke to The Huffington Post on the scrutiny she's endured, her career ascent and why she's chosen to be less vocal on certain hot topics than her counterparts. 
How did you get your start in sports and what inspired you to pursue that path?
Well, the love affair of sports started very early on in my life because I would hang out with my dad and liked to watch football on Sundays with him, so I knew probably around the time I was 10 or 11 that I wanted to be a sports broadcaster.
Now, there's a vast gap between wanting something and getting something. I did a bunch of internships on the side to sort of indoctrinate myself into the broadcasting world from the outside. As soon as I graduated from college [in Santa Barbara] I applied for a position in the HR department at Fox Sports, because that's the only thing they had open -- not because I wanted to do HR, but it would get me in the building.
I did that for about a year until my boss was like, "What do you really want to do?" I said I wanted to be a sports broadcaster and he laughed at me and said, "So do a lot of people." So I moved to Denver with Fox and worked there for a couple of years as a production assistant.
They had a girl on air who was the Colorado Rockies reporter and they didn't renew her contract, so I just said, "Let me do a couple of things, and if you hate them, I'll never do it again, and if you like them I'll just continue to do it until I'm fired." I started as their reporter and I did that for a year and then moved back to LA to work on sideline reporting for the NFL and college reporting for the Big Ten Network. Things just sort of took off after that.
As a woman in a male-dominated field, do you feel that pressure from time to time to make sure you're absolutely killing it at every single moment?
Sure, I think that there's a responsibility I feel to hosting the NFL pregame show. There hasn't been a [woman] that has done that before, so I do think I put added pressure on myself to not disappoint the powers that be, the suits of Fox that gave me the opportunity.
But as far as pressure, I don't necessarily feel pressure. I just know that I need to be on things a little bit differently, because me giving an incorrect stat or saying a player's name wrong is a lot different. I always call back to John Elway. It was when the [Colorado] Avalanche were making their run and at the height of [the Denver Broncos] winning their Super Bowls, he referenced Patrick Roy [pronounced "wa"] as Patrick Roy [pronounced "roy"], and John Elway saying that is different than me saying that.
I think that there is an added responsibility to get the information correct because you're scrutinized a little bit differently. Approaching almost 10 years in the business, I think my leash has gotten a little bit longer, but I still have a responsibility to myself to make sure I am worthy of sitting at that table.
It's so easy for people to send nasty messages online now. How do you deal with that when it happens? Do you internalize it and let it go?
I used to care a lot more about it. When I first started, I dyed my hair black and put glasses on because I wanted to be taken more seriously on the air. And Deadspin wrote this article [about the appearance change] and the headline read "Suicidal Path to Frumpyville."
I was devastated. For me, that was my introduction to criticism. After that, it got slowly easier to sort of be like, "They're going to say this about me, they're going to say this about me and this about me." I very rarely actually fire back at people just because it's sort of a waste of time, but if I feel that I'm being misrepresented or if people are just being mean to be mean, then I defend myself sometimes. I sort of pick and choose. My favorite is when people say "your an idiot" and they spell you're wrong and spell it Y-O-U-R, instead of Y-O-U-R-E.
Was there one moment where you got overwhelmed by hate-filled speech online?
It was more of my personal relationships -- when I went to ESPN and met [former NBA player and current ESPN analyst] Jay Williams there, because we worked together and we started dating. It was more of an attack on me personally for an interracial relationship than it was in terms of my profession. That was a huge eye-opening in the world of, this sort of racism exists and it still unfortunately permeates the landscape, because at that point I was new to it.
When you see the instance of Julie DiCaro receiving hate-filled speech for covering the Patrick Kane case, in a scenario like that, what are your thoughts as a woman in sports media?
I'll say this: When I worked in "First Take," when Jay Crawford was making the switch over to "SportsCenter" and I was filling in, I was working with "Numbers Never Lie" [now "His & Hers"] and Michael Smith. And I would go do "First Take" and I sat between Skip [Bayless] and Stephen A. [Smith]. It was a quick lesson for me that, if you're going to have an opinion, you've got to stand by it. And I'm not Michelle Beadle and I'm not Katie Nolan. I don't come out with these huge endorsements or retractions to headlines, and that's not because I don't have an opinion -- I think I'm just a little bit more calculated. That's not a negative thing, I'm just more cautious in things I choose to endorse or speak out against.
Obviously, a situation like Ray Rice, I'm going to have strong opinions, but I have to be more careful. When Michelle and Rachel Nichols got banned from going into the Mayweather-Pacquiao fight, it became a huge thing. I don't ever want to be the headline. And I don't want to sound like I'm just Switzerland and I'm in the middle and I'm not going to have an opinion. I'm just not as vocal in some aspects of my life and that's methodical, based on the path I want to go.
What advice would you have for teenage girls who want to get involved in sports media?
Make sure they're doing it because they really love sports. It seems like it's this glamorous thing, "Oh, you get to cover sports," but you only should do it only if you really want to do sports, not just because you want to say that you're a sports reporter. I have always wanted to do this and I know with that comes the responsibility.
If we're being honest, my first marriage failed because I was doing this job and I was never home and I couldn't allocate relationships with my boyfriend. There are a lot of things that you put on the back burner because of your profession, so for me, I would say to anybody who wants to do this: Do it because you love it, and realize you'll have to make sacrifices along the way. But if you really want to, it's the most rewarding, awesome job you could ever have. 
This interview has been edited and condensed for clarity. 
PHOTO GALLERY
Amazing Sports Photos
Calling all HuffPost superfans!
Sign up for membership to become a founding member and help shape HuffPost's next chapter