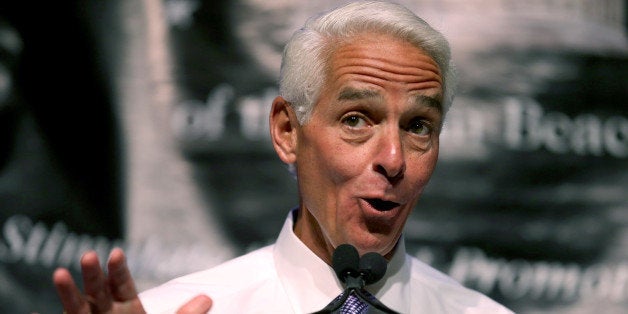 Former Florida Gov. Charlie Crist -- now running for governor again, because time is a flat circle -- was, for a long time, a Republican. Then, for a brief period of time, during his 2010 Senate run, he was something else. An independent, I guess? Now he is a Democrat, hoping to be nominated to run against the Republican incumbent, Gov. Rick Scott. At some point, with all that switching around, you might wonder, "How does that work, exactly?"
Well, as it happens, Crist wrote a book called "The Party's Over: How the Extreme Right Hijacked the GOP and I Became a Democrat." But if you're like me, you didn't read it, because you only have so much time on this earth. So now, an anti-Crist political action committee is forcing the question in a clever way. According to Adam C. Smith of the Miami Herald, Democrats residing in Florida have been receiving robocalls that sound like this:
"Hi, this is Charlie Crist calling to set the record straight. I'm pro-life. I oppose amnesty for illegal immigrants, I support traditional marriage, and I have never supported a new tax or big spending program. It's sad that in his fourth try for governor my opponent has resorted to distortions and untruths. … Floridians need a consistent, conservative governor that they can trust. I would appreciate your vote on Election Day."
What is this? Witchcraft? No, apparently it's actually Charlie Crist's voice and Charlie Crist's robocall -- only it's the 2006 vintage of Crist, back when he was a Republican in good standing and his future nemesis Marco Rubio was about to become speaker of Florida's state House of Representatives.
Anyone hearing the robocalls over the weekend would be hard-pressed to know their source. A woman at the end of the recording says it was paid for by "conservatives," and includes a phone number that when reached gives callers the option of being removed from a call list. Conservatives is the name of a political committee run by Stafford Jones, a Republican operative and Alachua County party chairman, who has a history of trying to damage Democrats in primary elections.
Naming your PAC simply "Conservatives" is a pretty clever idea, if only for the potential "Who's On First?" scenarios that arise.
The Crist camp isn't taking kindly to the calls, as you might expect, with a campaign spokesman referring to them as a "voter suppression" tactic. Which, strictly speaking, I guess they are -- they seem to be intended to sow skepticism of Crist's beliefs among the voters he needs to court. But the beliefs espoused in the robocalls were -- at one time, anyway -- Crist's own views, and in this instance they're being articulated by the lips and teeth and palate and vocal cords of the man himself.
Chances are, Crist's campaign staffers had to have been prepared for this sort of stuff to come up. They probably weren't prepared, however, for it to happen in this sly fashion, with Crist's disembodied voice from eight years ago coming back to haunt him.
And that's the truly devilish bit of strategy here. Robocalls are terrible. So while there are probably some people who will be turned off by this reminder of the fungibility of Crist's convictions, the number of people who will get angry because they think Charlie Crist just robocalled them at home is much larger. The medium, in this case, is worse than the message.
REAL LIFE. REAL NEWS. REAL VOICES.
Help us tell more of the stories that matter from voices that too often remain unheard.
BEFORE YOU GO
PHOTO GALLERY
United States Governors