WASHINGTON ― Five Republican members of Congress broke with most of their party and President Donald Trump on Saturday by condemning his executive order to bar refugees and citizens of seven Muslim-majority countries.
Sens. Ben Sasse (R-Neb.), Jeff Flake (R-Ariz.) and Susan Collins (R-Maine), along with Reps. Charlie Dent (R-Pa.) and Justin Amash (R-Mich.), said they opposed Trump's executive order, which has already wreaked havoc on the lives of refugees, travelers, immigrants and even U.S. citizens whose family members will now be barred from visiting them.
Sasse said the order was too broad and potentially dangerous, even if it wasn't technically the blanket Muslim ban that Trump once proposed.
"If we send a signal to the Middle East that the U.S. sees all Muslims as jihadis, the terrorist recruiters win by telling kids that America is banning Muslims and that this is America versus one religion," Sasse said in a statement.
Amash said the executive order was unlawful because such a policy change should have gone through Congress.
Sen. Orrin Hatch (R-Utah), who is third in line for the presidency, issued a statement Saturday night urging the Trump administration to "move quickly to tailor its policy."
Dent told The New York Times that some of his constituents' family members were informed they could not enter the U.S. when they touched down at Philadelphia International Airport. In fact, many refugees, visitors and even green card holders who reside in the U.S. have been turned away in the 24 hours since Trump's order was issued.
Flake spoke out against the executive order later on Saturday.
"President Trump and his administration are right to be concerned about national security, but it's unacceptable when even legal permanent residents are being detained or turned away at airports and ports of entry," Flake said in a statement. "Enhancing long term national security requires that we have a clear-eyed view of radical Islamic terrorism without ascribing radical Islamic terrorist views to all Muslims."
Collins told Maine's Sun Journal that the refugee ban "is overly broad and implementing it will be immediately problematic."
Trump's executive order suspends refugee resettlement entirely for 120 days, bans Syrian refugees indefinitely and temporarily bars individuals from seven countries: Iran, Iraq, Libya, Somalia, Sudan, Syria and Yemen. Legal permanent residents, also called green card holders, from those same countries can be admitted only on a case-by-case basis, according to the White House. Dual-nationals of those countries ― a British-Iranian citizen, for example ― are barred from entry.
Most Republicans in Congress have said nothing about the ban, which is unusual because most controversial White House policy announcements are met with either applause or criticism.
Only a few Republicans have issued statements. House Speaker Paul Ryan (R-Wis.), who forcefully condemned Trump's call for a Muslim ban in 2015, said this time that "President Trump is right to make sure we are doing everything possible to know exactly who is entering our country." A spokeswoman for Ryan told The Huffington Post that Trump's order did not constitute a ban on Muslims, pushing back on the idea that Ryan's past statement was relevant to the current situation.
House Judiciary Committee Chairman Bob Goodlatte (R-Va.) and House Homeland Security Chairman Michael McCaul (R-Texas) also put out statements saying Trump did the right thing. The vast majority of Republicans remained silent.
This article has been updated to include comments from Sens. Jeff Flake and Susan Collins.
Sign up for the HuffPost Must Reads newsletter. Each Sunday, we will bring you the best original reporting, long form writing and breaking news from The Huffington Post and around the web, plus behind-the-scenes looks at how it's all made. Click here to sign up!
Before You Go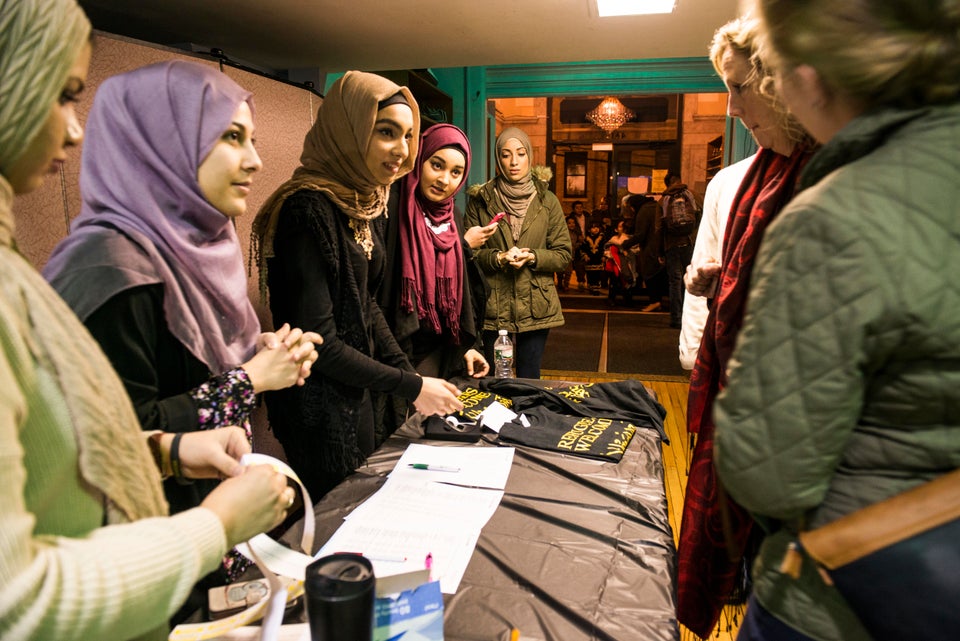 Syrian Refugees Welcomed To U.S.
Popular in the Community