WASHINGTON ― The death of 32-year-old anti-racist protester Heather Heyer at the hands of a white supremacist on Saturday was the most recent of at least 65 fatal incidents perpetrated by right-wing extremists in the United States since the 9/11 terrorist attacks. The incident in Charlottesville is indicative of how far-right extremist violence has surged in the intervening years, as federal law enforcement efforts have shifted attention toward the threat posed by jihadist terrorism, former counter-terrorism officials and experts say.
Conservative media and Republican politicians who oppose federal crackdowns on far-right extremist ideologues encouraged this shift, and presidents from both parties have acquiesced to the pressure. This process has only accelerated since the inauguration of President Donald Trump, who defended the white nationalist and white supremacist protesters who marched in Virginia, by saying there were some good people among them and equating them with anti-racist counter-protesters.
"There's been a clear signal by this administration that they don't want to spend any money or resources on countering white terrorism," Daryl Johnson, who led a Department of Homeland Security task force focused on domestic extremism and terrorism from 2004-2010, told HuffPost.
The Trump administration's effort to de-emphasize the threat of domestic right-wing terrorism is part of a trend: Over the past 16 years, presidents from both parties have redirected law enforcement resources away from monitoring right-wing extremists to focus on groups like ISIS and Al-Qaeda.
Prior to the attacks in San Bernardino and Orlando, right-wing extremist attacks had killed more Americans than extremist attacks by Muslims in the years since 9/11.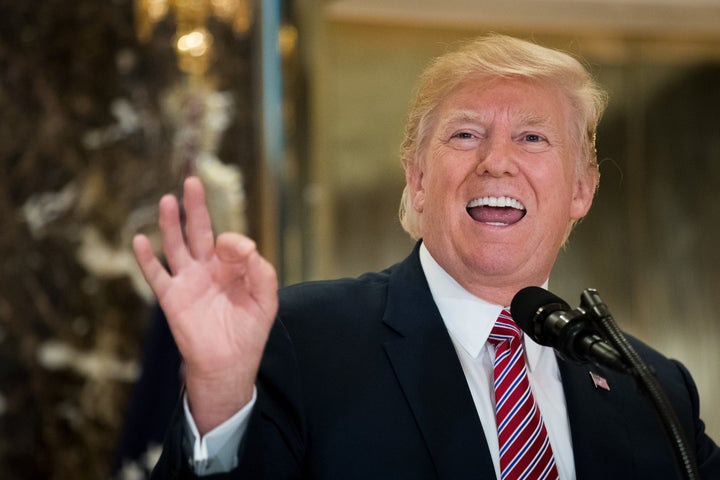 "It's a major mistake, in my view, to defund programs and efforts which help to expose and reform white supremacists," said Todd Blodgett, a conservative Republican and former FBI source who worked undercover in white supremacist extremist groups. "It required effort to brainwash these bigots, and effort is needed to get them out of the realm of racist hatred. Having worked for Ronald Reagan and the first President Bush, including in the White House, I know they'd agree."
But the shift in resources wasn't entirely attributable to the understandable fear of a repeat of the 9/11 attacks. Right-wing radio, Fox News, and Republican Party lawmakers fought a years-long campaign against efforts by federal law enforcement to monitor right-wing extremists and prevent them from turning violent.
Blodgett points to the reaction and ultimate retraction of a 2009 Department of Homeland Security report on the increasing threat of right-wing extremist terrorism. That report was written by Johnson and his small team at DHS that monitored and countered violent extremism from domestic, non-jihadist sources. The team, constituted during the George W. Bush administration, included individuals monitoring white supremacists, anti-abortion extremists, animal rights activists, environmental terrorists and other domestic groups.
Its 2009 report concluded that the economic collapse and the election of the first African-American president could fuel a surge in recruitment for white supremacist groups and lead to an uptick in violence. The report also warned that right-wing extremist groups sought to recruit returning veterans of the of the ongoing wars in Iraq and Afghanistan.
But as a result of conservative outrage, DHS gutted Johnson's team, cut the number of people investigating domestic extremism, canceled briefings for state and local law enforcement and blocked the release of more reports on domestic extremist groups. The department "has never reconstituted that effort," Johnson told HuffPost.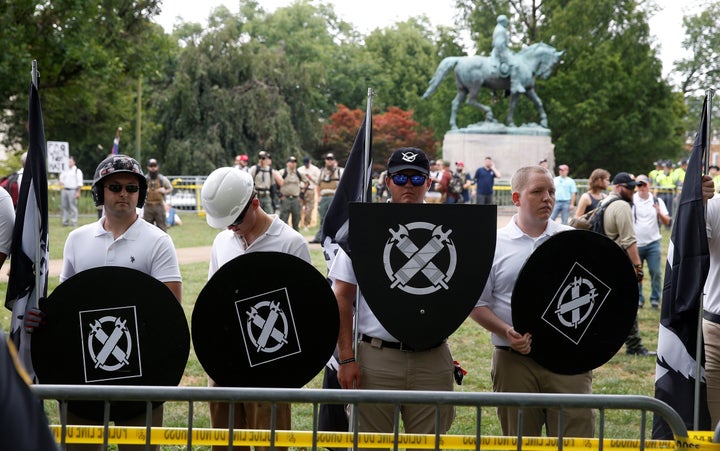 "There was nothing in that report that was wrong," Blodgett said. "It was wrong of [the Obama administration] to be cowed by the groups putting pressure on them over that. As a card-carrying Republican conservative I can tell you this, this kind of stuff has got to be drummed out of any coalition that is part of any Republican campaign."
In the ensuing years, right-wing extremist violence jumped, just as predicted by Johnson's DHS report. According to the New America Foundation, 10 people were killed by far-right terrorist violence from 2001 through 2008. Since then, right-wing extremists have murdered 55 people in violent attacks in the U.S.
Since DHS ended its program, federal law enforcement actions related to domestic right-wing extremism now primarily rest with the FBI and the Joint Terrorism Task Force, although both organizations have limited resources devoted to these efforts.
Nonetheless, DHS and the FBI in May issued a joint bulletin warning about the potential threat of violence from right wing extremists, according to Foreign Policy.
Michael German, a former FBI undercover agent and now a fellow at the Brennan Center for Justice's Liberty and National Security Program, felt that the 2009 report overemphasized the way in which the ideology of right-wing groups turned individuals violent rather than attracting individuals who were looking for a justification for their desire to commit acts of violence.
Still, German says that the coordination between federal and local enforcement ― a recommendation of the report ― could improve, particularly in the wake of recent white supremacist and white nationalist protests in cities that have devolved into violent battles and near riots with little police supervision.
It's not just the violence the nation saw in Charlottesville, but also right-wing protests in Berkeley, Sacramento, Portland and Huntington Beach, where police took a hands-off approach. In Portland and Huntington Beach, police even allowed the right-wing protesters to "arrest" counter-protesters and drag them over to the police.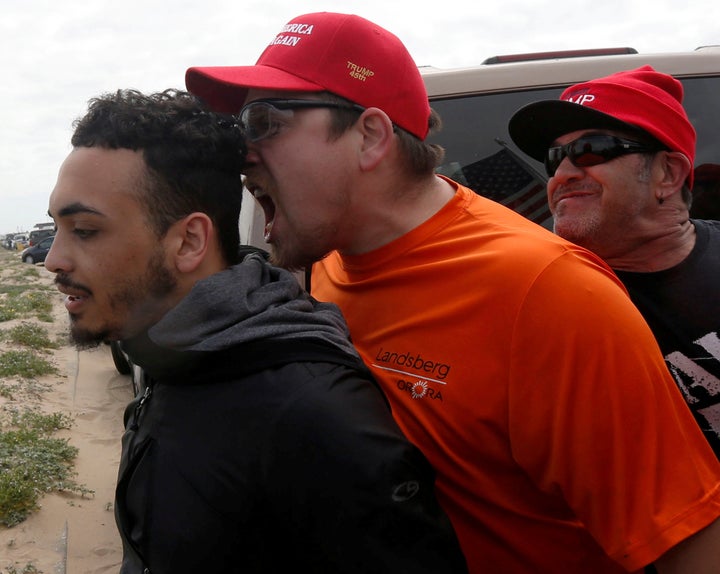 "That is extremely dangerous," German said. "To give these groups the idea that their violence is sanctioned by the state will make them far more violent and far more dangerous in the long run. Not to mention the failing to police these running street battles will encourage them to come to the next protest prepared."
The comments made by the president in defense of certain attendees of the violent white supremacist protest in Charlottesville suggest his administration will not put pressure on law enforcement groups to changes focus, especially as administration aides continue to openly dismiss the threat posed by far-right extremism.
White House adviser Sebastian Gorka recently pushed aside concerns that white supremacist extremists are a problem in the U.S. "It's this constant, 'Oh, it's the white man. It's the white supremacists. That's the problem.' No, it isn't," he said on Breitbart News Daily, a radio show from the media company that used to employ him.
"You have the issue of Trump kind of pandering to these groups during his election campaign and taking some of their ideas and mainstreaming them into his policies," Johnson said. "He's got a block out there that, I guess, that he's beholden to."
Sign up for the HuffPost Must Reads newsletter. Each Sunday, we will bring you the best original reporting, long form writing and breaking news from The Huffington Post and around the web, plus behind-the-scenes looks at how it's all made. Click here to sign up!