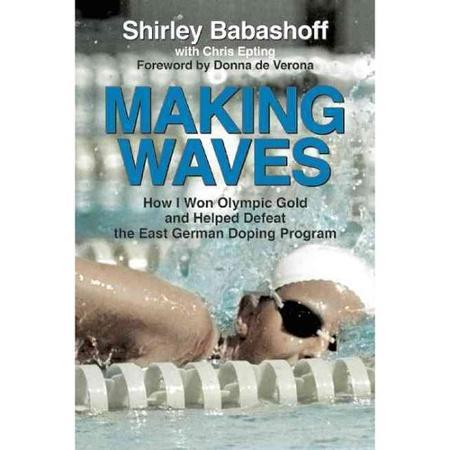 In a couple of months, a new book I co-wrote with eight-time Olympian Shirley Babashoff, Making Waves, is being released by Santa Monica Press. The greatest female swimmer of her generation, Babashoff (along with many other female swimmers) was cheated at the 1976 games by the East German team which, as it was proven after the fall of the Berlin Wall, were doping. The coaches admitted it. Many athletes admitted it. There are no more secrets about what happened.
And so I think it's time the IOC, once and for all, 40 years after East Germany cheated the world, restore those medals to their rightful owners.
During Babashoff's extraordinary swimming career, she set 37 national records and six world records. Prior to the 1990s, she was the most successful U.S. female Olympian and, in her prime, was widely considered to be the greatest female swimmer on the planet.
Heading into the 1976 Olympic Games in Montreal, Canada, Babashoff was pictured on the cover of Sports Illustrated; hopes were high that she would become the "female Mark Spitz" -- the American swimmer who returns home with a collection of gold medals.
All of that changed once Babashoff questioned the shocking masculinity of the East German women swimmers. It was clear to her that the East Germans were doping, and so she spoke out. However, for voicing her opinion against those who cheated, Babashoff was punished. The media vilified her as "Surly Shirley."
Babashoff would go on to win four silver medals in individual events in the 1976 Olympics, as well as a gold medal as the anchor swimmer on the 4x100 freestyle relay -- considered one of the greatest upsets in Olympic history, ranking right up there with the U.S. hockey team's "Miracle on Ice" victory over the Soviets in 1980.
Thomas Bach, IOC President (and a German himself), in my opinion has an opportunity this Olympic year to do the right thing on behalf of all the swimmers that were cheated that year.
Please do the right thing, Mr. Bach. Make a statement. Right the serious wrongs of 1976. Re-award those medals.
REAL LIFE. REAL NEWS. REAL VOICES.
Help us tell more of the stories that matter from voices that too often remain unheard.