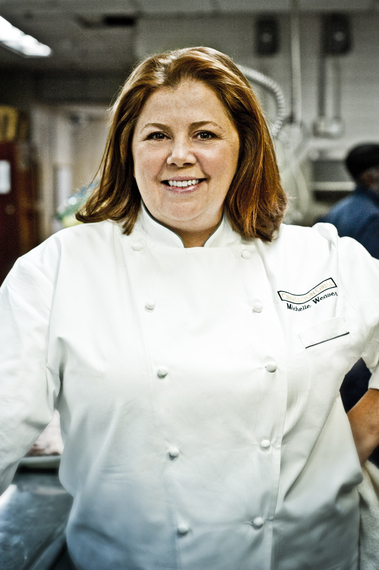 Michelle Weaver, Executive Chef at Charleston Grill, is one of Charleston, South Carolina's culinary pioneers. Although she attended the New England Culinary Institute, she was born and raised in Alabama and her menus are prized for their distinctly Southern influences. Prior to taking the helm at the Charleston Grill five years ago, she served for eleven as sous chef at Charleston Grill. And prior to that? Sous chef at another Southern kitchen, the Wild Boar in Nashville, Tennessee.
What drew you to become a chef?
I've always had a love for cooking and the way that it connects me to people. Nothing beats serving a dish and seeing the way it makes people feel.
Any early memories of cooking?
My earliest memory of cooking is being in the kitchen with my mom. I remember standing on a chair while we would create incredible dishes in her cast iron skillet.
How has the restaurant landscape changed since you first started?
When I first started in the business, French cuisine was the base of fine dining. Now, we have many ethnic influences that allow chefs to be more creative and incorporate flavors that we couldn't work with before.

Charleston has some of the best restaurants in the country and you were on the forefront of this food revolution. Did you see it coming?
I knew Charleston was special from day one. There is a great sense of camaraderie and community here that I've never seen before. And so much passion for where things come from and how they are grown. I wasn't surprised to see the food revolution evolve in this city.

Is there something about the South that lends itself to culinary leadership?
In the South we find any reason to cook an elaborate meal for our guests. From weddings to wakes, if there is a gathering, there will be food present.

When you're not working, what's your favorite go-to meal at home or out?
Breakfast has been my go to meal since I was a child. Any dish involving eggs in particular tends to catch my eye.

Any food trends that you predict will (or should) wane soon?
I'd love to see EGO food go away. That's food that's extremely pretty to look at but once you take a bite it doesn't taste like anything.

Any food trends that you see as emergent and exciting?
I'm expecting a vegetable take over, where vegetables will emerge as being the center of dishes.

Flash forward ten years: what are you doing?
Raising goats, making cheese and writing cookbooks