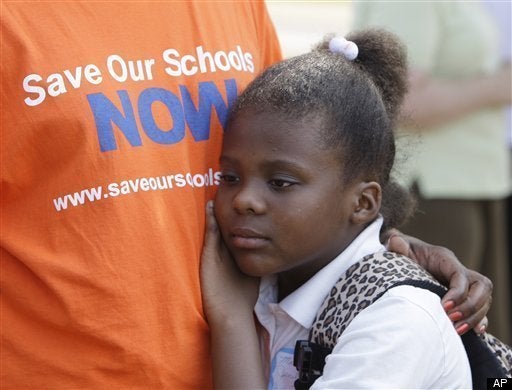 It's no secret: the Chicago Public Schools, like nearly every other governmental agency in the state of Illinois, is in a deep, deep hole.
In fact, the budget deficit facing CPS is even greater than the one facing the city of Chicago itself: the district is around $700 million in the red, while the latest estimates for the Chicago budget deficit are over $600 million.
Like everyone else, CPS essentially has two options in a deficit: cut spending, or increase revenues. And after a recent and painful round of cuts -- including denying teachers a contractually specified four-percent raise and cutting administrative costs by $75 million -- the district apparently feels it can cut no further.
Instead, it's turning to revenues. According to news reports on Friday, the district is considering pushing for a significant increase in the property taxes that finance the city's schools.
The prospect of a property tax hike has been in the news for months now, as CPS's budget deficit has been looming for some time.
But now, the district's Board of Education is looking seriously at an increase of $100 million, according to CBS Chicago. That will be equivalent to the maximum possible increase allowed under state law.
"There are lots of places to cut, and the district needs to look at those before they raise taxes," said Julie Woestehoff of Parents United for Responsible Education. "Every year people in central office and area offices are worried about losing their jobs but it never happens. The system has not been willing to make the changes to be more efficient."

Aside from lower revenues and delayed payments from an even more cash-strapped state, CPS's budget has been drained even further by the drying to a trickle of federal stimulus dollars. It has already had to dig into its reserve fund in recent years to close its budget gap; the $190 million remaining in that fund could well be tapped again this year.
Support HuffPost
The Stakes Have Never Been Higher
Related
Popular in the Community