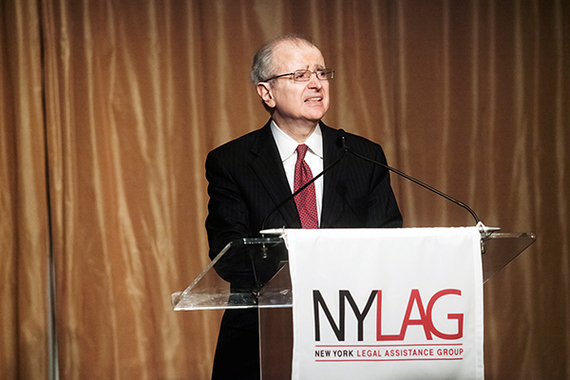 As the year draws to a close, so too does the tenure of New York State Chief Judge Jonathan Lippman. Since his appointment in 2009, the Chief Judge has inspired us with his pursuit of justice for every New Yorker. He has relentlessly attacked the justice gap through reforms that are both cutting edge and highly effective. Under his leadership we have seen a drumroll of initiatives that are making the State's court system more equitable and accessible:
We not only have a chief judge who has made expanding access to justice a central tenet and top priority, but we also have a city leadership that has made an unprecedented commitment to increasing funding for legal services to help safeguard and secure the rights of the poor and disenfranchised. This includes initiatives to prevent evictions, protect tenants from landlord harassment, and provide increased access to legal assistance for immigrants, victims of domestic violence, veterans, the working poor, and the elderly.
Further evidence of the administration's vision is the creation of an Office of Civil Justice earlier this year, which will monitor and improve access to representation across the city. I believe that the work of this office will demonstrate conclusively the benefits of civil legal service programs to the City, to taxpayers - who save money in areas such as shelter costs, healthcare costs, and public benefits - and to poor and near-poor New Yorkers whose lives are greatly improved.
Chief Judge Lippman leaves us with an enduring legacy. Thanks to his vision, NYLAG and other organizations have been able to expand the breadth of our services and increase the number of New Yorkers we are able to serve each year. We have not closed the justice gap, but we are making progress toward the day when, in the words of the Chief Judge, "... as a matter of public policy and values, every person who is faced with legal issues affecting the necessities of life will get legal representation or effective legal assistance to deal with those issues."
Calling all HuffPost superfans!
Sign up for membership to become a founding member and help shape HuffPost's next chapter