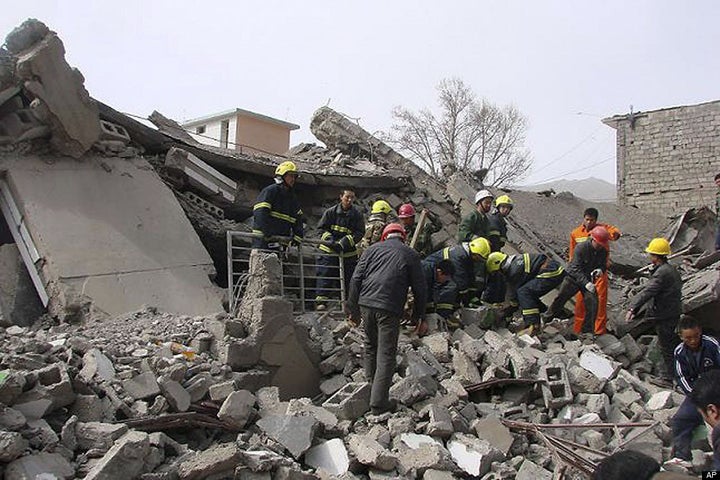 China's Qinghai province -- an area bordering Tibet -- was hit by a 7.1 earthquake early Wednesday morning. Three-hundred deaths have been blamed on the quake, with considerable damage and injuries also reported in the area. Ninety percent of the buildings in Golmud have been destroyed.
Nonprofit, non-governmental groups are now arriving in the area to help with relief, and some have already released calls for aid. Here's how you can help:
HuffPost Impact is continuing to monitor the efforts of relief organizations in China and will update this page as more information is received.
•According to International Medical Corps' Margaret Aguirre, the emergency medical care organization is assessing the situation and is prepared to deploy their team from Indonesia. They are also holding, based on potential requests from the Chinese government. Donate to International Medical Corps now and stay tuned for updates on their response to the earthquake in China.
• World Vision is sending a team to determine the damage and aid needed in Qinghai. With a donation you can help provide immediate aid like food, water purification tablets, storage containers, cooking supplies, shelter, blankets and hygiene products to those in the area.
• UNICEF asks for your aid in China. Money is urgently needed to provide safe drinking water, shelter and medical supplies. According to UNICEF, 20 children remain buried under debris -- help UNICEF provide care to the children who need it most. To donate, visit: www.unicefusa.org or call 1-800-4UNICEF.
• Direct Relief is teaming up with its partners in Tibet and China to assess what is needed. They estimate that tens of thousands of people are injured and will be needing their help. Direct Relief will sponsor its partners in Tibet with medical materials. They will also directly help One Heart, a mother and child health organization based in Tibet and also the Amitabha Foundation that focuses on mother, child and general health for Tibetan nomads.
• Doctors Without Borders (MSF) is collecting donations to send a three-person team to assess the immediate medical, psychological and non-medical needs of earthquake survivors.
• AmeriCares is sending response teams to China. They are organizing medical supplies and other humanitarian aid. AmeriCares Emergency Response Manager is going to Qinghai to speak with local relief workers to assess the immediate needs.
•
(CWS) Emergency Response Program reports that 80 percent of homes in the Quinghai Province have collapsed -- what is needed most at this time is shelter, food and safe drinking water. CWS will support efforts made by the
who has close ties to local partners in China. To help:
Send contributions to your denomination or to Church World Service, P.O. Box 968, Elkhart, IN, 46515.
Call the CWS Hotline, (800) 297-1516.
Call CWS Emergency Response Program special contacts: (212) 870-3151
Email the program director at dderr@churchworldservice.org
•Machik is an organization that educates children and creates new work opportunities in Tibetan communities. They have mobilized their resources to help bring relief to earthquake victims. You can read their appeal for aid or donate directly.
•GoChengdoo has a list of Chinese-based organizations accepting donations. If you live in Asia, you may consider donating directly to one of these relief groups.
Related
Popular in the Community