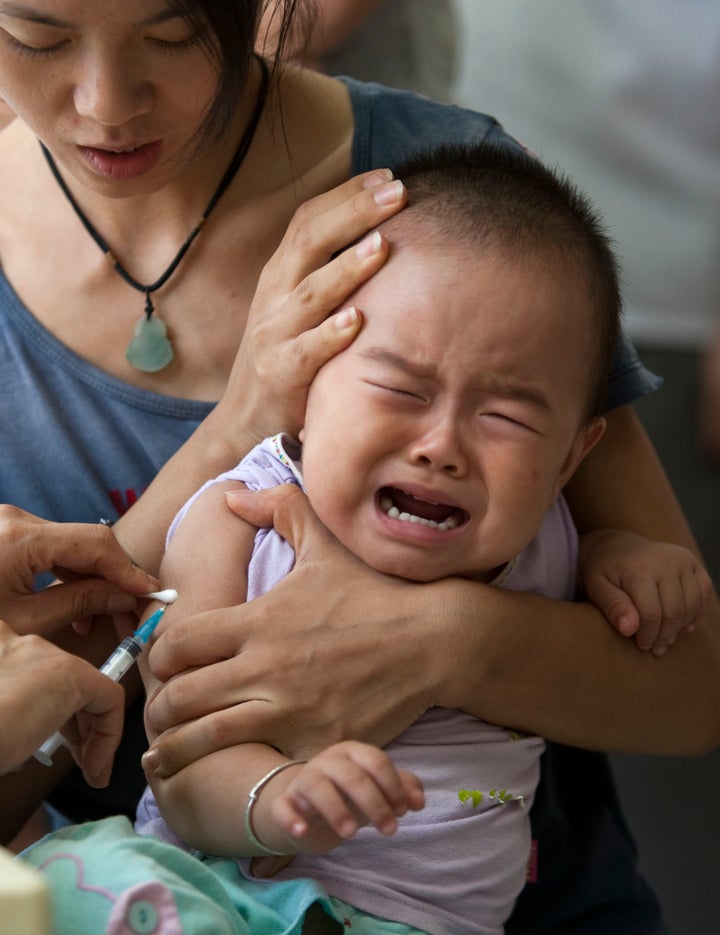 China says it has stepped up its efforts to rescue human trafficking victims over the past year, but the irony is inescapable: if the Chinese government had halted its harsh and brutal enforcement of the One-Child Policy during the past 30 years, human trafficking would be a much less severe problem than it is now.
The recent report from the Chinese Public Security Ministry spotlights some hefty numbers, stating that Chinese police rescued 8,660 abducted children and 15,458 women in 2011.
While any efforts toward this end should be applauded, those numbers must be placed in context. In China more than 200,000 children are kidnapped each year and trafficked to become child brides, male heirs, and sex slaves. The 8,000 children allegedly rescued out of 200,000 missing still leaves hundreds of thousands unaccounted for.
China's One-Child Policy, implemented in 1980, was originally intended to last only 30 years, but according to government statements made in September 2010, the policy will continue for several more decades.
If China really wishes to stop child trafficking, rescue campaigns alone -- addressing the surface of the issue -- are not enough. To cut out the roots of the problem, the One-Child Policy must come to an end.
With the cultural preference for boys and the resulting "gendercide," or selective abortion and abandonment of baby girls, the male population in China continues to skyrocket. Experts predict that by 2020, 40 million more men than women under age 20 will populate China. How can we expect that a demand for the trafficking of boys as male heirs or girls as child brides will not increase?
In addition, China's track record for hypocrisy in public statements leads me to question the sincerity of the government's dedication to the anti-trafficking cause. For proof of the disparity between government statements and the reality on the ground, consider the continuing forced abortions and beatings used by government officials to implement the One-Child Policy.
"We have no such policy [of forced abortion]," President Hu Jintao stated in in January 2011 during the annual Asia-Pacific Economic Cooperation Forum. But dozens of Chinese women have come forward testifying just the opposite, describing terrifying ordeals of being dragged from their homes to abortion clinics after becoming pregnant with an unexpected second child.
Two years ago I founded All Girls Allowed (AGA), a humanitarian organization working to reveal the injustice of China's One-Child Policy and to restore life, value, and dignity to girls and mothers in China. AGA's efforts on child trafficking include research on the ground in China, rescue missions, and a database tracking system hosting over 2,000 profiles of kidnapped children.
While the government claims to be "work[ing] hard to reduce the number of abduction and trafficking cases," AGA's anti-trafficking field workers in China have reported little to no cooperation from local police. In many cases, local authorities are in cahoots with the traffickers themselves and receive a cut of the profits.
At the annual meeting of the President's Task Force to Monitor and Combat Trafficking in Persons this month, U.S. Secretary of State Hillary Clinton called human trafficking an "affront to our most fundamental values."
With our U.S. President and Secretary of State both emphasizing the priority of the fight against human trafficking, I call upon the White House to take a clear stance against China's One-Child Policy, which has so clearly magnified the issue of child trafficking in China.
Chai Ling is the founder of All Girls Allowed and was a leader in the 1989 Tiananmen Square Movement. A mother of three beautiful girls, Ling continues to fight for the rights of girls and mothers in China.
Calling all HuffPost superfans!
Sign up for membership to become a founding member and help shape HuffPost's next chapter