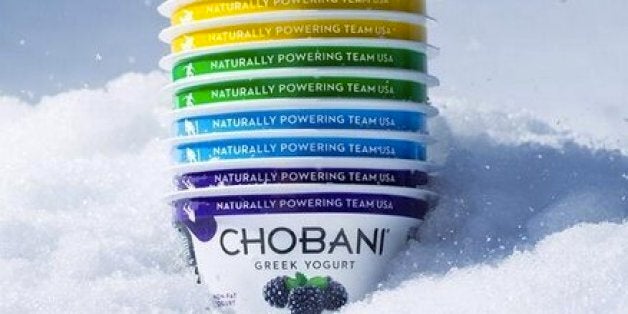 On Friday evening, Greek-yogurt maker Chobani released on Twitter an image of stacked yogurt cups representing the colors of the rainbow with the tagline "Naturally Powering Everyone." The post comes just after Chobani, a sponsor of the United States Olympic Committee and Team USA, publicly denounced Russia's anti-gay laws.
"It's disappointing that in 2014 this is still an issue," Chobani's CEO, Hamdi Ulukaya, told the Associated Press on Feb. 5. "We are against all laws and practices that discriminate in any way, whether it be where you come from or who you love — for that reason, we oppose Russia's anti-LGBT law."
The U.S. and the Olympic host country are currently in the midst of a trade spat involving dairy product imports -- notably Chobani yogurt. Russia authorities refuse to allow 5,000 cups of Chobani yogurt intended to feed U.S. Olympians into Sochi. The yogurt currently is stranded in New Jersey, The Washington Post reports.
Russia has held a three-year embargo on U.S. dairy products, and is requesting a food safety certificate for the yogurt to be permitted into the country. However, according to Schumer, "The U.S. Department of Agriculture has recently gotten involved with the Russian government on behalf of Chobani, and has sent the Russian government a letter urging the approval of the food safety certificate."
According to the Los Angeles Times, Chobani has turned in the necessary paperwork, but Russian authorities are still refusing to accept the yogurt.