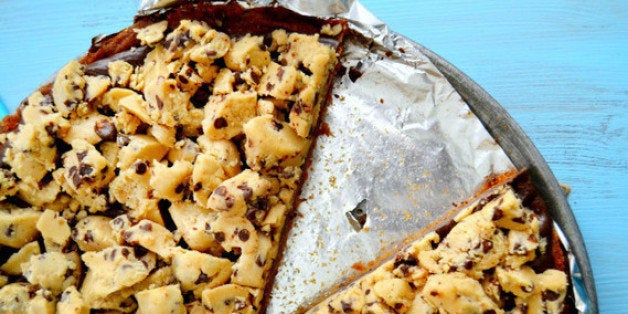 I am SO excited to be the newest member of the Food Fanatic Family! I feel like I've been adopted into a gigantic family full of food bloggers which is both so awesome and a little dangerous for my waistline.
The Domestic Rebel is all about baking fearlessly in the kitchen and using easy, accessible ingredients to make outrageous, extraordinary desserts. Can you guess what my favorite ingredient is to work with? I'll give you a hint: it's raw. It's all natural. It's transformative. It's versatile. It's freaking delicious. It's… cookie dough! And while I'm a cookie dough lover of all kinds, the classic chocolate chip has to be my all-time favorite.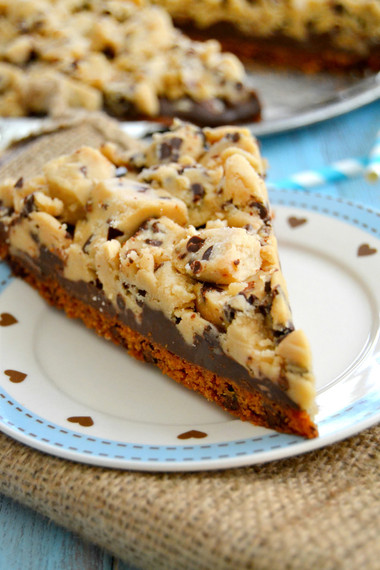 Another one of my favorite foods? Pizza. I seriously cannot get enough of the stuff. I could eat it daily and be smitten. It's just the perfect food. And when you combine pizza + cookie dough? Oh, HONEY. You best believe it's going to be a life-changing religious experience.
This pizza has a crispy, chewy chocolate chip cookie crust which bakes up simply since it's made with refrigerated cookie dough -- easy! After it's cooled, the crust is topped with a sinfully smooth chocolate ganache sauce. Hold me. And on top of the ganache is the piece de resistance -- huge, gratuitous, irresistible chunks of chocolate chip cookie dough. If you ever wondered if heaven existed on earth, it does -- it is located in your mouth whilst eating this pizza. No joke.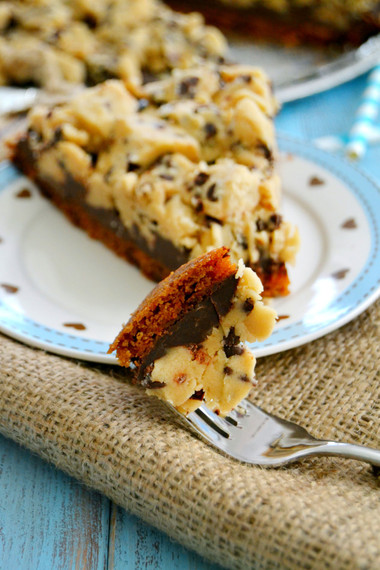 Methinks this is the beginning of a beautiful friendship between you, me, and cookie dough pizza, don't ya think?
About Hayley
Hayley is known for over-the-top desserts of all kinds on her blog, The Domestic Rebel. Since she's fanatical about cookie dough, she's our cookie dough fanatic!