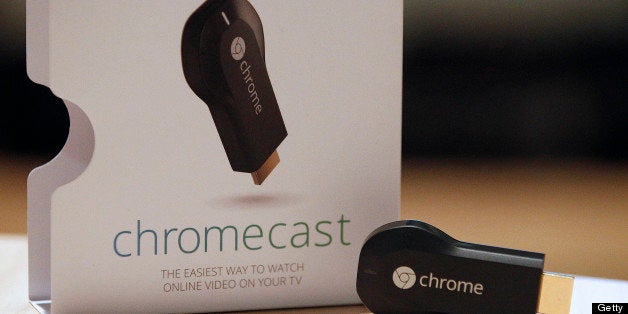 Since its release on Wednesday, nearly everything written about Chromecast, Google's $35 stick that streams video and music to your TV, has mentioned Apple TV and Roku, popular set-top boxes that also play Internet content on your TV.
After all, the three products bring online media on demand on your TV. But Chromecast, Apple TV and Roku were not created equal. We compared the three to see how they stack up against each other, so check out our guide below to help you decide which device is best for you.
Google's Chromecast is a two-inch stick that plugs into the HDMI port of HDTVs. It connects to your home's Wi-Fi network and streams video and music from your computer, smartphone or tablet to your TV. It works with Macs, PCs, the Chromebook Pixel and Android and iOS devices. You browse media and control the volume and playback with your device, so it doesn't come with a remote.
The Roku 3 is the newest device in Roku's lineup of set-top boxes. It plugs into your HDTV and connects to the Web to stream online video and music from a variety of apps, which Roku calls "Channels." It comes with a remote you can use to play games like Jeopardy. Unlike Chromecast, you do not need a computer or tablet for it to work.
Apple TV is Apple's set-top box. Like the Roku 3, it plugs into your HDTV and connects to the Internet to stream online media. Apple TV can also stream content and games from Apple devices, like the iPod, iPhone and iPad. And if you have a Mac, you can wirelessly mirror the screen, so your desktop appears on your TV. It comes with a remote that controls playback and browsing.
For now, only four mobile apps are enabled to work with Chromecast, meaning they have a "Cast" button that streams their content to a TV: Netflix, YouTube, Google Play Movies & TV, and Google Play Music. Google says Pandora is on the way, and the Washington Post announced it's working on an app. But lots of popular apps, like Hulu Plus, HBO Go and Spotify, are not equipped to cast. While Google is encouraging developers to build casting into their apps, it's unclear when that will happen, said Dan Rayburn, executive vice president of StreamingMedia.com.
"I expect most content owners and distributors will enable the functionality," he said. "But how long does that take? It won't happen overnight."
But because Chromecast can stream any movie that's playing in a browser, one could cue up HBO Go or Hulu Plus on their computer's browser and cast it to their TV. Although this is possible now, it may be short-lived: The New York Times notes that media companies can prevent their content from being streamed to Chromecast.
Roku has over 750 channels, including paid favorites like Netflix, HBO Go, Hulu Plus, Spotify, Epix and Vudu. Channels with free content include Crackle, Pandora, Vimeo and Disney, and you can rent or buy movies using Amazon Instant Video. YouTube and iTunes, however, are not available on Roku.
Apple TV has popular subscription favorites like Hulu Plus, HBO Go, Netflix, ESPN and MLB.TV, and free offerings like YouTube and Vimeo. Missing are Amazon Instant Video, Epix, Vudu and children's options like Disney that are available on Roku. Apple TV owners can instead rent or purchase movies through iTunes.
Chromecast's "Cast" function works on both iOS and Android devices, as well as Macs, PCs and the Chromebook Pixel. While it doesn't have many apps that allow you to cast from your device to your TV, it does allow you to cast whatever's in your Chrome browser.
Roku has a free app for iOS and Android that turns your mobile into a remote and allows you to stream music and photos from your device, but not video. A Roku rep told The Huffington Post that you can stream video from a PC to Roku using the online media server Plex. She also said the company is working on enabling video streaming from mobile devices.
Apple TV's Airplay streams video, photos and audio from apps on your iPhone, iPad or iPod. For now, there are many more apps equipped to stream to Apple TV than to cast to Chromecast. Airplay, however, only works on iOS devices.
Apple TV also allows for "Mirroring," which means you can share your Mac's screen to your TV.
Chromecast costs $35, and it originally came with three months of Netflix for free. However, a Google rep told HuffPost that due to overwhelming demand, the promotion is no longer available. When it comes to Chromecast pricing, it's key to note that Chromecast is not a standalone device, while Apple TV and Roku are. StreamingMedia's Rayburn noted that you can't just take Chromecast out of the box and plug it into your TV and start watching -- you need a computer, tablet or smartphone to send video or music to it, adding to your price. But if you already have one of those items, it's a great deal.
Roku 3 costs $99, but other Roku models can be as inexpensive as $49.
When it comes to deciding which device is right for you, it comes down to what you want to watch.
If you're really into premium channel offerings and want a lot of options, like HBO Go, Netflix and Amazon Instant Video, and you can live without YouTube and iTunes on TV, Roku is the way to go.
If you're already an Apple devotee with an iPhone, iPad, Mac and a huge library of iTunes movies and music, and you can live without Amazon Instant Video, then Apple TV is right for you.
If you're an Android user (Google Play only works on Android devices) and you have the patience to wait until more apps are enabled with Chromecast -- and the patience to wait until the device is back in stock -- then Google's newest option is right for you.
In the end, we're betting that the $35 price tag will be enough to convince people who already have Roku or Apple TV to supplement their streaming devices with Chromecast.
Do you have one of these three devices? Tell us which is your favorite in the comments.
Related
Before You Go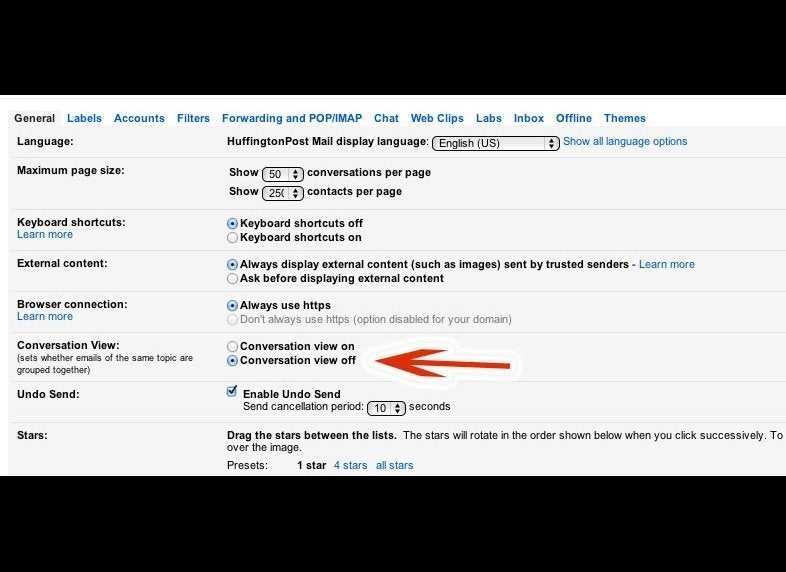 7 Gmail Questions You Were Afraid To Ask
Popular in the Community