Tights and I just can't get along. Thought it's impossible for me to get through winter without wearing them, my dry, cracked soles keep ripping holes in the thickest black and patterned hosiery. It's not uncommon for me to use an entire pack of tights in just two weeks. But that $7.99 starts to add up.
I've tried to soften my callused feet by scrubbing them with homemade scrubs made out of olive oil and brown sugar, as those foot files they use at the nail salon generally aren't hygienic or safe. (Remember this episode from "Martin"?) However, the results only last about a few days thanks to my constant stomping around in hard-sole leopard print booties.
So when I saw fellow beauty editors bragging on Instagram about a new Clarisonic brush made especially for your feet, I just had to put it to the test. The Clarisonic Pedi Sonic Foot Transformation System comes with a handheld device that you attach the brushes to, a buffing brush head that can be used wet or dry, a stainless steel smoothing disc, plus the Pedi-Buff cleansing scrub, Pedi-Balm moisturizer, Pedi-Boost serum and USB-enabled charger. Guess that explains the $199 price tag.
I must admit that the contents of the box was a bit overwhelming, but after I read through the instructions and allowed the Clarisonic Pedi to fully charge for 24 hours, I was ready to go to town on my feet.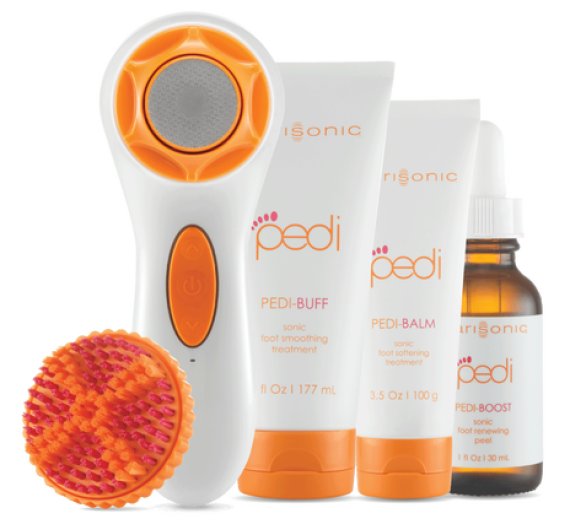 The Clarisonic Pedi Sonic Foot Transformation System, $199, Clarisonic.com
There are two recommended forms of use listed in the manual: the Daily Buff & Balm, which entails your basic at-home pedicure of scrubbing, brushing and moisturizing, and the Twice-Weekly Intensive Smoothing Treatment, which begins by sloughing away at all the rough spots with the smoothing disc.
I eased my way in with the former and immediately fell in love with the gentle exfoliator's apricot aroma as I smoothed it all over my feet and the back of my heels. Then I scrubbed for about three minutes using the Pedi Wet/Dry Brush Head. The combination of short and long soft bristles is a bit awkward, but the design effectively buffed away the dead skin cells. I felt a significant change before I even completed the treatment by slathering on the balm made out of shea butter and honey. That next day, I slipped on a new pair of black tights without a single snag forming.
In between experimenting with the Daily Buff & Balm, I got fancy with the smoothing disc. And ladies, THIS CHANGED EVERYTHING. It destroyed the calluses at the balls of my feet in just a matter of minutes without deeply cutting or making the skin raw. My manicurist better watch out! Needless to say, I haven't made a trip to the drugstore or Kmart to restock my tights supply in weeks.
Rating: 4 out of 5. This luxe foot care system is definitely for those who prefer do their own pedicures at home. But like the standard face cleansing system, I think the magic lies in the products. if you can't see yourself paying the price, make the Pedi-Buff and Pedi-Boost a part of your regimen.
These celebs might want to give this a go: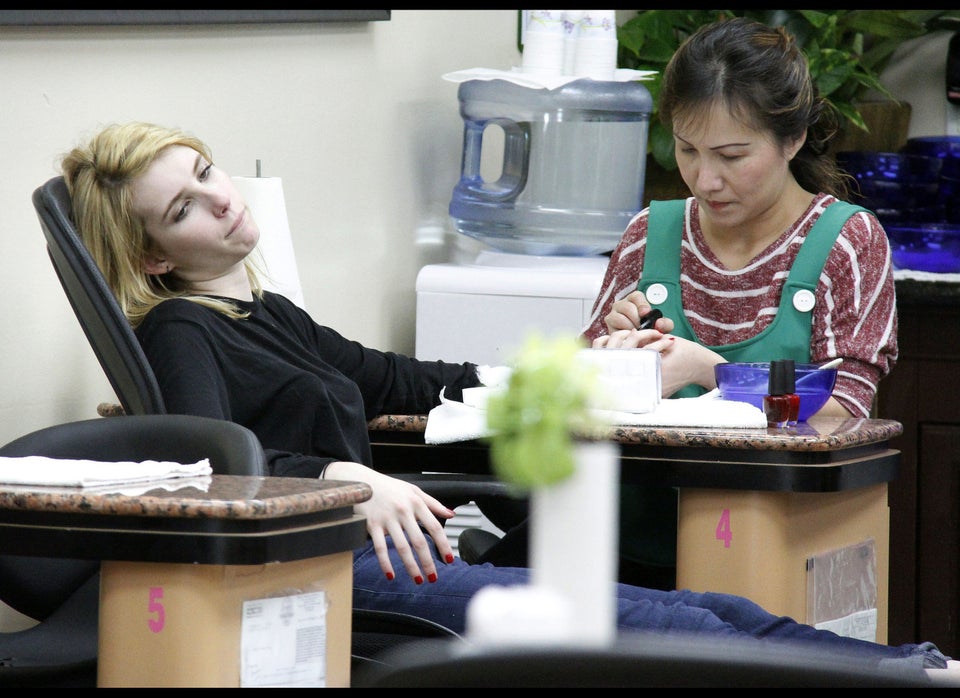 Celebrities At The Nail Salon
Want more HuffPost Style beauty content? Check us out on Twitter, Facebook, Tumblr, Pinterest and Instagram. (For everything else check out our main HuffPost Style Twitter, Tumblr, Pinterest and Instagram @HuffPostStyle.)
---
Do you have a beauty story idea or tip? Email us at beautytips@huffingtonpost.com. (PR pitches sent to this address will be ignored.)