As technology allows us to erect more and more electronic barriers around us, the value of removing one's earbuds and looking up from one's smartphone becomes increasingly important. Some people understand how to use new technology while others remain decidedly unclear on the concept.
"I couldn't stop fixating on just how often everything stopped in its tracks so that Jim Rockford could put a dime in a payphone: multiple times an episode. Without those payphones, the plot wasn't going anywhere. No one is as isolated today as Rockford was in his Plymouth Firebird on an L.A. freeway. It was hard for me to avoid the sinking feeling that Jim Rockford with an iPhone would no longer be Jim Rockford. Always-on Wi-Fi would accelerate his genial slouch. The languid ocean outside his trailer would end up a trivialized mote in his Instagram feed. The string of dames in distress wouldn't appear unannounced at his door; they'd find him on Tinder first.

Benedict Cumberbatch's Sherlock Holmes uses a smartphone just as you would expect a genius detective to, with the entire Internet at his disposal to assist in the deductive process. It's clever, but it always seemed like cheating. Arthur Conan Doyle's Sherlock didn't need no stinkin' smartphone! A few puffs on his pipe was all that was necessary!"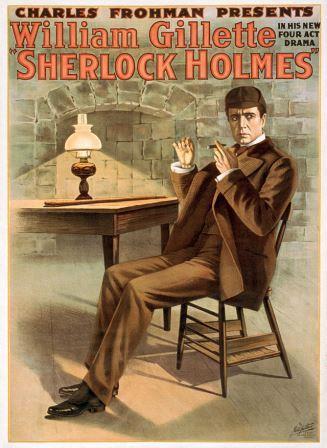 Poster art for a 1900 stage production of Sherlock Holmes
(Courtesy of Wikimedia Commons)
In her eye-opening article entitled Grandmas Rise Up Against Millenials' "Grandma" Lifestyle in The New Yorker, Cathy Lew describes how many grandmothers scoff at the self-indulgent ways in which some Millennials posture as senior citizens. However, instead of mimicking the elderly, there is much more to be learned from them.
Throughout my life I've been extremely fortunate to have friends from multiple age groups. When I first started attending opera, I learned a great deal from standees who ranged from impassioned teenage music students to 80-year-old women who were scalping tickets to supplement their income. When I moved to Rhode Island, I was fortunate to build friendships with middle-aged men and women who treated me as an adult (even though I was just emerging from my teens).
In recent years, both the Frameline Film Festival and the San Francisco Jewish Film Festival have developed intergenerational filmmaking projects which facilitate mentoring while recording oral histories from senior citizens. Throughout the process, both generations have learned a great deal from each other about empathy. Two films that were screened at the 2014 San Francisco Jewish Film Festival framed that learning process from unique perspectives.
Gay men who lived through the worst years of the AIDS epidemic got used to hundreds of their close friends and acquaintances dying while in their 20s, 30s, and 40s. Many of us can still remember friends from the gym who boasted "With a body like this, how could I be sick?" Two weeks later, they were dead.
Today, when a person dies in their 70s, 80s, or 90s, we celebrate the fact that they were able to live a long life. But in a culture that remains obsessed with youth and glorifies rampant narcissism, it's often difficult for people to deal rationally with death. A stunning new documentary which received its West Coast premiere at the San Francisco Jewish Film Festival follows seniors at the Harley School in Rochester, New York who have signed up for an elective course in hospice care.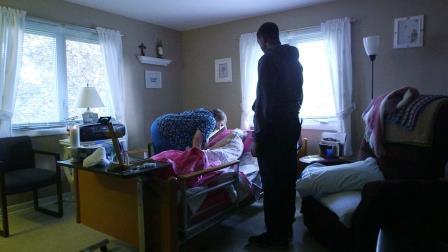 Jamir Avery (a non-Catholic) prays with a dying Catholic nun
Inspired by the work of his long-time friend, English teacher Bob Kane, David Marshall's poignant film entitled Beginning With The End was, quite obviously, a labor of love for all involved. In his director's statement, Marshall explains that:
"As Bob often remarks, 'The kids got it.' It was the parents, administrators and the general community that often didn't understand why kids would or should be helping people as they die. I imagine that in all likelihood I would have been one of those kids who didn't get it. I had never experienced death up close and unfiltered. The closest I came was in the 1980s AIDS crisis. During those tortuous years, I got to know many young men who died alone, with nobody holding their hand or even being present in the room. I often wonder if some of my interest in doing this film might stem from my inability to help back then. But at that time (like so many others) I was too afraid. Too afraid of death. Too afraid of the idea of mortality. Whatever brought me to this moment, I can safely say Bob's class was a catalyst for change in me.

I began this film with a definite position and a set of expectations. I thought I would be following an experience that some would embrace and others would not, expecting that the nature of the topic (death) would select out some students to fail. What I found out is that none of the students fail. No matter how the students stratify themselves in high school (the Ins, the Outs, the jocks, the intellectuals, the nerds, the wallflowers) how they were in the comfort care homes was never defined by those same strictures. In the end, they helped the most vulnerable people move on with an assurance and kindness infrequently asked of contemporary teens. If you have ever wondered how wisdom moves from one generation to another, I can say, one way is by caring for someone who has nothing to offer in return but gratitude and a whispered part of their story."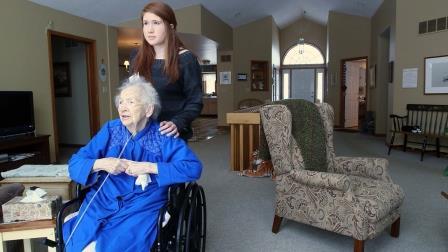 Leandra Caprini-Rosica and Ada Rosenstreter watch the snow fall
Kane, who has been supervising the Hospice Care course for 10 years, makes no bones about the challenges students will face. But he finds that in the initial discussions of their past experiences with death (as well as their fears and insecurities about it), as soon as one or two students open up about how death has impacted their young lives, it opens up the rest of the group to a remarkable level of candor and emotional honesty.
Students learn how to help wash patients, turn them over in bed, feed them, and sometimes just sit with them silently. One male teenager jokes about how part of the time he spent with a patient involved sitting with her in the garage and keeping her company as she smoked cigarettes. Whenever he came home smelling like an ashtray, he explained that he was helping a patient who liked to smoke. His mother's reaction was simply to tell him to take a shower.
One of the most moving scenes in Marshall's documentary occurs when two adults (whose parents were tended to by the students in the Hospice Program) visit the classroom after their respective parents have passed on. They get a chance to thank the teenagers not just for the help they gave in caring for their dying parents, but also for the way their presence allowed the adults to get some relief from the duties of caregiving and simply be a family's children again as their parents faded and died. Marshall makes no bones about what he learned while working on Beginning With The End.
"I have come to believe that if the right circumstances are presented, it is innate to us to be compassionate. Empathy is in our DNA, as it were, but like any innate attribute it must be nurtured if it is going to grow. The class and the homes provide such an environment. What still strikes me are the students -- their desire to return to hospice class each day as if this place, this class, was a kind port in life's storm. In this safe harbor, they learned how to help someone without expecting anything in return, no reward beyond just being there quietly and knowing that their presence is enough."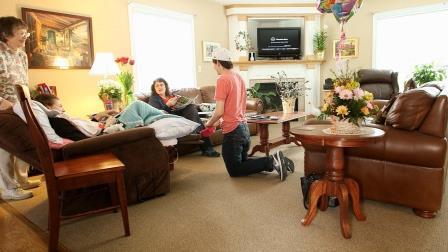 Josh Shechter helps a patient who keeps slipping off her socks
Whether sharing a piece of lemon meringue pie with an elderly woman, listening to a group of male friends who have known each other for years, or sharing a woman's insights about her realization that, after receiving her cancer diagnosis, she was still the same person she was before she heard the news, the students listen, learn, and become more comfortable with making friends with people who will soon die. When one of the students discovers at Thanksgiving that her own grandmother has a terminal illness and will need hospice care, her connections with a comfort care facility ease the transition for everyone in her family.
Beginning With The End is not a sad movie, but one which captures the humor of old age, the willingness of teenagers to look beyond their own needs, and the reality of death. Marshall's touching documentary treats them all with respect. Here's the trailer:
One of the more poignant pieces of Holocaust art to survive was Brundibár (a children's opera written by Czech composer Hans Krása and librettist Adolf Hoffmeister). According to Wikipedia:
"Krása and Hoffmeister wrote the opera in 1938 for a government competition, but the competition was later cancelled due to political developments. Rehearsals started in 1941 at the Jewish orphanage in Prague, which served as a temporary educational facility for children separated from their parents by the war. In the winter of 1942 the opera was first performed at the orphanage (by this time, composer Krása and set designer František Zelenka had already been transported to Theresienstadt). By July 1943, nearly all of the children of the original chorus and the orphanage staff had also been transported to Theresienstadt. Only the librettist Hoffmeister was able to escape Prague in time."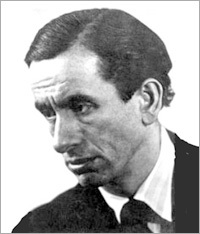 Czech composer Hans Krása
"Reunited with the cast in Theresienstadt, Krása reconstructed the full score of the opera, based on memory and the partial piano score that remained in his hands, adapting it to suit the musical instruments available in the camp: flute, clarinet, guitar, accordion, piano, percussion, four violins, a cello and a double bass. A set was once again designed by František Zelenka, formerly a stage manager at the Czech National Theatre: several flats were painted as a background...On 23 September 1943, Brundibár premiered in Theresienstadt. The production was directed by Zelenka and choreographed by Camilla Rosenbaum, and was shown 55 times in the following year. A special performance of Brundibár was staged in 1944 for representatives of the Red Cross who came to inspect living conditions in the camp. What the Red Cross did not know at the time was that much of what they saw during their visit was a show, and that one of the reasons the Theresienstadt camp seemed comfortable was that many of the residents had been deported to Auschwitz in order to reduce crowding during their visit."
Although Krasa died in Auschwitz (along with most of the children who performed his opera), Brundibár received its American professional premiere from the Washington Opera in 1995. In 2003, playwright Tony Kushner and artist Maurice Sendak collaborated on a picture book version of the opera.
That same year, Chicago Opera Theatre presented Brundibár with a new libretto written by Kushner (the production was designed and directed by Sendak). In 2005, the revised opera was given a new production by the Berkeley Repertory Theatre.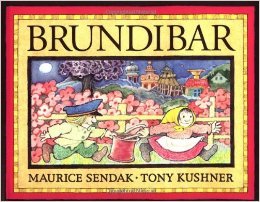 The 2014 San Francisco Jewish Film Festival presented the world premiere of Douglas Wolfsperger's new documentary about a group of students in Berlin's Schaubühne Theater who rehearse and perform Brundibár under the leadership of the theater's youth educator, Uta Plate.
What makes Wolfsperger's documentary so touching is Plate's decision to have her young cast travel to Terezin along with octogenarian Israeli Greta Klingberg who, when she was 13 years old, played the lead role of Aninka in Theresienstadt before she was deported to Auschwitz.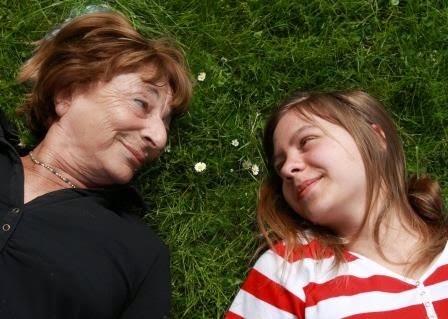 Greta Klingberg with the young woman performing the role of
Aninka in the Schaubühne Theater's production of Brundibár
There are many touching moments in the film as the teenagers in the cast pepper Klingberg with questions about what it was like to perform Brundibár under such extreme conditions 70 years ago. While Klingberg demonstrates an almost childlike delight in being able to sing along with the youthful cast, she also asks them if they understand the meaning of the term "Potemkin village" and its relationship to the opera as a propaganda tool for the Nazis.
Related
Popular in the Community