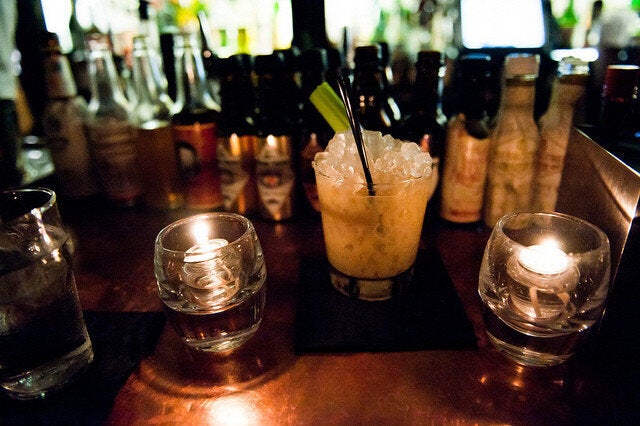 I used to tell people that I got interested in cocktails because my parents were into wine and it was my way of being a rebel. In comparison with cork-sniffing and vintage-cataloguing, quaffing cocktails seemed a lot more fun -- and a whole lot less like work.
That was 10 years ago, an era when cranberry juice reigned behind the bar, insisting on fresh citrus was considered crazy and the shaken martini was still de rigeur. Almost nobody considered the importance of ice, how different sized and shaped cubes affected a cocktail.
Flash forward to the present when managers and bartenders at even indifferent chains stock 31 different flavors of bitters (two of them mole-based!). Now cocktail enthusiasts write dissertation-level explanations on the evolution of old recipes, and even mid-sized cities report a surfeit of faux-speakeasy bars (aka speak-cheesy). A night out can dock a couple $72 (before the tip) for two drinks each, and thanks to the bartender's showmanship, a single libation can take 20 minutes to make.
The rise of the craft cocktail
Just how did we get to this era of refined drinking? New York was a pioneer of the craft cocktail -- drinks carefully conjured from pre-Prohibition recipes and house-made ingredients. Bars like Milk and Honey, Please Don't Tell and Flatiron Lounge promised better drinks and a less boisterous atmosphere. Dedicated craftsmen, like bartenders Katie Stipe and Jim Meehan weren't actors waiting to be discovered (and feeling secretly better than those they served). They were -- and are -- passionate bartenders sharing their enthusiasm with customers.
Stipe and Meehan are among the pioneers who helped establish an interesting subculture. Marked by sideburns, mustaches, fedoras and tattoos, today's professional craft cocktail makers create syrups from scratch and hand-carve ice to achieve specific levels of coldness suited to the level of dilution required. In the late 19th century, the American cocktail was a culinary innovation and cultural export -- one of our great contributions to world epicurean excellence.
Prohibition and the collapse of the 'drinkway'
The corpse reviver family of cocktails (traditionally morning drinks intended to revive the hungover corpse) was widely celebrated at the Paris Exposition in 1889. But Prohibition, that noble experiment, lasted for a long, thirsty stretch and resulted in what is called a lost "foodway," or, in this case, "drinkway." Recipes and methods stopped being passed down from one bartender to the next through hands-on training and apprenticeship. By the time bars reopened in the 1930s, the ranks of professional barmen had long moved on to other careers or retired.
Prohibition-era drinks were often overly sweet and creamy to mask the substandard booze. Post-Prohibition drinks grew out of that tradition, but became bigger, as the game became "How much liquor can you get into a glass?" Nobody would deny the virtues of midcentury American classics like daiquiris and gimlets, but over the next few decades artificial-tasting and looking bar mixes replaced fresh lime. In the 1980s, candy-flavored drinks brightly colored with grenadine, like the Tequila Sunrise, "fruit" daiquiris and margaritas, and bright red Royal Rickeys emerged.
The end of the 20th century and early millennial years are often viewed as the nadir of the cocktail timeline, until Sasha Petraske of Milk and Honey, rightly viewed as America's first "craft cocktail" bar, took the reins and taught people to just say no to cranberry and vodka. He didn't stock either ingredient. Instead, he proffered gin- and brown-liquor-based classics made with fresh-squeezed juices and house-made syrups. "Bartender's choice" drinks, reflecting the omakase trend in sushi restaurants, took hold.
That said, the relationship between drinker and pourer is not always amiable.
As bartenders are downright fetishized for their ability to combine specific spirits, I feel we're losing some of the spirit of the bar. People are there to have a good time and meet people, not to pray at the altar of the cocktail.
There are other aspects of fine drinking (as opposed to fine dining) that are less than democratic. Craft cocktail bars aren't your drop-by-after-work-and-chat-with-Norm kind of places. More often than not, they take reservations and enforce rules about speaking to people (especially women) you don't know. Initially, that was such a welcome rule -- and there's still a place for it -- but it begs the question: Why are we trying to de-socialize the emblem of sociability? And then there's the price. It's not unusual for a cocktail to run between $12 and $16 these days.
Is cocktail snobbery the problem? Probably not the biggest one, since gentrification, healthism and car culture are all probably bigger threats to traditional bar culture. But just in case elitism is even a small component, I'm doing my part to fight it -- I'm switching back to wine.
And the occasional vodka.
Zester Daily soapbox contributor Christine Sismondo is a Toronto-based author and barfly. She wrote "Mondo Cocktail: A Shaken and Stirred History" in 2005 and, more recently, "America Walks into a Bar: A Spirited History of Taverns and Saloons, Grog Shops and Speakeasies."