"Let food be thy medicine and medicine be thy food." -- Hippocrates
It is common knowledge that eating a well-balanced diet, low in sugar, fat, and processed foods, is good for you. However, it is never more important than when someone has been diagnosed with cancer, is undergoing chemotherapy, or is recovering from treatment. According to Dr. Cynthia Wigutow, board-certified specialist in oncology nutrition with the Memorial Cancer Institute, "Following a plant-based diet is recommended by the American Institute of Cancer Research before, during and after treatment" (American Institute for Cancer Research). Carrying out recommended diets for oncology patients and those patients suffering from chronic diseases is challenging; hospitals face a myriad of obstacles to implementing an integrated treatment plan with doctors, registered dietitians, and the hospital kitchens and cafeterias. According to a CDC report, an individual hospital serves up to 1 million meals each year (Healthy Hospital Choices). The opportunities for hospitals to serve healthy, healing, comforting food are significant, but it has not been a part of the treatment plan for cancer patients in most cases. However, one health care system is doing it right, and Chef Michelle Bernstein is leading the charge, along with Dr. Wigutow and the Memorial Cancer Institute.
Chef Michelle Bernstein, born and raised in Miami, left after high school for New York to dance with Alvin Ailley. Though she would have undoubtedly been a success wherever she settled, her relationship with her mother was what brought her back home. "My mother has been my co-conspirator in life, every moment that has mattered in my life, she has been there by my side," Michelle explained.
The nationally-celebrated chef, restaurateur, television personality, and author established herself quickly in the Miami culinary scene and has multiple successful ventures; she is known to demand and bring out the best in her staff and those who train under her. Fellow chef Gavin Kaysen, who coached team USA to their first medal at the Bocuse d'Or, the culinary olympics of the world, describes Michelle as a "force, someone who has guided her way through this culinary world with not only great food, but class, warmth and a genuine likability that is not always there. She has great character and heart and helps motivate others around her to not only extend that hand of food to the customer but also to those in need."
Michelle, a pillar in the Miami community, makes it a priority to give back and support countless local charities and spearheaded a noteworthy expansion of the Common Threads program within Miami Dade Public Schools. This latest endeavor is her most personal one yet, and is near to her heart.
Michelle's mother was diagnosed with lung cancer last year, and it turned her world upside down. "There is nothing more heart wrenching and nothing that makes you feel more helpless than watching someone you love embark on an unfair battle for their life. During my mom's chemo, I would survey the food being served and it was appalling. As a cook, I want to feed people good food. As a daughter, I wanted my mom to eat and to nourish herself in order to give her the strength she needed."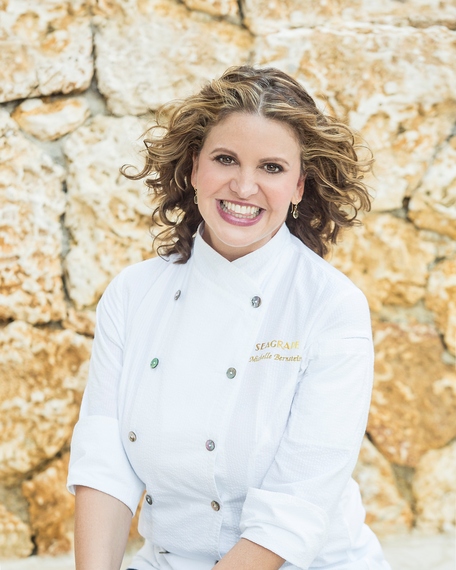 Photo by: Michael Pisarri
It was this experience that led her to partner with the Memorial Cancer Institute and the hospital where she was born, to create a menu of healthy options for oncology patients receiving chemotherapy treatment. Beyond appropriate food offerings, this project is also serving as a vehicle to promote the healing properties of food and focus on holistic and integrated patient treatment to an audience where the need is high.
Hospital patients, for the most part, are not being offered healthy foods that promote healing or recovery from procedures, treatments or diseases. While most people think of hospitals as a place to go to get well, in many instances, this is not the case. As part of an evaluation for the California Endowment's Healthy Eating, Active Communities Program, a four-year initiative to address disparities in health related issues, a study was conducted involving foods served in hospitals and other health institutions. The study found that these facilities "had a predominance of high energy dense foods and sugary drinks in their vending machines and few had policies in place to limit unhealthy options. Many hospitals have fast-food restaurants on their premises" (Healthy Hospital Choices).
These options are not adequate for anyone, much less individuals facing cancer, chemotherapy, or recovery from other treatments. Additionally, cancer patients are faced with unique challenges with what they should eat and what they can eat. Cancer, chemotherapy and radiation can cause a number of specific issues, from changes in the way food tastes, the body's ability to digest foods, pain associated with eating and more.
Dr. Wigutow explained her patients' specific nutritional needs and why it is a complicated issue. "Plant-based diets contain little or no animal protein with lots of fiber found in fruits, vegetables, whole grains, legumes and nuts. They contain naturally-occurring bioactive compounds, which help protect our cells from oxidative damage that can lead to cancer. Plant-based foods contain lots of vitamins and minerals that strengthen our immune system and keep our body healthy." She encourages patients to follow the New American Plate: 2/3 of the plate filled with plant based foods for each meal. Using herbs and spices, as well as maintaining proper oral care are also recommended to help offset the negative taste associated with chemo drugs.
Imerman Angels is an organization that offers an invaluable service by pairing cancer patients with more than 6,000 cancer survivors and caregivers, in more than 60 countries and across all 50 states, who have been through the same experiences. Founder Jonny Imerman, a cancer survivor himself, explains, "When you are undergoing chemo, food has to be bland. It can't have spice. It might look beautiful and taste incredible to the average person but treatments scramble everything for cancer patients. Everything tastes like metal."
The idea of food as medicine, both healing and preventative, is not a new one. Food has therapeutic properties and can either worsen or help reverse many diseases. Dr. Jennifer Miranda, an internal medicine physician, stresses, "Food absolutely plays a role in healing. Certain foods are inflammatory and can make patients' symptoms or conditions worse. Other foods interact with medications, thereby decreasing their efficacy. Additionally, many foods provide extra vitamins, nutrients, and antioxidants that help the body heal in various disease states." She calls diet a "game-changer" and has seen the results first hand. Dr. Wigutow agrees and has seen patients follow her dietary recommendations and experience an improvement in quality of life and conditional treatment.
An article published in the American Medical Association's Journal of Ethics says "given that many leading causes of preventable illness and premature death in the U.S. -- obesity, diabetes, heart disease, cancer -- are diet-related, it is logical that hospitals have a stake in providing health-promoting food" (AMA Journal of Ethics, The Ethics of Hospital Cafeteria Food). The Physician's Committee for Responsible Medicine states that hospitals would better serve their patients by changing menus to offer "more heart-healthy, antioxidant-rich fruits, vegetables, beans, and whole grains." (Physician's Committee for Responsible Medicine Report, 2014).
Michelle's unique approach maintains a strong connection between the food, the diseases and the treatments. Her offerings are plant-based, low-sugar, easily digested dishes. Michelle has a unique insight into what might be tolerable and pleasing to patients because of her experiences with her mother, and feels passionately about taking care of those undergoing treatment.
The innovative program, funded by the Memorial Foundation's Pink Angels, was rolled out at the beginning of March and is the first chef-medical facility partnership. The menu will be available to chemotherapy patients at Memorial Regional Hospital, Memorial Hospital West and Joe DiMaggio Children's Hospital. Michelle will train the hospital staff to prepare the new items herself. "As part of the one-year partnership, Bernstein is developing signature recipes -- and adapting a few from her repertoire -- including snacks, soups, sandwiches and salads to help cancer patients ease their way through treatment. Among the dishes: triple crumb berry muffin, raw chocolate cashew and almond energy bar, margherita quiche and cauliflower soup" (Miami Herald). This is a far cry from "typical" hospital food.
Imerman believes that communication is a critical step to seeing hospitals adopt nutrition as a key component in their vision and treatment offerings. "No one talks about diet; in prevention, during treatment or post-treatment but we need to. This is an important conversation. I hope more hospitals will consider allocating resources to improve menu options. The awareness that Michelle is bringing to the issue could improve quality of life for patients -- it is meaningful."
Progress is being made in a handful of instances. Some hospital facilities have removed fast food chains from their buildings. In 2012, New York City passed a measure called the Healthy Hospital Food Initiative, which eliminated some vending machine offerings and fried food in the cafeterias. In the U.K. there is a group of like-minded health care professionals having conversations about hospital offerings and ways to improve them (The Guardian). These are all important steps that need to be taken. However, a hospital involving chefs and registered dietitians in creating menu options is a giant leap forward to meeting the nutritional needs of cancer and chemotherapy patients. Dr. Wigutow feels strongly that it is this type of interdisciplinary approach that is necessary to treat the whole patient. Hopefully Michelle's program will pave the way for future collaboration and programs to provide better options to patients when they need them most.
Coming together to start the discussion is the first step. Hospitals, doctors, registered dietitians, chefs, patients, and family members all need to be involved. Progress will follow and hopefully programs like these will become the new normal. In the meantime, Dr. Wigutow has narrowed down her nutrition advice both for preventative measures as well as for individuals undergoing cancer treatment. 1) Eat more plant-based foods; 2) Limit consumption of red meats (beef, pork, veal and lamb) to less than 18 ounces per week; 3) Avoid processed foods and meats; 4) Eat more fiber by adding whole grains, legumes and a variety of fruits, vegetables to your diet (goal 25-30 grams/day); 5) Limit simple sugars in diet (candy, sweets, sugary drinks and refined foods).
Calling all HuffPost superfans!
Sign up for membership to become a founding member and help shape HuffPost's next chapter