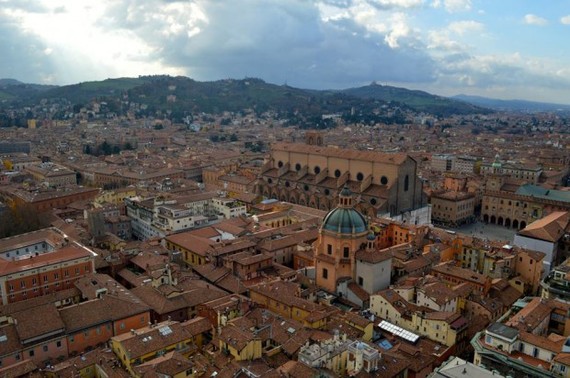 By College Tourist; Author: Hannah McIntyre, Spring Hill College
Study abroad in an Italian city known for its food and culture.
Culture in Bologna is typically Italian in it's love of wining and dining. It is the food capital of the country, bringing a lot more to the table than just delicious Bolognese sauce. However, the youthful atmosphere created by the University has made Bologna much more fast-paced than the rest of the country. At the turn of the century, the EU declared it the European capital of culture, in 2006 UNESCO named it the "city of music" and in 2011 Bologna was ranked first in quality of life out of over 100 other Italian cities!
While exploring the city, there are important sites to see that are both gratuitous and for a fee, and the best way to get around is on foot. Everything is just a short walk. There are busses and taxis, but I can honestly say I only used them to get to the airport - everything really is close!
Piazza Maggiore is the city's main square and it features smaller squares in the immediate surrounding area. There, visitors will find the Basilica of San Petronio, named after the city's patron saint. In this area there are an abundance of restaurants and great shops. In Piazza del Nettuno, one of the surrounding squares, is the Fountain of Neptune, who is a symbol of Bologna.
Not far from the piazza are the due torri. The "two towers," both of which are leaning, are famous in Bologna not only because they serve as a way to orient yourself while exploring, but they are two of few surviving towers of almost 200 in Bologna during the early Middle Ages. They are located strategically at the meeting point of the five roads which lead to the original five gates of the old ring wall, an area full of restaurants, gelato and shopping. There is a myth among students that you should not climb to the top until you have completed school. So, we waited until the end of our semester! The price to climb the Asinelli Tower is a mere 3 euro and the views are breathtaking. From the top, the view of the city resting in the hills is like no other tower view in Europe.
Bologna is often compared to Venice in its beauty. What visitors to Bologna might not realize is that the two cities are more alike than they seem. There are 60 km of mostly covered or hidden canals in Bologna. However, some of them can be seen through windows with doors on walled bridges such as the one on Via Piella. The canals are a secret of the city and a hidden gem that's exciting to find.
A 3.8 km walk under the longest portico in the world will take explorers to Santuario della Beata Vergine di San Luca or the Sanctuary of the Blessed Virgin of San Luca. The stunning basilica sits in the hills surrounding the city. The story behind the church is that a pilgrim brought an icon of the Blessed Virgin to Bologna and it sat in a church or chapel on the hill where the basilica is today. The church that is there today was built during the 1700's and boasts multiple chapels and altars. The church is accessible by car but the hike there and back is definitely part of the experience.
Art is everywhere in Bologna.
Looking around both the main streets and the back roads, street art is obvious on bridges, walls of buildings, recycling bins and any other surface that looks like it could use some color. There are multiple active street artists there, such as Blu, who fill the already beautiful streets with even more to look at. Off the beaten path, the Stalingrad Bridge, near Porta Mascarella, is covered in street art and should definitely be a stop on the art tour of Bologna.
On the classical side of art, there are museums for any period of time in Bologna's history. The Pinacoteca Nazionale di Bologna (National Gallery) costs 4 euro, the Museo Civico Archeologico is 3 euro for students and the MAMbo - Museo d'Arte Moderna di Bologna (Modern Art Gallery) is 4 eruo for students just to name a few. What many people don't realize is that Bologna has work from famous artists, such as a young Michelangelo, in churches and university buildings around the city.
La Piazzola is a historic weekly market in Emilia-Romagna boasting over 400 stalls. When it began in the 1200s, it was a cattle market. Now, every Friday and Saturday, shoppers can find clothes, shoes and accessories, flowers, jewelry, pottery and more in Piazza VIII Agosto and Montagnola Park. Bologna has many other smaller markets for antiques, vintage clothing and accessories and handcrafted items that take place during certain months of the year only. There are a handful of wonderful farmer's markets around the city such as Mercato delle Erbe, held daily in Piazza de Marchi and Mercato della Terra, held on Saturdays in Piazzetta Pasolini.
Bologna also has many seasonal markets, especially during November and December, held in piazzas and under the porticos around the city. Fiera di Natale and Fiera di Santa Lucia are two of the biggest Christmas markets for the city. Cioccoshow, or Festa del Cioccolato di Bologna takes place in November and offers visitors more chocolate and chocolate themed items than they know what to do with.
Now on to the best part of Bologna: the food. As mentioned earlier, Bologna is considered the food capital of Italy bringing so many wonderful dishes to the table. Besides the meaty and delicious Bolognese sauce, bologna (it's nothing like bologna in America - way better!), tortoloni and lasagna were given to the world by Bologna. Talk about good eats! Bologna is not a city full of tourists. Looking around for a restaurant full of locals will prove that all of them are full of locals. There were so many times we were the only American's around that I lost count. While the local delicacies are good at pretty much any trattoria or ristorante, be sure to try Osteria dell'Orsa on via Mentana and La Taberna di Fagiolino e Sganapino on via Broxxaindosso, but be prepared to wait.
Panini Farciti on Via Giuseppe Petroni is the place for made to order paninis and 500 Volte Pizza on via del lavoro has more options than imaginable. Jon at Kabulogna on via Guerrazzi makes the best kebab and a kebab pizza that is to die for. Be sure to get him talking - his story is amazing. The Dragon Pub on Viale della Repubblica serves family style pasta, and man is it good. Be sure to try the gramigna alla salsiccia. Caffe' Dell'Accademia is a great spot for an afternoon espresso. Everyone who works there is so friendly and they serve simple sandwiches and pasta that is surprisingly delicious for a coffee shop. For dessert, gelato from Gelateria Cremeria Mascarella on via Mascarella has very unique flavors and Gelateria Gianni, right at the base of the two toweres, has one of the biggest selections in the city.
At night, Piazza Verde is full of students because bars circle the square and stretch blocks down via Zamboni, which runs through the Piazza. There you will find small clubs, Irish pubs and Italian bars full of students from around the world. Cluricaune Irish Pub, in that stretch, holds tandem language nights and an Erasmus night once a week. Head to Covo Club on via Mascarella for live music and Millennium on via Riva di Reno, just a few blocks down, to dance all night. Via del Pratello, near Piazza San Francesco, is a street full of restaurants to begin the night and bars to party in until the wee hours of the morning, as Italians love to do. Many bars around the city offer Euro shot specials every night of the week, so those are a great place to start the night and a great way to save some money.
Being in Italy, it is important to remember that almost everything (not Dragon Pub!) is closed on Sundays, but there are always people out and about to get to know! Many shops or restaurants close during various afternoon hours during the week as well.
When making Italian friends, be sure to keep in mind that Italian men are very forward and will take almost anything as a sign that you like them.
Most restaurants in Italy have a small fee for sitting down at a table. Tipping is not custom there, so this is their tip in a way. Also, water is usually not free; so, don't just keep ordering bottles because your bill will surprise you.
If you thought your grandparents were slow, you have another thing coming to you. Italians are in no rush to do anything or be anywhere when they're walking. Driving is a whole other story.