The last time we'd visited Colonial Williamsburg and Jamestown was six years ago, both in the lovely state of Virginia. What used to be a quick five-hour drive was now a whopping twenty from Minnesota!
I used to be crazy over Williamsburg, even had a dress made to wear when we visited. Everything about the place used to make me giddy-the cute historic taverns, the educational component for the kiddos, and I even decorated our bedroom in the lovely blue and white toile Williamsburg design.
Katerina was excited to pack her bag for our Spring Break trip. One peek inside revealed her precious 7-year-old heart-four of her My Little Pony toys, broken crayons, scrap paper, Chapstick, one pair of undies (not sure of they were clean), a flashlight, and a miniature clock tower.
Elizabeth had a dance competition the first weekend of break, so we waited till Sunday evening to leave. As always, we couldn't make up our minds where we were going. Nikos even suggested Arizona. Finally, we decided on Virginia, with Williamsbug and Jamestown in mind. I'd love the notion that we're all cool and spontaneous, rather Nikos and I are two dummies who can't make up our minds even over a stupid box of cereal at the store.
With museum stops, rest areas including vending machine binges, two of three kids almost puking from car sickness and Nikos being a huge grump the entire way, it took a freakishly long time to get to the "VA is for lovers" state.
I'd found a terrific deal at the Powhatten Resort, and it was worth the squabbling dysfunctional car ride, just to stay in that luxurious place! Our suite had a deck that overlooked trying to bloom trees, and we'd two bathrooms. Sorry, but I'm rough around the edges apparently, because I've never stayed in a hotel equipped with TWO bathrooms before! More toilet paper-Katerina yelled out, "Mama, here's a present all wrapped just for you!" Only a few will get that if you've been reading my blog for years.
I wanted a quick start to experience the full day at Colonial Williamsburg, hastily rushed the kids through breakfast, all good until Nikos lurched to a stop in front of Duck's Donuts. All hail to the homemade, dripping with frosting, so freaking yummy donuts! I was dancing in the donut shop-couldn't help myself! We ordered more for the following morning.
The line at Colonial Williamsburg took a solid hour. I'd instructed the kids to sit in the adjacent room on a bench, but they kept coming by to tattle. My very mature kids also have a problem with voice volume, so that the other tourists were staring and undoubtedly judging, likely praising God that they never had such terrors for kids/grandkids. Elizabeth walked up and whined, "Mama, why are you forcing us to go to this stupid place? I can't stand it here!" I gave her the trusty You have one second to get out of my face before I go mama crazy on you! look, the one that turns my eyes yellow, and she left in a jiffy, along with snickers from bystanders.
Here's my omission and I'm sorry. I must be going to Hell, but I told the lady that Katerina was five. She's the same size as a 5-year-old, and I already had to pay $135, with Katerina being free, and my discount for having a teacher's license. Okay last one I swear, I said that Nikolas was twelve. He was four months ago-sheesh!
It was hot, and we weren't used to the high eighties just yet. It snowed seven inches in Northfield while we were gone just to further explain why the heat was an adjustment. Nikolas and Elizabeth got in a fight just as soon as we'd begun the walk, a full blown brawl, and I regretted forgoing the shuttle bus.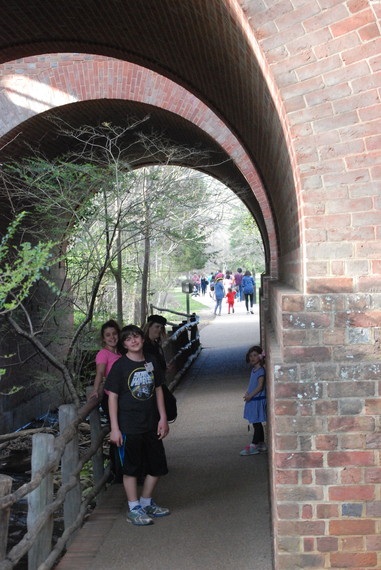 While chewing out the kids for their atrocious behavior, and consoling Katerina that she truly looks her age as well as apologizing for being a terrible example (I'm even a Sunday School teacher!!), some 18th century dressed dude sauntered up and announced, "Welcome to Colonial Williamsburg!" Oh crap, that started it, Nikos' horrible British accent for the duration of our visit!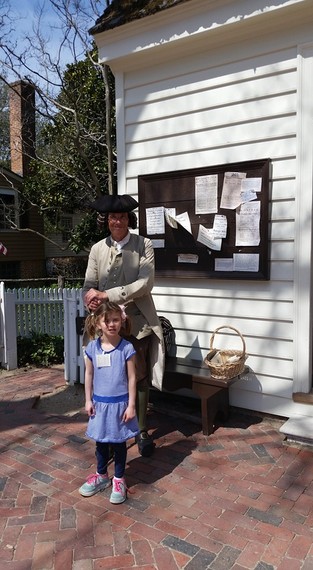 Katerina was thirsty. The quaint trading post style stand sold bottled water for $3.50-nope! We walked around looking for a water fountain-nothing. We bought one, then Nikolas drank it all, had to buy a second bottle. Elizabeth grabbed the bottle first, claimed she was scared of germs, and poor Katerina only got a smidgen. We were forced to buy yet a third bottle. This was payback for my sin, I just knew it!
The wait for Shield's Tavern was supposed to be forty-five minutes, turned two hours. we tried to tour buildings, but they were all so crowded, and we didn't want to miss our place in line.
It was close to two till we sat down to eat, and our waiter was such a trip! He'd inevitably been told that he resembled Johnny Depp, yet the hot factor seemed to flounder, especially when he spoke in his fake accent and swagger just a bit much to make me suspect what he was growing in the tidy little garden out back.
We emptied the pewter pitcher of water twice. I ordered pasties, forgotten how to pronounce the word, and I guess I was due to receive what some ladies wear in obscure places. Johnny Debb wanna be smirked and corrected my pronunciation. Nikos got some sandwich that looked no better than what I make for the kiddos for any given school lunch.
The tea house was nice, and enjoyed a most delectable thick chocolate drink, peppered with cayenne.
Elizabeth and Nikolas were excruciatingly bored. Katerina was tired, hot and wanting to be carried. I emphatically tried to wrangle up my crew, infusing enthusiasm, yet it was futile. I surrendered, recognized my defeat when Nikos abruptly stopped with his annoying British accent. After touring the palace, and taking some lackluster-smiling pictures, I reluctantly offered to leave.
I battled tears, thick nostalgia oozed inside my soul. Memories carried me back to pushing a stroller around six years ago, seeking out a shady spot to breastfeed my little one, having three precious kiddos with years of travels to go as a family. When you have a small gaggle of tiny kids, it's inconceivable to grasp emotionally that such precious years will be so crazy swift as a dangerous current. I knew this was the last time we'd be here as a family. Elizabeth was graduating next year, and this was it. I'd take the squabbles, erratic hormones, griping in just-changed voices, every last morsel, just so I could hold on a little longer.
Williamsburg suddenly seemed sinister, artificial, forlorn essentially. I whispered to Nikos through tear-blurred eyes that Williamsburg had lost it's sparkle for me, had gone downhill.
Nikos wrapped his arm around me and softly explained, "Rebecca, it's gonna be okay. Williamsburg is the same, you're the one who's changed. You've taken us to so many historic places, you now see that it's all pretty hokey. Besides honey, you're a daughter of the Revolution-don't ever forget that!"