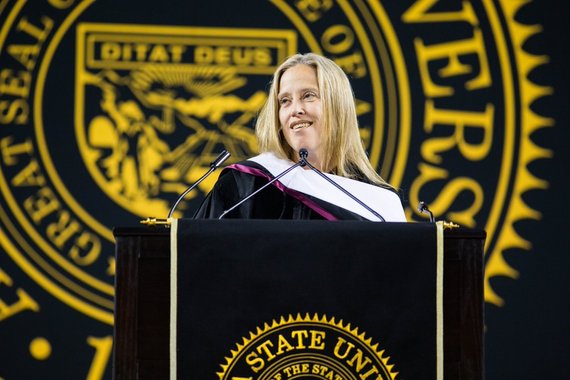 On Monday, May 9, Teach For America founder and Teach For All CEO Wendy Kopp gave the commencement address to Arizona State University's Class of 2016.
Good evening, everyone! It is wonderful to be with you here tonight. To President Crow, the Arizona Board of Regents, distinguished faculty and staff--thank you for inviting me to share in this time of joy and celebration.
To the families trying valiantly to spot your own dear graduate among this sea of caps and gowns--I can only imagine how proud you must feel.
And to you--Arizona State University's graduating class of 2016--I couldn't pass up the opportunity to be with you tonight. For a few reasons.
First, because of your achievements and your potential. You have worked so hard to get to this moment. I want to especially acknowledge the 3,000 of you who are the first in your families to earn a college degree, for whom the challenges were likely even more significant. To all of you in the Class of 2016, congratulations on what you have accomplished to get to this day.
And your accomplishments are just beginning.
You have grown up in difficult times--through the deep recession that hit this state full-force, hurling hard-working people out of work...through setbacks and struggles for civil rights and justice for all...through a brutish and unappetizing political climate that too often sows contempt between neighbors, colleagues, and classmates.

But soon, you will be in charge. And this institution, which you so wisely chose as your partner on your journey into the future, has prepared you well for that responsibility.
I don't have to tell any of you that Arizona State is a special place. Under President Crow's leadership, you have enjoyed the richness of mind, spirit, and community, that comes from a steadfast commitment to inclusion and diversity. Our entire nation would do well to embrace Arizona State's core value: a place measured not by whom it excludes, but by whom it includes, and how they succeed. You are all unique, and you are all Sun Devils--learning together as teammates here at Arizona State University. And together you are living proof that inclusion and success go hand in hand.

I also had to be with you tonight because this institution is a dear friend of Teach For America.
I'm particularly grateful to Dean Koerner and Mary Lou Fulton Teachers College, which has invested so much in the development of our teachers and educational leaders who are here in Phoenix.
And I'm so proud that graduates from the Arizona State community make up one of the largest groups of Teach For America teachers in classrooms today, soon to include the 40 of you who are starting on that journey now. I was so inspired yesterday to meet Natalie Navarrete, one of those 40 who was inspired to join the corps because of the impact of her 5th grade Teach For America teacher. Thank you, all of you, for your commitment to helping all kids fulfil their potential.
Right now, around the world, hundreds of millions of children are going to fall short of their potential because of the circumstances of their birth. From the very beginning, these children face obstacle after obstacle--poverty...malnutrition...discrimination based on race, or class, or gender, or religion, or indigenous or citizenship status... schools without the capacity to provide them with the support and education they need to thrive... and more.
Today, I travel the world helping to build Teach For All, which supports independent, locally led organizations in 40 countries and counting that are galvanizing the rising generation of leaders in their countries to help their nation's children reach their potential.
I first set out on this work here, in the United States, when I was in a seat like yours, about to embark on the effort to create the national teacher corps that I had proposed in my undergraduate senior thesis.
I believed our nation's greatest injustices were the near-insurmountable barriers that kept millions of children from exercising their talents and achieving the quality of life they deserved.
I believed that there were many, many graduates and recent graduates searching for meaning and purpose, who would jump at the chance to work with families and communities to provide children access to the opportunities they deserved.
And I believed that once our corps members met their students, they would fall in love with them and, at the same time, would become outraged at the injustices they faced--and that because of that powerful mix of love and outrage, our corps members and alumni would find themselves committed to the long fight for a better future for their students, and in turn, for all of us.
Committed, like Reginald Bolding, an alum of Arizona State and of Teach For America, who ran for the state legislature to represent the kids in his district who had to walk to school on the road because they didn't have sidewalks;
Committed, like Chad Gestson, another Arizona State and Teach For America alum, who is the Phoenix Union High School District's new Superintendent and is leading innovations that are promising to unleash the potential of thousands of high school students in communities of color;
Committed, like Claudio Coria, Arizona State and Teach For America alum and the Principal of Alhambra High, where he's created a culture of such high standards that he's asking the state to allow his students to be assessed using the ACT college entrance exam;
Committed, like Karli Smith, Arizona State alum and Teach For America corps member, who's challenging her fourth graders to read novels that reveal the perils of intolerance and prejudice, because she believes you're never too young to understand that all people, even those who may seem different, are deserving of dignity and love.
I feel so privileged to work alongside so many people like these--and also deeply grateful to have found my way to this work at such a young age. That's because one of many things I've learned along the way is that making progress towards a world in which all children have the opportunity to fulfill their true potential is a long game. Even with a thousand Reginalds, a thousand Chads, a thousand Claudios, a million Karlis, sweeping, sustainable change will take a lifetime.
When I started Teach For America, I didn't realize this.
Twenty-seven years later, I do--and I'm still trying to untangle all the reasons why the clock keeps time in decades, instead of months or years.
I've found that the truest answer lies beyond better policies, or more money, or newer technology, beyond training more and better teachers, beyond textbooks and testing.
In fact--it's where all of you come in.
Ten years ago, an inspiring Indian woman about my age, who had developed afterschool programs for children living in the slums of Mumbai, became enamored with the idea of a Teach For India. She asked if I would come to talk with her about my experience in the U.S. I assumed that India would be so different and really wasn't sure that what I'd seen and learned here would be relevant, but I went.
When I arrived, the classrooms in the first school I visited were filled with children living in deep poverty. The school principal made a point to explain that there was only so much she could do with her students, given where they were coming from. What she said really struck me--because it was so similar to the explanations I had heard so many times before, about why we shouldn't expect more from so many of the children in my own country.
In a meeting with the Teach For Pakistan staff on one of my visits there, I asked them to help me understand the unique challenges that were holding Pakistani children back compared to those in other countries. One of the staff members who had been engaged in our global network quickly assured me that there was nothing very different from what I'd seen elsewhere. I found this implausible and pressed for more. The team obliged, offering up that students in the communities where they teach go to school for just two hours a day, and that a quarter of the teachers are absent on any given day. But they told me that even with these challenges, the biggest obstacle was the same as I'd seen elsewhere: so many people just didn't believe that children born into poorer families were capable of meeting high expectations, were capable of excellence.
From Thailand to Peru to here in the U.S., I've seen how biased mindsets about children in the communities where we work are at the heart of what is holding us back. These biases so often cut along the lines we draw to categorize and divide person from person, child from child.
The problem isn't with educators or any one group of people. It's that these beliefs--that all of our children are not fully and beautifully and equally human--are pervasive, even when they go unspoken. This is perhaps the biggest reason the pursuit towards equal opportunity is such a long game, in this country of ours and all over the world.
Well-meaning people--not just the loud minority who wear their prejudices proudly--set their expectations of others according to categories we create: what they look like, where their families are from, how much money they have, what religion they practice. We do it without even realizing it. We do it all the time, because it helps our brains to make a messy world seem a little easier to figure out.
And then those with power--acting according to their own biases, whether unconscious or with intent to oppress--create systems for education, or criminal justice, or immigration, or political enfranchisement--that perpetuate these biases and reinforce injustice.
We learn these biases--from a comment by a grown-up, a show on television, a story in a newspaper or a history book. We are taught, without noticing, to take shortcuts to figure people out, to put them in their neat category--categories that are, ultimately, constructed, artificial--in some cases, born from the darker sides of our history or our nation's character.
After visiting so many other countries, I fear that those darker corners mean that we have an even longer game to play in the United States. Throughout our history, under the laws of our land, vast groups of people have been considered to be inferior, less than human, not to be fully valued.
Perhaps this is why our nation's story continues to be such a struggle on the part of so many people for inclusion, dignity, opportunity, human rights.
We see this struggle in the unequal educational opportunities that we continue to provide children along lines of race and economic background.
We see this struggle when people of color die, day after day, at the hands of those entrusted with protecting them.
We see this struggle when states around this country, including this one, devise ways to keep working class communities from exercising their right to vote.
We see this struggle when hardworking young people, who have grown up in this country, are made to live in fear in the shadows or in fear that their families will be torn apart.
These injustices are all the result of people being unable to do what Karli Smith is teaching her fourth graders to do--to recognize our shared humanity, to overcome automatic assumptions that place false limitations on people who are different than us.
Here's where you come in, and what I'm asking each of us to commit to tonight.
We know--science has shown--that actively acknowledging that other individuals are on our team wipes out our unconscious biases. We have to learn to un-learn our biases--by reminding ourselves: we are all on the same team. We are all on the same team.
With your whole lives before you, I challenge you to do something that is nearly impossible but completely game-changing: To make an effort, day-in and day-out, to acknowledge that every single person you come across...is first and foremost your teammate on this Earth.
We are all unique, and possess different amounts of power and privilege--but we are all teammates.
If we see each other as teammates before we see any other characteristic, we will help empower those around us with high expectations, instead of leaning into unconscious biases of what they can achieve.
If we see each other as teammates, we will work in solidarity to address the injustices that are institutionalized throughout our society.
If we see each other as teammates, we will reach the day when all children can fulfill their potential, regardless of the circumstances of their birth.
This future is possible. And today I'm asking you--no matter what you choose to do with your lives--to contribute to making it a reality...
By reminding yourselves, every day, in your work, in your communities, with every person you meet--before anything else, we are all on the same team.
Class of 2016, thank you so much, and congratulations.
Calling all HuffPost superfans!
Sign up for membership to become a founding member and help shape HuffPost's next chapter