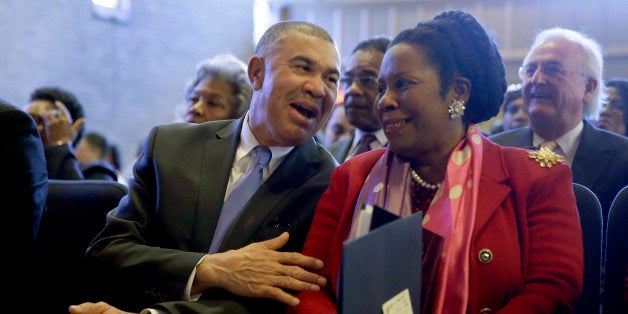 FERGUSON, Mo. -- Members of the Congressional Black Caucus visited Ferguson this weekend to attend a special church service honoring Dr. Martin Luther King Jr. and to express their support to residents who feel as though their concerns over some of the city's deep-rooted issues have gone unheard.
Nine CBC members made a trip to Wellspring United Methodist Church on Sunday, just miles away from where protests erupted following the death of 18-year-old Michael Brown in August. The leading black lawmakers emphasized that the purpose of their visit was to stand in solidarity with members of the community rooting for reform.
Church members took to the pulpit during the service to share their grief over Brown's death and remind residents that the tragedy will not be forgotten. The legislators largely expressed support for Ferguson protesters.
"We're not just going to sweep this under the rug because it looks bad or because it makes some of us uncomfortable," Rep. William Lacy Clay (D-Mo.) said. "All of us should feel uncomfortable. We should be upset; I know I am."
"We are here to demonstrate to the demonstrators that we have their back in our role as their federal representatives," Clay said.
Rep. G. K. Butterfield (D- N.C.), the chairman of CBC, also addressed the parishioners to express solidarity with the activists' efforts for racial justice, noting that all demonstrators are working toward the same goals.
"Any division is exaggerated. In any movement there's always a different perspective between different groups of people, but what you're hearing about the divide is greatly exaggerated," Butterfield said.
Chiming in to further explain the purpose of CBC's trip was Rep. Andre Carson (D-Ind.), who is also the second Muslim to ever be elected to Congress:
"We've met with several groups of activists, and what we have found is that they are excited about participating in the political process," Carson said. "They just need some direction."
While a vast majority of community residents and protesters embraced the trip from CBC members, some felt slightly indifferent.
Kelly Stephens, a 33-year-old bartender in St. Louis who has actively participated in the protests, said that while she appreciated the CBC visit, she didn't think it would change things. "It's a huge step for the country, but St. Louis is so deep-seated, I'm not sure that anything will change. I fear it will only get worse."
CBC members also offered up some ideas for broader reform during the trip, including proposing independent investigations into police killings by delegating a special commission to review them.
"We have heard from people around the country say there should be a national crime commission," Rep. Shelia Jackson Lee (D-Texas) said. "That is something we hope to place before our colleagues."

Ashley Yates, the co-founder of Millennial Activists United, a grassroots organization focused on social justice and racial equality, said she thought the CBC's trip to Ferguson was in good faith, but that she wanted more action from the lawmakers.
"It's like the song we sing -- 'Which Side Are You On?'" Now you see people gravitating towards their sides of history. People like the CBC signed off on the 1033 after the events in Ferguson. Now you see them trying to plug into Ferguson," Yates said.
"We are still protesting in the spirit of the civil rights movement," she said. "We are reclaiming Dr. Martin Luther King Jr. and how our blackness is portrayed, so they don't sanitize his legacy. There's still important conversations that need to be made and work to be done."
Despite the concerns, Butterfield spoke on behalf of the CBC and vowed that the group will focus on criminal justice reform:
"We promise Ferguson and we promise America that the issue of criminal justice reform is the centerpiece of the CBC agenda in the 114th Congress," he said.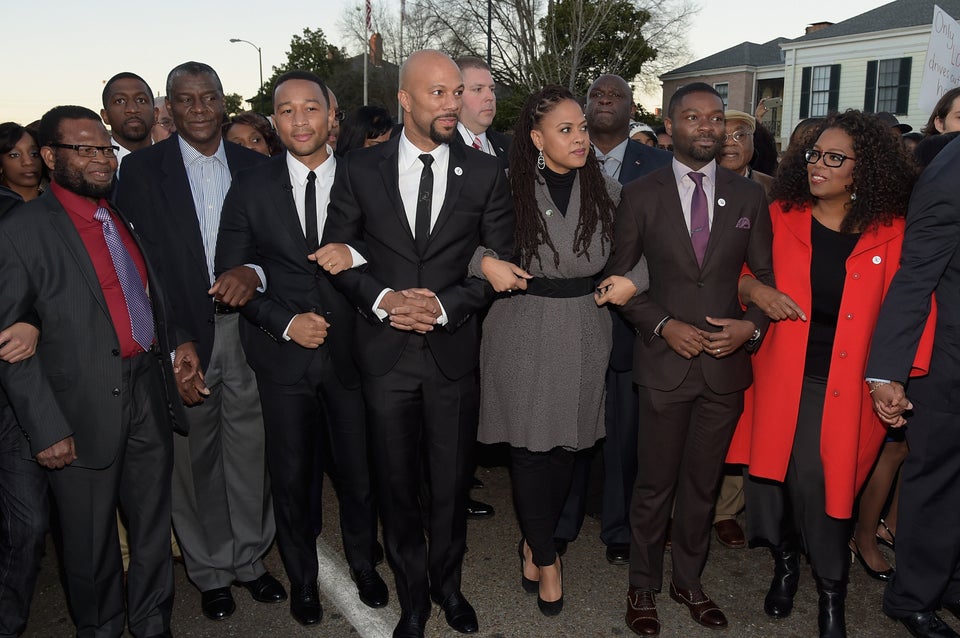 'Selma' Cast March With Protesters MLK Weekend