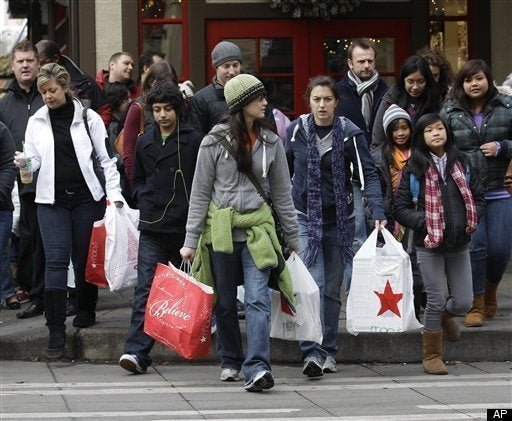 Is consumer confidence on the rise? When a colleague asked for a quick explanation of President Barack Obama's recently-improving job-approval ratings, I offered that in addition to the legislative successes of December and (perhaps) the afterglow of Obama's speech in Tucson, Americans were feeling a little better about the economy, thinking of a handful of results I cited last week.
But wait, my colleague asked, didn't consumer confidence just fall? She forwarded the recent results of the highly respected Thomson Reuters/University of Michigan Survey of Consumers. As Reuters reported last week, the survey's "preliminary" January results show their Index of Consumer Sentiment fell to 72.7, down from 74.5 in December.
Puzzled, I dug deeper and found seven other public surveys that probed perceptions of the economy, and all seven show more positive perceptions about the direction of the economy:
The CNN/Opinion Research Corporation survey out this morning shows 24 percent of adults rate the condition of the economy as very or somewhat good, up from 18 percent in November, while the number who rate the economy as "poor" fell to 35 percent, "the lowest that figure has been since August, 2008."
The CBS News/New York Times poll finds the percentage of Americans who say the economy is fairly or very bad is 74 percent, down from 82 percent in November.
The NBC News/Wall Street Journal poll this week: "The president's rising approval numbers come amid signs of optimism about the economy. This month, 40 percent of those surveyed said they believe the economy will improve over the next year, up from 32 percent in December. Only 17 percent said it would get worse, down from 24 percent."
The Rasmussen Reports Consumer Index, conducted using an automated telephone methodology, has reported confidence averaging roughly 89 so far in January, up from 81.7 in December.
So why does the Michigan survey say that consumer confidence is down in January, when virtually every poll says the opposite?
Sample size may provide one explanation. While the Michigan survey uses a very high-quality, exhaustively documented random-digit telephone sampling methodology, they complete just 500 interviews per month. Michigan's Institute for Social Research tells The Huffington Post that this month's preliminary survey involves "between 300 and 350" interviews. Compare that to the 3,509 respondents sampled by Gallup during the first week of January using a similar random-digit phone methodology.
Fewer interviews makes for a larger margin of random sampling error on any given report. In this case, again according to ISR, the margin of error for January's preliminary consumer index is +/- 4.7. As such, we cannot say with confidence that the nominal decline from 74.5 in December to to 72.7 is actually a decline. Given the sample size, the change does not appear to be statistically significant.
Another explanation may involve the way the Michigan survey measures consumer perceptions. Like the Gallup and ABC News polls, the Michigan survey uses a series of questions about the economy to calculate an overall index, but each survey uses slightly different questions and combines them in different ways.
In the case of the Michigan survey, they found that perceptions of where the economy stands now grew worse in early January, while perceptions of where the economy is heading in the future improved.
Let's break that down. The Michigan survey uses five questions to calculate the overall index. They use the first two (below) to calculate an Index of Current Economic Conditions (ICC) that they report fell from 85.3 in December to 79.8 in early January:
We are interested in how people are getting along financially these days. Would you say that you (and your family living there) are better off or worse off financially than you were a year ago?

About the big things people buy for their homes--such as furniture, a refrigerator, stove, television, and things like that. Generally speaking, do you think now is a good or bad time for people to buy major household items?
They ask three more questions (below) to measure where the economy is heading, and on that score, they found the same trend toward growing optimism as the other surveys cited above. According to Reuters, their index of consumer expectation rose nominally from 67.5 in December to 68.2 in early January.
Now looking ahead -- do you think that a year from now you (and your family living there) will be better off financially, or worse off, or just about the same as now?

Now turning to business conditions in the country as a whole -- do you think that during the next twelve months we'll have good times financially, or bad times, or what?

Looking ahead, which would you say is more likely -- that in the country as a whole we'll have continuous good times during the next five years or so, or that we will have periods of widespread unemployment or depression, or what?
This story teaches several lessons. The first is to avoid placing too much credence in any single data source, regardless of its reputation, especially when the sample size is small. The second is that no two surveys measure "consumer confidence" the same way. Different measurements may produce different results.
But the third and most important involves the results that are consistent across every survey examined here: The majority of Americans continue to see the condition of the economy as poor, but what is rising nominally on every survey -- including the Thomson Reuters University of Michigan study -- is consumer optimism. Americans are growing more hopeful about where the economy is headed.
That finding is good news but should also give us some pause. Optimism as defined here is about expectations and may be less rooted in day-to-day economic reality. As an ABC News report puts it, "ebbs and flows" in consumer confidence "are not uncommon" and the overall ratings "have a long way to go."

Calling all HuffPost superfans!
Sign up for membership to become a founding member and help shape HuffPost's next chapter