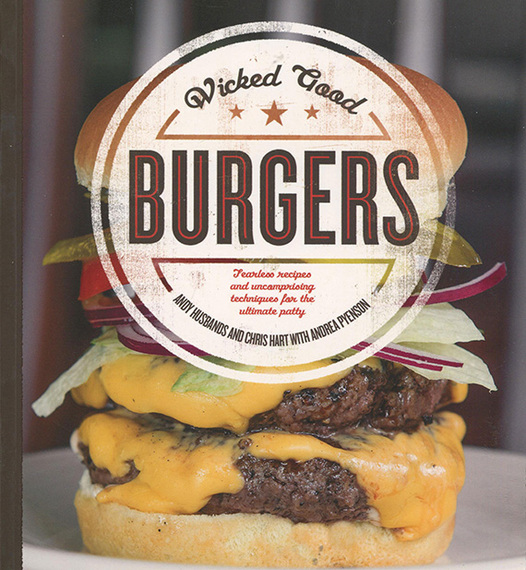 Wicked Good Burgers comes at the perfect time of year. The leaves are gone, there will soon be sprinkles of snow on the patio. My barbeque has a new tank of gas, a new regulator to get high temperature and new grills. I am ready for winter and armed with the best burger book in years.
You don't barbeque in the snow? That's okay. It's a Zen thing, I admit, but when you try the ideas in this book, you're going to be headed for your grill throughout the winter. Actually, authors Andy Husbands and Chris Hart do have a favorite cooking method you might prefer: a skillet heated to 500°F before you brush in with a little oil and then lay that burger down.
Although we don't like to admit it, Americans are hamburger hypocrites. We eat burgers more than any other food, even more than pizza. But a majority of our burgers are eaten at fast food restaurants and those burgers are, well, the source of our love and disdain for the beast. If I say "Sirloin Steak" or "Roast Salmon" you just might perk up. When I say "Hamburger" do you get excited? No. Of course no. After all it is only ground meat. Only a burger.
When was the last great burger you had? Have you ever had a great burger? I have, and I know how sublime and wonderful a truly awesome burger can be. Wicked Good Burgers is your guide to burger greatness.
What does it take to make a burger great? Everything. And everything is laid out in the pages of this book. Begin with that meat. Do not go to your store and pick a bright red package of red meat. Truth is, you need fat for greatness, so you want to buy an 80/20 meat/fat combination, even 70/30. That 90/10 combination can be described in one word: flavorless.
For an even better burger, you take that rich store chuck and grind it up at home to create a special burger blend. For every pound of chuck, you want a half pound of:
Short ribs
Brisket
Strip Steak
Beef Cheeks
Skirt Steak
There are detailed instructions here for grinding these combinations, including the proper freezing time for your meat and how to chill your grinder so all that fat in the chuck avoids melting. They even suggest you chill your hands before working the meat into patties! Protect the fat.
In the chapter called Burgers 101, the first recipe is The Perfect Burger. Your ground meat is combined with a spice mix, Fifth Dimension Powder, to give you extra umami flavor.
The very next recipe proves that when I said "everything" I meant everything. No store bought mayo for your great burger. Here you make the Best.Mayo.Ever using mustard, vinegar, Worcestershire, and garlic powder.
Store bought bun? Oh, definitely not. You may have heard of Joanne Chang, creator of the Boston chain of Flavor restaurants. You may have bought one of her exceptional cookbooks. Joanne has contributed a recipe her for Flour Bakery Burger Buns. If you are going to go great, you go all in.
And in Burgers 101 you'll encounter recipes as well for Bread and Butter Pickles with turmeric, Grilled Romaine for a topping instead of simple raw lettuce, and Peppered Onion Rings made with buttermilk, cayenne, and paprika. Or your burger could be topped with Grilled Vidalia Onions or a dense and dark Garlic Confit Jam. If you like mustard, try making your own: the suggestion here uses beer, mustard powder, mustard seeds, garlic powder, and vinegar.
By now you may have realized that for Andy and Chris, burgers are not fast food. One of their burgers, garnished with their brand of gusto, is an investment in time. But this is all in the interest of a better burger. Or, as they say, wicked good.
You could live out of that first chapter, but there are six more.
In New American Classics you'll find recipes for:
Hill Country Brisket Burger
Tortilla-Wrapped New Mexican Chile Burger
Oyster Burgers
Pastrami Burger [pictured at the end of this post]

In Where's The Beef? you find ideas that go beyond beef:
Salmon Burger
Beet Burger
Duck with Bell Pepper
Mole-Spiced Turkey Burger
And there are suggestions here for using lamb, bison, tuna, and a guilt-free black-bean-Portobello tower.
In Burgers Beyond Borders, we realize that the whole world embraces the burger concept:
Banh Mi Burger
Caribbean Goat
Moroccan Chickpea
Scallop Burger
There is even an Australian idea with a note that Down Under they use kangaroo meat. [Yes, here in New York City, you can buy kangaroo meat.]
What is a burger without fries or onion rings? So You Want Fries With That? will let you pick and choose among:
Creole Fries with Rosemary Aioli
Duck Fat Fries
Tempura Onion Rings
Malted Salt-and-Vinegar Potato Chips

During the course of your meal, you become a tad thirsty. Salt is a, well, cardinal ingredient. To enjoy your burger and fries you can select from That's a Frappe! Ah, the authors are from Boston and in New England it is a frappe, not a shake. Tom Brady of Boston fame drinks frappes, not shakes, frappes like:
Salted Caramel
Chocolate Almond Banana
Ginger Beer
Darkest Chocolate
I hope that you sample the ideas in Wicked Good Burgers. You may not serve your burger on Wedgewood plates or the frappe in Waterford crystal, but you may change your attitude toward the noble burger. It should not be fast. And it can be very serious, not simply casual.
You may not have the time to cook one of these great burgers each and every time. But, after one sample, you will know what a great burger is. And you will crave. Yes, in your future is your very own personal meat grinder.
For many more cookbook reviews and hundreds of excellent recipes, please visit Suzi's Blog at www.cookingbythebook.com. While you are there, you can learn how we use the kitchen for culinary teambuilding.