Show them that you're into them with these healthy, fun recipes
"Cooking is love made visible" ~Author unknown
Preparing a meal for someone new after your divorce can be exciting and nerve-wracking, but nothing says "I'm into you" better than a homemade meal.
Sure it's easy to order Lo Mein, but it's far less of a gesture of affection than cooking. Plus, after all that greasy heavy food, how sexy do you think you'll feel?
Cooking is a great way to connect to the first person who turned your head and made you smile after the sadness of divorce. Open a bottle of wine and chill out. Catch up on the events of your day while putting the finishing touches on your meal. Let your date participate by asking them to cut some vegetables or toss the salad. It's creative, collaborative and fun.
Here are some easy, fun, delicious and healthy recipes that will not only impress your love interest, but will show them that you care about your health and theirs. Healthy is sexy. Plus, these recipes are all light and clean, so you'll have plenty of energy and stamina for after-dinner romance. And if things go really well, there's a scone recipe for morning-after treats that will insure a sweet start to your day.
This is great to serve with wine as your putting the finishing touches on your meal. They are healthy, light and pair perfectly with a nice glass of chardonnay.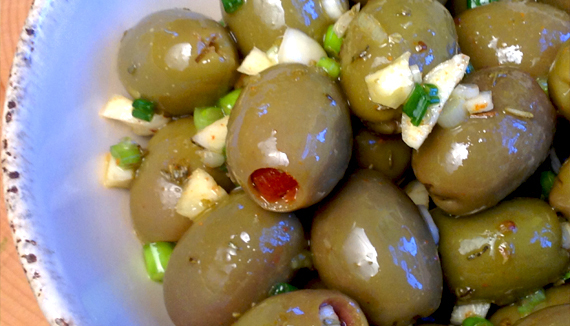 Jar of your favorite olives
Finely chopped scallions/spring onions
Thyme, Oregano and Paprika (use your favorite herbs as flavoring--fresh or dried work equaly well.)
Finely chopped garlic
Olive oils
Mix all ingredients in a jar. Shake well. Enjoy! (For best flavor, enjoy the olives the day after, when they are well marinated.)
Healthy, crunchy and loaded in flavor, these spring rolls make for a perfect appetizer. Have fun by making them together. Lay the ingredients out and create your own perfect roll.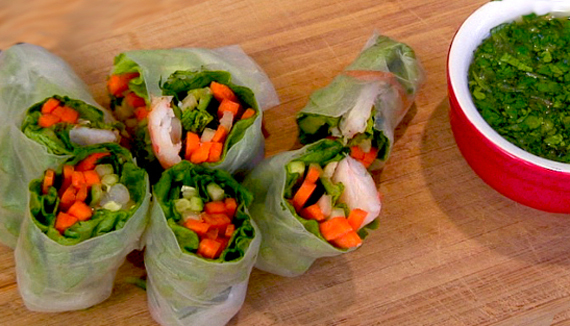 Ingredients for the rolls
8″ or 9″ round rice paper sheets
Gem lettuce leaves
Julienned carrots, cucumbers and burdock (optional)
Any julienned vegetables that you like, really.
Fresh mint, cilantro and basil
Boiled shrimp--peeled and sliced in half, lengthwise
Soften the rice paper in warm water. Gently move the rice paper once softened to a clean, flat surface. Place a piece of gem leaf lettuce towards the edge of one side of the rice paper to give the roll a 'spine' (some support). Add a small amount of the julienne vegetables on top of the lettuce leaf. Top with herbs and one piece of shrimp. Starting with the side with the lettuce leaf, gently roll the rice paper up and over the vegetables, gently tucking in the rice paper on the other side of the vegetables to create a roll. Fold in the sides of the rice paper as though you were folding a burrito, and then continue to roll and tuck in the sides until the roll is done. Repeat until you have as many as desired. Enjoy dipped in the traditional Vietnamese dipping sauce!
Ingredients for the sauce
1/2 Cup freshly squeezed lime juice
2 Tablespoons Xylitol
3 Tablespoons fermented fish sauce
1 Tablespoon unseasoned rice vinegar
1 Tablespoon chopped, fresh cilantro
3 Cloves of chopped garlic
1 Teaspoon minced jalepeño chili (with or without the seeds)
Sauté the garlic and the jalepeño in a drop of canola oil until softened. Add the fish sauce. Remove from heat and add to a mixing bowl. Add the Xylitol, mixing well until dissolved. Add the remaining ingredients, blending well. Allow the sauce to sit for 30 minutes for flavors to blend before serving.
This is another great option that you can serve as either an appetizer or, instead of salad. This dish alone will make him or her swoon.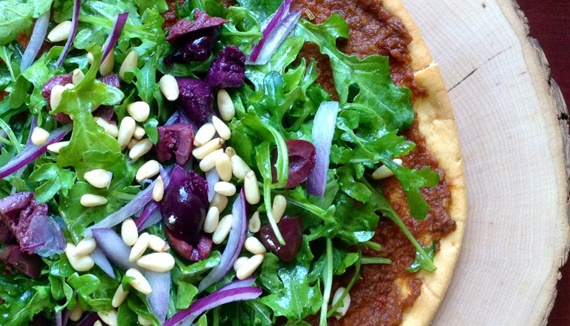 1 Udi's Gluten free pizza crust
2 -3 tbsp sundried tomato pesto
1/2 cup fresh baby spinach
1/2 cup arugula
Few slices of red onion, sliced thin
5 Kalamata olives, pitted and chopped
1 tablespoon pine nuts
2 teaspoons olive oil
Juice of ½ lemon
Spread the pesto on the pizza crust leaving a ½ inch border. Bake according to package instructions.
While crust is baking, assemble your salad: Combine all the ingredients and toss well.
When crust is finished baking, remove from oven. Allow to cool for only a minute or so, and then place the salad over the crust.
Everyone loves Mexican and this delicious and healthy take on an old favorite is nutritious, light and easy to prepare. Like with the Vietnamese rolls, you can put out the ingredients and each of you can make your own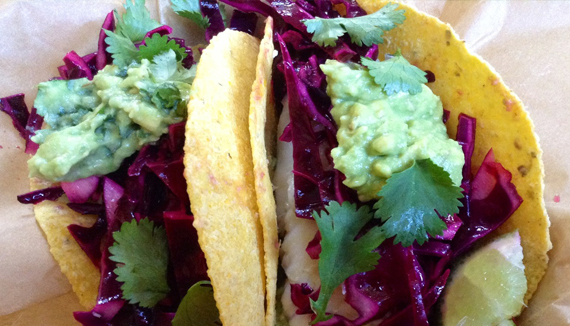 8 organic corn tortillas
One pound of fish (I typically go to Whole Foods and ask what they have that is organic... best kinds of fish include flounder, sole and tilapia)
3 cups red cabbage, sliced thin
½ small red onion, minced
One avocado
1 small jalapeno, sliced thin (or less if you like less spice)
Juice of two limes (divided)
Olive oil
Salt and pepper
Make the sauce: Mash avocado and blend with jalapeno pepper, red onion and the juice of one lime. Add salt and pepper to taste. Cover in plastic wrap and refrigerate until serving. (You should prepare this at least one hour before eating so that the flavors have an opportunity to blend). Click here for my delicious traditional guacamole recipe video!
Cabbage: Put the shredded cabbage in a container and add about 3 tablespoons of olive oil, the juice of the second lime and salt and pepper. Mix well, cover and refrigerate.
For the fish: Sprinkle salt and pepper on the fish and bake until done, about 8 to 10 minutes.
To assemble tacos: Warm the tortillas. Add one tablespoon of avocado mix to the tortilla. Layer a piece of fish and top off with the cabbage slaw.
Chocolate Covered Strawberries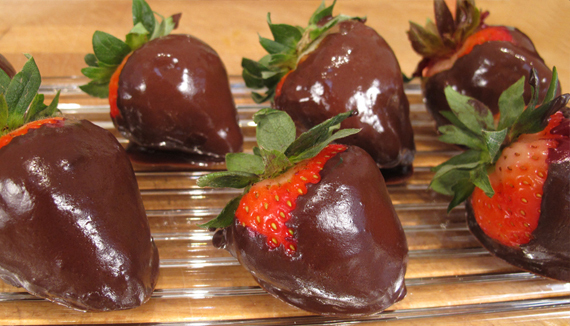 If the date goes so well that it spills into the next morning, these scones are a fun treat to share in bed with tea. Made with almond flour, which has been shown to be helpful for male libido, having these in the morning may insure that you have someone around all day to share last night's leftovers with.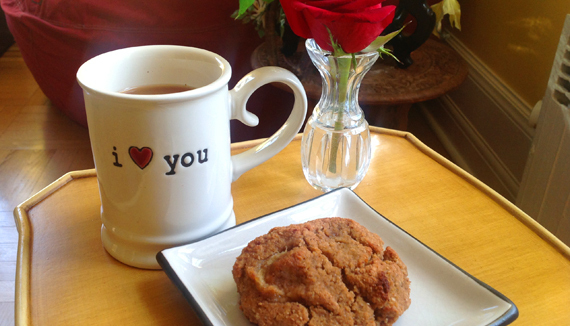 Makes approximately 10 scones
2 cups almond flour
1 cup coconut flour
2 teaspoons baking powder
½ rounded teaspoon Himalayan Salt
1/3 cup date sugar
2 cups almond milk
3 medium bananas
½ cup organic crunchy peanut butter
Preheat oven to 350.
Combine almond flour, coconut flour, baking powder, salt, and date sugar in a bowl and blend well a fork, break down any chunks of flour or date sugar.
In a separate, smaller mixing bowl, using a masher, blend together TWO bananas plus the peanut butter and the almond milk until well blended.
Add the liquid mixture to the powder mixture and blend well with a rubber spatula until a soft dough is formed. If it is too dry, add some almond milk; if it is too loose, add some flour until you achieve a soft dough consistency.
Cut the third banana in pieces and add to the batter, mixing it into the dough well.
Using a ½ cup measuring cup, measure out enough batter to fill the cup and then place on baking sheet lined with parchment paper. Using your hands, mold into a scone shape. Repeat until batter is gone.
Bake in oven for about 20 minutes and then check on scones. They may need additional time, so bake in 5 minute intervals, checking to make sure they are cooked through and browned on top. My scones took a total of 35 minutes.
Remove from oven and allow to cool. Serve with tea.
Subscribe to Barbara's #MotivationalMonday emails at Barbara Mendez Nutrition for a weekly dose of nutrition information, healthy recipes and advice on optimizing your health and living vibrantly!
Related