Jackie and I rarely buy lamb chops on purpose. We'll go down to the Union Square Greenmarket and stop to chat with Karen, who raises the lambs and sheep whose meat and cheese we favor, and we'll see a quartet of perfect chops: small and with just that perfect lacy marbling of the rib eye. Love at first sight.

Typically we do nothing to the chops but apply salt, pepper and heat, but Indian aromas were tantalizing us because of an e-mail conversation we'd had with a friend, and we yearned for spices. Once that general destination was in view, I remembered an amazing sandwich I'd had at the Bread Bar at Tabla, the informal part of a modern Indian restaurant whose kitchen was run by the fine chef Floyd Cardoz and that closed at the end of 2010. It was, basically, spiced potatoes and shredded lamb on naan -- though with clever restauranty tweaks that made it even more wonderful than that skeletal description would suggest.
So, potatoes were on the menu along with the lamb.
Before I'd figured out exactly what I was going to do, I made a spice mix: cumin, coriander seed, fennel seed, splinters of cinnamon stick, a little cardamom, black pepper, a tiny dried chili (a chipotle -- not very Indian, but so delicious) and one clove. I briefly toasted these in a little skillet, then ground them in a coffee grinder repurposed for spices. If I'd been in a mad hurry, I might have just used a store-bought garam masala blend, perhaps softened with some "sweet" curry powder.
I trimmed the meat from the long bones of the four lamb chops, cut it small, browned it and made a 30-minute stock using some of the spice mix, a third of an onion and a little ginger and garlic.
I grated 3/4 inch of ginger and a small clove of garlic and made a paste with more of the spice mix, salt and a few drops of lime juice, which I spread onto the lamb chops, leaving them in the fridge until 20 minutes before it was time to cook.
Now for the potatoes: I sliced the rest of the onion from two paragraphs up along with another onion, minced a little garlic and ginger, and browned all of this lightly in clarified butter (regular butter would have been ok too). I added sliced raw potatoes, salt and more of the spice mixture, covered the pan and let the potatoes cook over lowish heat until halfway done. To finish them I added the strained and defatted lamb stock and cooked, covered and over low heat, until the potatoes were tender and almost all the stock had been absorbed or had boiled away. I then roughly mashed them and set them aside until dinner time.
Cooking the lamb entailed nothing more than putting the chops into a skillet preheated with clarified butter over medium heat and turning them every minute until they were medium rare -- about five minutes for these chops -- then letting them rest on a plate while I reheated the potatoes and added two teaspoons of butter and a handful of chopped parsley (mint would have been better, but there wasn't any).
Served with mango chutney on the side, this wasn't classic Indian food, but it met our need perfectly: It was spicy (that chipotle did its job) and lamby, and the spiced potato and onion mixture was so good that we stopped ourselves from finishing it so there'd be some for the next day.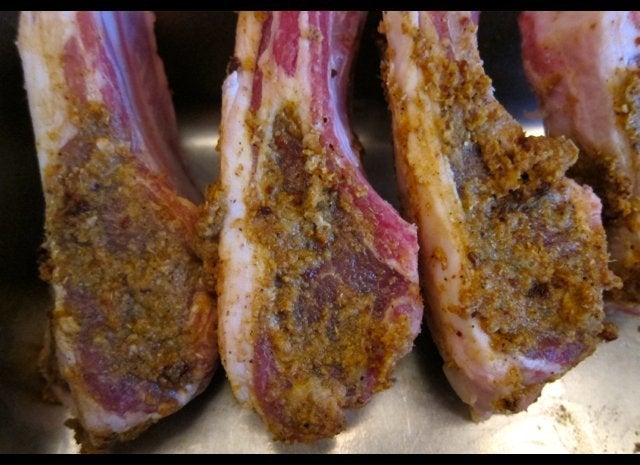 "Indian" Lamb Chops With Spiced Potatoes