Here's an idea for a winter's evening when you (or your guests) feel like something meaty but aren't really in the mood to eat a slab - or even a wisp - of flesh. In brief, it's this: A day or two in advance, braise your meat, making sure there's plenty of delicious sauce. Separately, cook a legume (pulse), such as dried beans or chickpeas, until tender but not as creamy as the perfect bean should be. When the braise is done, let the meat cool in the sauce for a while, then remove it and, when it is cool, wrap it tight and refrigerate it. Strain the sauce, pressing the solids in a fine strainer to extract all possible juices; cool, chill and remove the fat that has solidified on the surface.
When you're ready to eat, slightly brown some diced vegetables in oil or duck fat or lard, add as much of the nearly-cooked beans/chickpeas as you need, add the gravy from the braise as well as any other flavorings you like (herbs is what I have in mind), and simmer until the vegetables and beans/chickpeas are done. You can also heat up some of the meat in a separate small pan with sauce; guests can add it to their plates, or not, as they prefer. The beans/chickpeas make this a satisfying meal; still, Jackie and I generally mop up sauce with grilled bread, ideally baguette.
You get much of the benefit of the meat - it has lent a great deal of flavor and consistency to the gravy - whether or not you actually eat any of it. And of course, you get to enjoy it another time with the rest of the sauce. It's a genuine case of eating your veal cheeks and having them too.
Last time I did this, the flesh was indeed veal cheeks (and a couple of other things), cooked in what I like to think is a Spanish way reminiscent of the callos de ternera y capipota we ate at Fonda Gaig in Barcelona, browning the meat, removing it to a plate, then sweating the usual stew vegetables plus a chopped chorizo, a generous tablespoon and a half of smoked Spanish paprika (pimentón) and a little parcel of sofrito I was lucky enough to have in the freezer. (This sofrito consisted of onion, tomatoes, peppers, a little garlic, pimentón and a few needles of rosemary long-cooked in olive oil until reduced nearly to a paste. It is a great thing to make in the summer and keep in the freezer, because it jump starts all manner of Iberian dishes, notably paella and its kin.) If I hadn't had sofrito, I'd have added a squirt of tomato paste to the aromatic vegetables and chorizo as they were sweating in olive oil - and possibly increased the amount of pimentón, depending on how things smelled.
I returned the veal cheeks to the pan along with an entirely optional pig's foot (trotter), added rosemary and thyme, then, say 3/4 cup (180 ml) of wine, let that boil for a minute or two, then added stock to cover. Veal stock would have been ideal, but I used a mixture of chicken and vegetable-mushroom. Ninety minutes in a 325º F (160º C) oven, and the cheeks were tender, so I removed them, cooled them and stowed them. I gave the pig's foot another hour, by which time the bones could be pulled away easily and the skin and connective tissue were tender but not without texture. When it had cooled (in the sauce) enough to handle, I removed everything edible with my fingers and cut it into small pieces, which I stored in a container in the fridge.
The sauce I strained through a very fine, sturdy conical sieve, pressing hard with a spoon to extract as much liquid from the vegetables as possible. When it had cooled, I refrigerated it - it solidified into a gel (thanks to the pig's foot) with a layer of discardable fat on top.
At some point in the previous day or two, I'd soaked half a pound (225 g, though quantities aren't critical) of chickpeas overnight, then simmered them with rosemary, salt, pepper and a tablespoon of olive oil until just a few minutes from being done.
To serve, I did as described earlier: I lightly browned diced carrots and celery root in olive oil with salt, pepper and rosemary, added them to the defatted sauce along with the amount of chickpeas I thought we and our guests might eat, and simmered until tender. Separately - and this is optional - I diced a chorizo, lightly browned it in a very small casserole, stirred in a half teaspoon of pimentón, then added the cut-up pig's foot meat and skin (which had congealed into a block that came apart in the heat of the pan). I added sauce from the stewpot and simmered for five or ten minutes to create a tiny meat-only stew. If you wanted this meat option but hadn't used a pig's foot (and there's no reason you need to), you could use some of whatever other meat you'd braised - or you could use only chorizo, which would be delicious.
To serve, I brought both casseroles to the table: A big one of chickpeas and vegetables with a rich meat-based sauce, and a little one of pig's foot and sausage with an even richer sauce. The basic portion was from Casserole One; some of us left it at that, but others (Jackie and me included) stirred in a serving-spoonful of the content of Casserole Two. Either way, it made a delicious February meal that would have been warming had it not happened to be a freakishly mild day.
This would work with any meat braise: Lamb or pork shoulder? Beef brisket? Coq au vin? As long as you make enough sauce, you'll be able to return to the meat itself as a whole new dish in a day or two. (Another Day-Two possibility is one that we opted for: Because of all the Spanish flavors, I used some of the chickpeas and vegetables, along with diluted sauce, to make a no-work paella. Delicious.)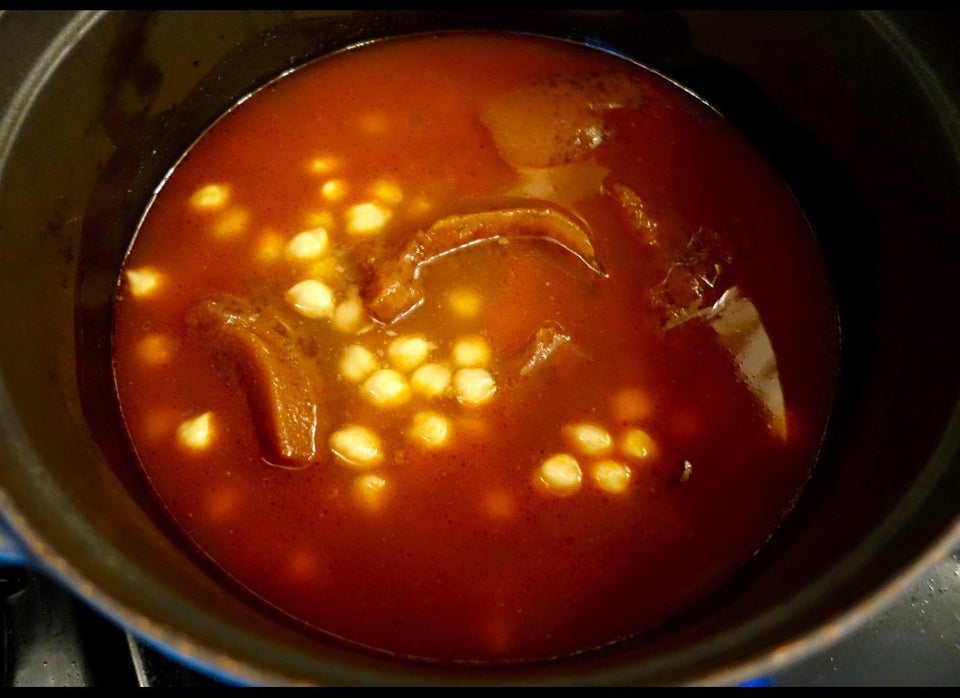 Meatless But Not Vegetarian
Related