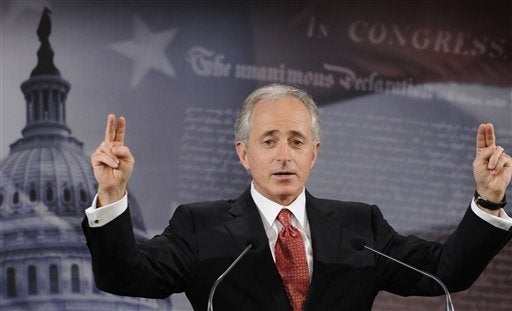 UPDATE: This story was updated at 1:30 p.m.
A key Senate Republican says that the committee responsible for authoring new rules to rein in Wall Street will vote on the proposed bill Monday evening, abandoning plans to debate the most ambitious financial reform proposals since the Great Depression and temporarily ignoring more than 400 amendments to the bill suggested by senators.
Sen. Bob Corker (R-Tenn.), a member of the Senate Banking Committee, said on CNBC's "Squawk Box" this morning that the committee will "probably" pass the bill, authored by committee Chairman Christopher Dodd (D-Conn.), later this evening, rather than holding what was expected to be a long debate on the bill with a chance for senators to change the bill.
"I know we left here Friday thinking we were going to have a real mark-up this week," Corker said, according to a rough transcript of his remarks. "I actually coordinated with some of my Democratic colleagues, thinking this week we were going to talk through a bill and negotiate fine points and get it into a place that hopefully was middle of the road.

"Over the weekend, without going into a lot of detail, but with multiple conversations, that changed," Corker said. "And so what will happen tonight is probably there will be no mark-up. There will be, you know, some opening statements and the bill will pass out.

"And so here you have a 1,300-page bill that.. is chock-full of substance that actually matters... that really won't be vetted.

"The fact is that I think there's probably a better opportunity to get a middle-of-the-road bill done before it goes to the floor. "This is one... of those cases where you have to sort of bite your lip and realize the goal is to have a good policy, to have a policy that will stand the test of time. And you have to put aside sort of interim shenanigans and focus on the longer haul.

"That's what I want to do. I want to see us get a good bill," Corker said.
The vote may come as early as today -- rather than after a prolonged debate -- because Republicans may not offer any amendments to the bill.
Last month, Senator Richard Shelby of Alabama, the top Republican on the committee, floated the idea of introducing a separate bill altogether, rather than working to amend the Dodd proposal, according to news reports. Shelby's idea of a substitute bill came after his talks with Dodd broke down. The two had been negotiating key provisions of the bill -- like the proposed consumer agency dedicated to protecting borrowers from abusive lenders -- until they came to a standstill. Dodd began negotiating with Corker soon thereafter, until those talks eventually broke down, too.
But Shelby never offered his bill. Rather, Republicans on the committee stuffed the panel with about 300 proposed amendments, nearly 200 from Shelby and Corker alone.
However, based on Corker's comments, Republicans may not offer those amendments. If they do, the panel will have to consider them. But if they don't, then Democrats may not offer any of their amendments, either -- particularly those that likely would not survive a committee vote, like an amendment calling for a stand-alone consumer agency, rather than as a unit housed inside the Federal Reserve.
Sen. Jack Reed of Rhode Island, the third-ranking Democrat on the banking committee, offered such an amendment for the committee's consideration on Friday. He also indicated that he would offer the provision on the Senate floor, where it would have a much better chance of passing compared to the panel.
The committee was expected to begin its debate on the bill at 5 p.m. Monday. A few spokesmen for senators on the committee said they still expect the mark-up to proceed as expected.
If Republicans begin offering amendments, then Democrats will likely follow suit.
About 400 amendments to the bill were offered by Friday by senators who seek to change various portions of a bill that's expected to significantly alter the landscape of financial regulation. The House of Representatives passed a bill in December, yet the Senate continues to deliberate.
Dodd's move, according to Corker, speeds up the process by moving the bill out of committee and onto the Senate floor.
About 18 months since the financial crisis hit its apex, President Obama has yet to sign a bill into law.