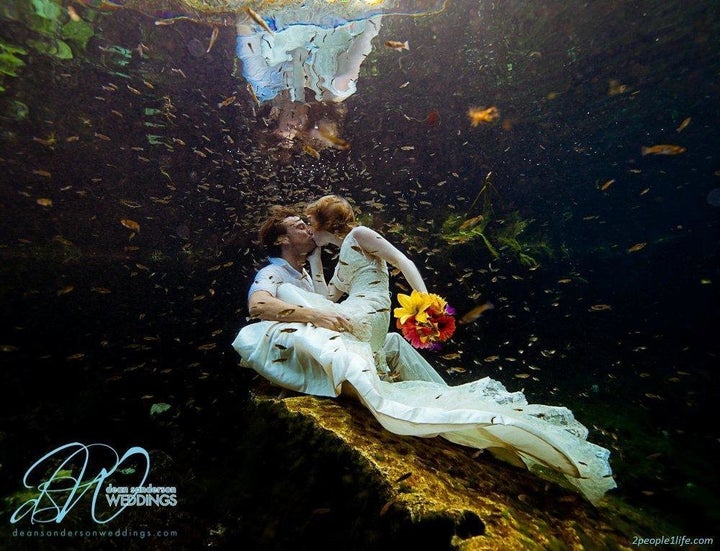 For the most part, couples go into wedding planning hoping their first wedding will be their one and only. Lisa Gant and Alex Pelling, a couple from Yorkshire, England, went in with the exact opposite idea: to have wedding ceremonies as many times in as many places as possible, in what can only be considered an exercise in extreme destination wedding planning.
It was back in July 2011 when Gant and Pelling decided to quit their jobs and focus their lives on having weddings around the world and experiencing different cultures, at least for a while. Thirty weddings in one year was their initial goal, but they already have 22 ceremonies in 13 countries under their belts and have decided to extend the trip from one year to three. With 22 months to go, they are on their way to having more than 50 weddings by 2014.
"We're in Chile right now and next we go to Argentina for a midnight tango wedding," Pelling told The Huffington Post via Skype. "After that, we go to Brazil, which is our final destination in South America."
Although this seems like the type of adventure that would require a lot of advanced planning, the couple actually hatched their around-the-world-in-30-weddings idea over two bottles of wine. They followed through on the plan not long after. Their journey began by flying to Canada -- because the tickets were the cheapest -- then they purchased a 25-year-old camper van to travel in.
That is to say, plans are not really their thing: 24 hours before this midnight tango wedding was set to take place, Gant and Pelling still had more than a few loose ends to tie up.
"We have a photographer and a videographer and a dancing instructor to help us out. But we don't have a location yet," Pelling said. "We'll roll up and start knocking on dance halls and saying 'Can we have a wedding here?' But at the moment, we're lacking traditional outfits -- tango outfits -- and the ablitiy to tango."
Anyone who has ever planned a wedding might wonder how you could just wing it -- or wing several. Between costs, language barriers and the potential to drive each other crazy, there's a lot that could go wrong. But Gant and Pelling swear it works. They live in the van, which saves a lot of money, and they ship it when necessary. (The couple declined to disclose the total costs associated with the trip.)
In terms of planning each wedding, the couple relies on the kindness of local vendors and word of mouth referrals while they travel. With regards to the all-important question of "the Dress," Gant either borrows garbs when they're available and relevant to the culture, or she wears the formal, white, lace, full-length gown she packed.
"It's been under water in Mexico. It's been in swimming pools, on the beach. It's been in a scrapyard," Gant said. "It's been through everything and it looks as good as new."
The two have wedded in Belize, Guatemala, Columbia, a lake in Michigan and in Hawaii, among other locales. Each wedding has had its own theme: Their Los Angeles wedding fell on Hallowe'en, so the two dressed as vampires at a wine bar with 50 guests and had a rock band play at what they say was a "very Hollywood" reception. In the Canadian countryside, they said "I Do" on horseback at the base of a mountain with a cowboy officiating. (Great scenery, awful mosquitos, they note.)
So far, the couple's favorite destination wedding was in Peru, where a shaman oversaw the proceedings.
"The ceremony involved scented oils, music playing, the smoke burning. It's very intense," said Pelling. "We think everyone should get married there."
After South America, the couple will head back to the U.S. so they can check the southern states and New York City off their list. From there, they'll make their way through Europe, to Northern Africa, India and China. They've been blogging along the way and in lieu of gifts, they're asking for donations to UNICEF.
After all of their travels are said and done, Gant and Pelling will have one important task to take care of -- actually getting married. Not one of the ceremonies they've had so far has been legal, but that part was on purpose. They're waiting to pick their favorite location of all at the end of the trip, and they'll return to wherever it is to make things official. As for where that might be, they have no idea.
"Right now, we'd choose between Hawaii and Peru, but it's not something we think about because we still have Italy and Indonesia," Gant said. "It's just impossible."
Also on the list are Russia, Thailand and Australia.
"We just have to talk our 25-year-old camper van into doing that," Pelling said.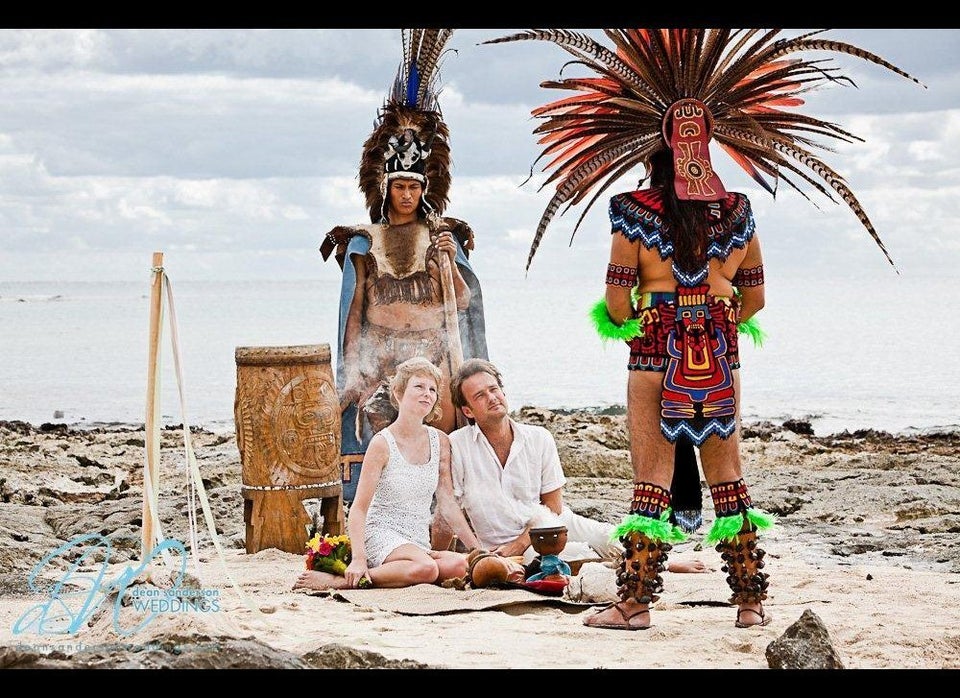 Around The World In 22 Weddings
Related