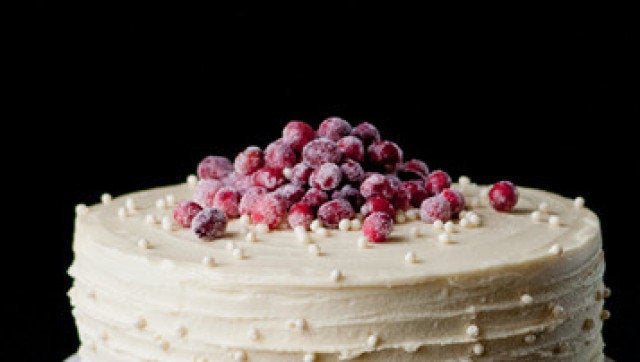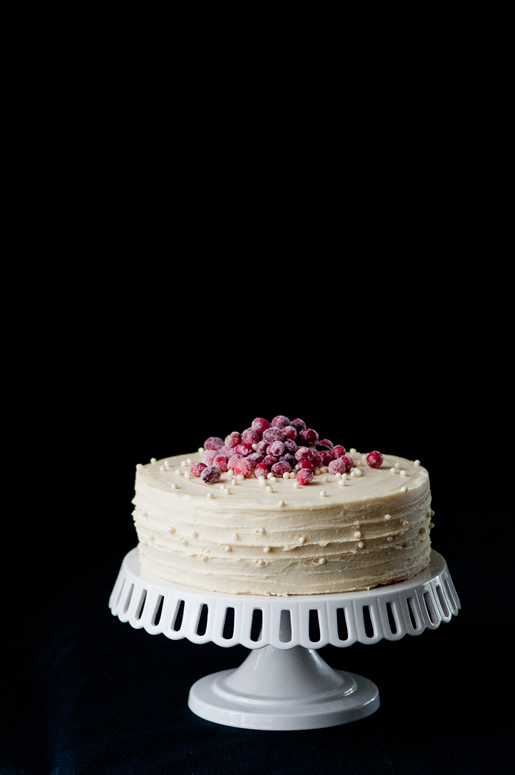 Christmas is coming early again this year... at least for us. For the last few years, M and I have had so many holiday time obligations that we needed to plan ahead just to have time together.
So we've decided to celebrate Christmas early--something simple, perhaps a nice quiet dinner. That's the plan, but you know me, I can't end a celebration with just a bowl of clementines (though in-season and delicious). It must be something fit for the occasion--I see red and white.
With limited amount of time on hand, I used the seasonal cranberries for both flavors and color. I always associate white chocolate with fanciful desserts, so a white chocolate honey frosting seemed appropriate. Easy decoration with sugared cranberries gave the cake an instant festive appearance.
I'll serve this cake during our exchange of presents--I've got a feeling this will be a good year for me.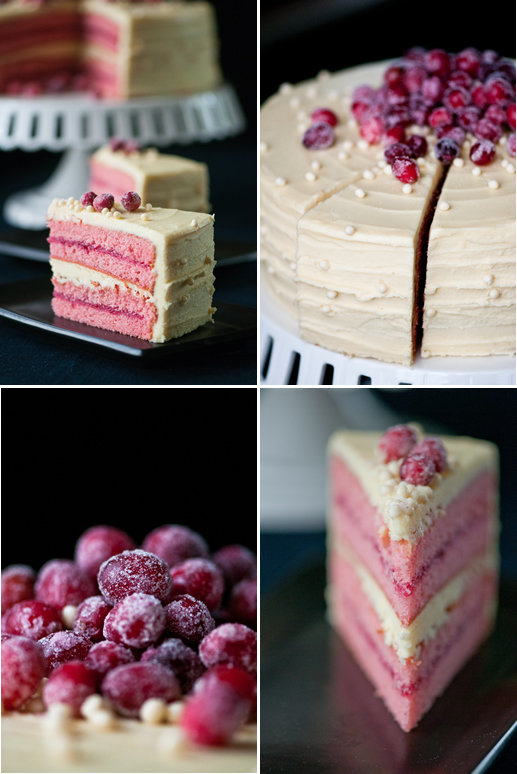 White Chocolate Cranberry Cake
adapted from Cook's Illustrated
yield: One 9-inch layer cake
1 cup (6 ounces) fresh or frozen cranberries
2 tablespoons granulated sugar
1/2 cup water
3/4 cup (6 ounces) evaporated milk
6 large egg whites, room temperature
2 teaspoons vanilla extract
2-1/4 cups (9 ounces) cake flour
1-3/4 cups (12-1/4 ounces) granulated sugar
4 teaspoons baking powder
1 teaspoon fine sea salt
6 ounces (12 tablespoons/1-1/2 sticks) unsalted butter, cut into 12 pieces and softened
White Chocolate Honey Frosting, recipe to follow
Sparkling Cranberries, recipe
White Chocolate covered Crunchy Cereals (optional)
1. Place cranberries, sugar and water in a saucepan. Cook over medium-high heat until cranberries have popped and become mushy, about 5 minutes. Pour cranberry mixture into a fine-meshed strainer set over a mixing bowl and press through using a spatula; discard the solids. Set aside and cool for 10 minutes.
2. In a 2-cup measuring cup, whisk together 1/4 cup of cranberry puree, milk, egg whites, and vanilla. Set aside.
3. Adjust oven rack to middle position and heat oven to 350℉. Grease two 9-inch round cake pans, line bottoms with parchment, grease parchment, and flour.
4. In the bowl of a stand mixer fitted with paddle attachment, add flour, sugar, baking powder, and salt; mix on low speed until combined. Add butter, 1 piece at a time, and mix until only pea-size pieces remain, about 1 minute. Add half of milk mixture, increase speed to medium-high, and beat until light and fluffy, about 1 minute. Reduce speed to medium-low, add remaining milk mixture, and beat until incorporated, about 30 seconds. Give batter final stir by hand.
5. Evenly divide batter into prepared pans and bake until toothpick inserted in center comes out clean, 20 to 25 minutes, rotating pans halfway through baking. Cool cakes in pans on wire rack for 10 minutes. Remove cakes from pans, discarding parchment, and cool completely, about 2 hours. (Cooled cakes can be wrapped with plastic wrap and stored at room temperature for up to 2 days.)
White Chocolate Honey Frosting
12 ounces white chocolate, chopped
8 ounces (16 tablespoons/2 sticks) unsalted butter, room temperature
12 ounces cream cheese, room temperature
2 tablespoons honey
2 tablespoons brandy
1. Melt chocolate in top of double boiler over simmering water, stirring occasionally until smooth. Remove from heat and cool for 20 minutes.
2. In the bowl of a stand mixer fitted with paddle attachment, add butter, cream cheese and beat until light and fluffy, 2-3 minutes. Add melted chocolate, honey and brandy, beat until smooth (it will be on the liquid-side). Chill until thick and spreadable, stirring occasionally, about 30-40 minutes.
1. Cut each cake in half horizontally. Place one cake layer on the bottom of cake stand or serving platter, spread a generous layer of cranberry puree over cake layer and top with another layer. Spread about 1 cup of frosting on top and spread evenly. Repeat with the remaining 2 layers.
2. Spread or pipe frosting on top and side of cake. Garnish with sparkling cranberries and white chocolate covered crunchy cereals. Refrigerate cake for 30 minutes, Serve with remaining cranberry puree (optional)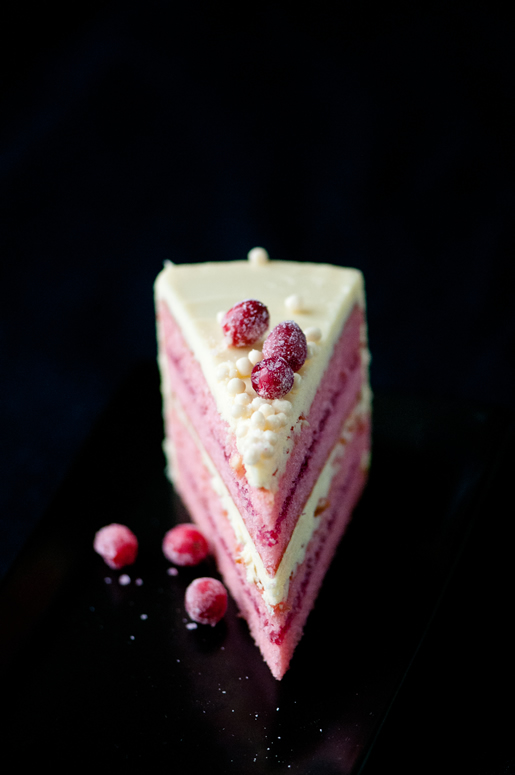 Popular in the Community