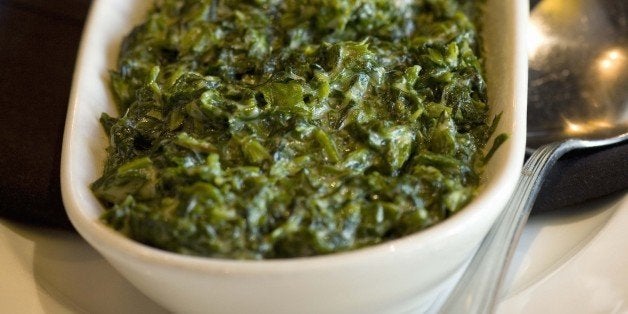 We recently talked to you about what you need to make a good steak really great -- homemade steak sauce, in case you missed it -- and today we're going to share with you the secret to making that steak experience 100 percent complete and awesome: creamed spinach.
If you have a meal at any great steak house across America, one thing you can always expect to see on the menu is creamed spinach. We're not sure when creamed spinach came to be a steakhouse staple, but we sure are glad it is. Because there's nothing like a saucy plate of greens to cut the rich umami flavors of a medium-rare steak.
But not all creamed spinach recipes are created equal. There are recipes that drown the greens in heavy cream -- this is not necessary. Others call on bacon, which is obviously great but a little overkill when pairing it with steak. And then there are creamed spinaches that look like they've been murdered in sauce. Please, don't do this to your creamed spinach.
Sure, creamed spinach should be rich (with butter) but it should also be bright green, still taste like the spinach that it is, and you should still be able to see the actual spinach in the dish. This green deserves that much. Let us show you what a good creamed spinach recipe tastes like. Take this recipe below, and forget all the rest.
2 10 oz packages of baby spinach, washed3-4 Tbs salted butter1 onion, diced2 cloves garlic, minced3-4 Tbs all purpose flour2 cups milk1/2 cup grated parmesan cheese (optional)1/2 tsp white pepper (or nutmeg if you prefer -- it really brings out the flavor of spinach)salt to taste
Cook the spinach in a pot of boiling water for just one minute, add to a cold water bath to stop the cooking, and then squeeze out the excess water from the leaves. Chop the spinach (or throw in a food processor) and set aside.
Now's the important part -- making the sauce. Melt the butter in a saucepan. Add the garlic and onion, and cook until just soft. Add in the flour, stirring it together to form a paste. Slowly whisk in the milk and cook until slightly thickened. Enjoy this sight, it's the transformation of raw ingredients into the most wonderful sauce in the world. Stir in the parmesan, add in the spinach, white pepper and salt.
Serve right away -- preferably with an awesome piece of steak.
Related
Before You Go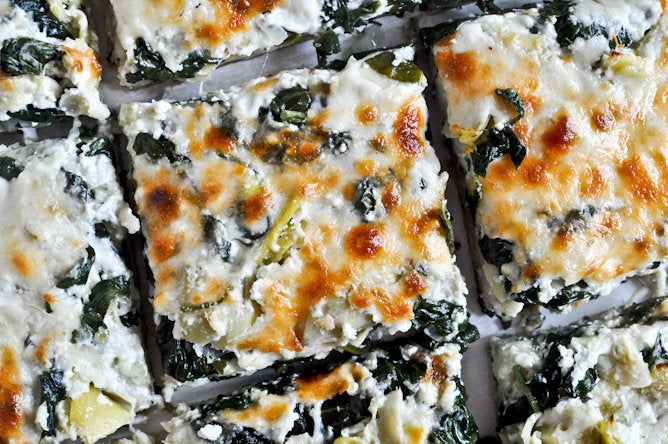 Spinach Artichoke Recipes