In a recent article on The Huffington Post entitled "After The Show: The Many Faces of the Performer," psychology professor Scott Barry Kaufman, Ph.D. (who writes a blog entitled "Beautiful Minds") delved into why the minds of so many artists are more complex than those of ordinary people. Noting the many contradictions with regard to introversion/extroversion, energy/rest, and openness/sensitivity, he explained how many artists can function in more than one mode simultaneously.
What I have always found fascinating is an innate talent that I have lately realized comes naturally to me, but not to everyone else. Simply put, it is the ability to cross reference wildly unrelated cultural references and, upon examining the results of some random juxtapositions, discover a synergy that can lead to a deeper understanding of a particular situation.
How does this happen? It's very similar to the results one can get by mashing up databases of unrelated material. Life is full of surprises.
Let's look at two recent events, play a little cultural mashup, and examine the results. This week marks the beginning of the 2011 San Francisco International Asian American Film Festival. As I previewed a new documentary about Anna May Wong and attended the world premiere of a new play by Philip Kan Gotanda being staged at UC Berkeley's Department of Theater, Dance, and Performance Studies, my mind kept zeroing in on the lyrics to two songs written by Broadway titan, Jule Styne.
Styne wrote many great songs for Broadway musicals. But without equally brilliant lyrics, these two numbers could easily be forgotten. Although each song was popular in its own right, neither became the signature hit tune from its show. Nor did their shows have anything to do with Asian American culture.
Midway through Act II of Funny Girl, as Fanny Brice's stardom continues to grow, her gambler husband Nick Arnstein's luck continues to fail. As Fanny tries to make sense of where their relationship is headed, she sings the following lyric (beautifully crafted by Bob Merrill):
"Who are you now,
Now that you're mine?
Are you something more
Than you were before?
Are you warmer in the rain,
Are you stronger for my touch?
Am I giving too little
By my loving you too much?
How is the view,
Sunny and green?
How do you compare it to
The views you've seen?
I know I am better, braver and surer too,
But you, are you now?
Who are you now?
Are you someone better for my love?"

Yunah Hong's new 60-minute documentary, Anna May Wong: In Her Own Words, offers a fascinating look at the life of the first Asian American film star. Born in 1905 in Los Angeles, Wong's father was a Chinese laundryman whose desire for his daughter to get married and settle down was eclipsed by her determination to gain fame and fortune as an actress.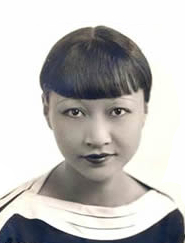 Anna May Wong

Although Anna May Wong broke new ground for Asian Americans in cinema, she found herself limited in the types of roles she was allowed to play in silent films as well as in talkies. While Wong could play spies, whores, and "exotic lotus blossom" types, she was never allowed to be cast as a leading lady.
Initially, she drew attention for her performances in such silent films as 1922's The Toll of the Sea (the first color feature film made in Hollywood) and 1924's The Thief of Baghdad (starring Douglas Fairbanks). An English film made in 1929 (Piccadilly) made her a genuine star.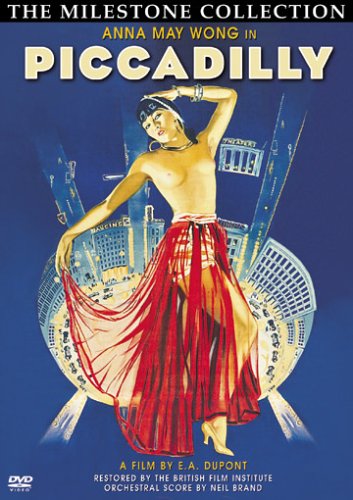 Poster art for 1929's Piccadilly

Hong's documentary includes a wealth of archival footage from newsreels and Wong's movies, with a contemporary actor portraying Anna May Wong. There are many appearances by critics and pundits who discuss the difficult political and cultural challenges faced by Wong during her career.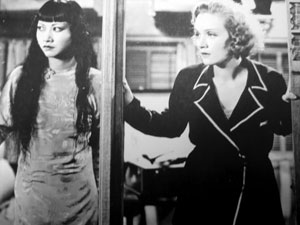 Anna May Wong with Marlene Dietrich in 1932's Shanghai Express

Anna May Wong's biggest career disappointment came when she was not even considered for the key role of O-Lan in the film adaptation of Pearl S. Buck's novel, The Good Earth. She had been hoping to participate in the film version of Rodgers and Hammerstein's hit musical, Flower Drum Song, when she died in 1961 at the age of 56.
Many gay men heard their first reference to Anna May Wong during a performance of Mart Crowley's 1968 play, The Boys in the Band. Yunah Hong's new documentary fills in a great deal of the missing history about an actress who was way ahead of her time and who, caught between identities as a Chinese woman and an Asian American, no doubt often found herself wondering "Who Are You Now?"
Early in Act II of 1959's Broadway hit, Gypsy: A Musical Fable, the characters of Rose, Herbie, and Louise sing a delightful song entitled "Together (Wherever We Go)." The lyric (written by a young Stephen Sondheim) reads as follows:
"Wherever we go, whatever we do,
We're gonna go through it together.
We may not go far, but sure as a star,
Wherever we are, it's together.

Wherever I go, I know he goes.
Wherever I go, I know she goes.
No fits, no fights, no feuds
And no egos, Amigos, together!

Through thick and through thin,
All out or all in.
And whether it's win, place or show.
With you for me and me for you,
We'll muddle through whatever we do.
Together, wherever we go."
There is no way in hell that Sondheim was thinking about conjoined twins when he wrote that lyric. And yet, after seeing I Dream of Chang and Eng, it seems like a natural fit. Keep in mind that:
Conjoined twins Daisy and Violet Hilton were the focus of the 1997 hit musical, Side Show.
I'm convinced the producers of Spider-Man: Turn Off The Dark should option the rights to 1957's hit tune, Catch A Falling Star, and incorporate it into their troubled show's second act.
Born on May 11, 1811 in the Samut Songkhram Province of what is now known as Thailand, Chang and Eng Bunker were discovered by a British merchant named Robert Hunter in 1829 and sent around the world to be exhibited as a "curiosity" in early freak shows. Ten years later, the two men bought land and settled in Wilkesboro, North Carolina, where they became naturalized American citizens.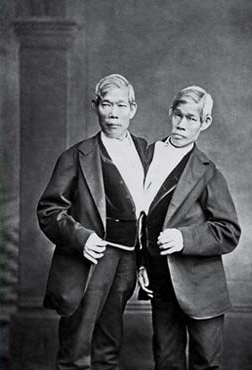 Chang and Eng Bunker

In April of 1843, the twins married two sisters (Adelaide and Sarah Ann Yates). Between them, they fathered 21 children (their family tree grew to more than 1,500 members). After Chang contracted pneumonia in January of 1874, the twins died within hours of each other at the age of 63. Their fused liver was preserved and remains on display at a museum in Philadelphia. In his program note, Philip Kan Gotanda writes:
"I Dream of Chang and Eng is a fictional reimagining of the lives of Chang and Eng Bunker. It pushes and pulls, draws and makes up, stands and lies to tell the story. The lives of Chang and Eng are the stuff of legend. Born as conjoined twins in Siam in the early 1800s, they were brought to America to be exhibited as 'Freaks.' They soon took over their own business affairs and successfully toured themselves around the world. Famous, wealthy, they retired in their early thirties to North Carolina to become Gentleman Farmers. They maintained two separate households, each with a bed that could hold three persons. Chang and Eng lived into their early sixties, by which time they disliked each other intensely. They did one final tour to recoup losses from the Civil War. Chang died first, followed a few hours later by Eng. Today, the many descendants of Chang and Eng Bunker proudly gather to celebrate their famous ancestors.

The historical backdrop of their story is equally fascinating. During their lives, America moves into industrialization, hungry innocents flood in from the farms to burgeoning cities, immigration from new sources like China begins, and the nation's legal systems attempt to deal with the potential threat to racial purity that their presence poses. In the turbulent zeitgeist of antebellum America, the new nation looks at Chang and Eng and sees in them something it needs.

I've been trying to write this play for the last 25 years. I have boxes of notes and volumes of drafts. I abandoned this project many times over the years. Finally, I let go of everything -- fact, fiction, documentation, history -- and wrote. This is what came out."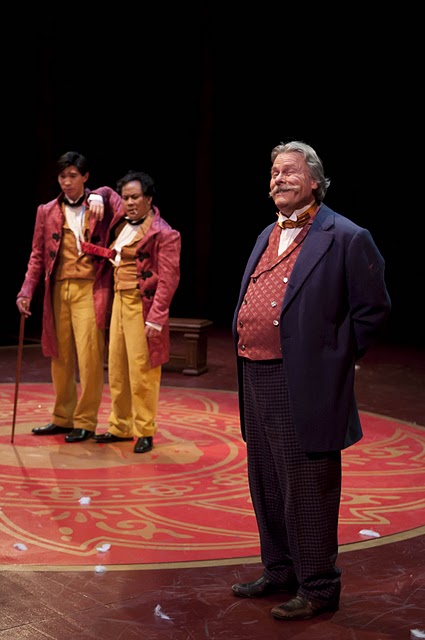 Eng (Andy Chan ), Chang (Josemari Saenz ), and P.T. Barnum (Mark Hinds )
Photo by: Ryan Montgomery


Largely made possible by a grant from the Creative Work Fund of the William and Flora Hewlett Foundation, I Dream of Chang and Eng could only really have come to life in a university setting. Running slightly over three hours (in three acts), the play lurches back and forth through history as Gotanda struggles to tame the historical material and infuse it with a sense of fiction and fantasy. Much like the 1986 musical Rags, his efforts to create a workable script from such a messy history only makes one have a deeper appreciation for the success of 1927's Show Boat (based on Edna Ferber's 1926 novel) and 1998's Ragtime (based on E. L. Doctorow's 1975 novel).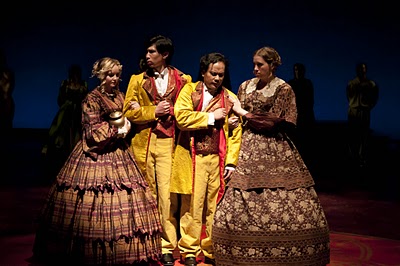 Addie Yates (Dasha Burns), Eng Bunker (Andy Chan),
Chang Bunker (Josemari Saenz) and Sallie Yates (Chelsea Unzner)
Photo by: Ryan Montgomery

This is where it becomes extremely important to understand and appreciate the role that many university theater departments can play in the incubation process. Unlike regional theater companies (which might be able to co-produce a new work and set it on a path toward a Broadway premiere), I Dream of Chang and Eng does not have any kind of recognizable future in commercial theater. Were it to be stripped of a lot of its theatrical devices and forced to hew to a chronological timeline, it might actually prove more interesting and adaptable to the screen.
However, within the safety of a university setting, here's what a playwright in residence has at his fingertips:
A cast of enthusiastic drama students who are willing to take risks.
In the case of a diverse student population like UC Berkeley's, a sizable number of Asian American drama students.
A strong contingent of theatre majors eager to stretch their muscles in set and costume design (the show curtain for I Dream of Chang and Eng is an absolute delight).
Professional ties to regional arts organizations such as TheatreWorks, the San Francisco Opera, Berkeley Repertory Theatre, and American Conservatory Theater -- who can offer support with dramaturgy and costume design.
An available audience of enthusiastic students who are not only eager to see their friends performing onstage, but may be far less judgmental than a regular ticket buyer paying close to $100 for a seat in a commercial or nonprofit theatre.
This production was directed by Peter Glazer and choreographed by Erika Chong Shuch. While I do not predict much of a future for I Dream of Chang and Eng, I'm glad Mr. Gotanda had a chance to realize his artistic vision on stage. Even if certain parts of the play were weak, I learned a lot during the performance (which is more than can be said for many other nights at the theater).
Calling all HuffPost superfans!
Sign up for membership to become a founding member and help shape HuffPost's next chapter