As a little girl, I dreamed of being able to dance, move, perform and tell stories with my body the way only a trained dancer could. I wanted to enchant my audience and connect with them in a way that it would take them on visual and emotional journey through their own lives and validate their own existence. But alas, as luck would have it, I did not end up becoming a professional dancer. Instead, I became a passionate onlooker of dance, eager to go to all the places dance and the performing arts could take me to. Especially when it comes to dance performed by the Alvin Ailey American Dance Theater.

Known for its mix of classical ballet and modern dance, the Alvin Ailey American Dance Theater was founded in 1958 by Alvin Ailey, during a time when African-Americans had little access to classical dance. The Ailey company has gone on to perform for an estimated 25 million people at theaters in 48 states and 71 countries on six continents so it's no surprise that they have been deemed "American cultural ambassadors to the world". They have just begun their U.S. tour and will be stopping in Atlanta this week.
Seeing the Alvin Ailey Dance Theater in Atlanta has become somewhat of a tradition among me, my friends and my family. Every year around this time, we know the Alvin Ailey Dance Theater will be making its way to Atlanta. We plan our day around it. Everything from what we will wear, what restaurant we will have dinner at afterwards, and recount how we were left feeling after seeing the previous years performance. And I'm certain it has become this way for many other people in various cities across the country.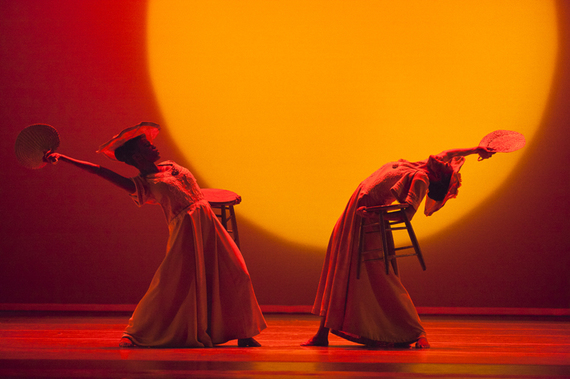 Demetia Hopkins and Akua Noni Parker in Alvin Ailey's Revelations
After years of going to see the Alvin Ailey Dance theater, I can definitely say that each of the 30 dancers that are part of the company are consummate dancers, as they must know and incorporate many forms of dance into several of their repertoire. It really wasn't until after I spoke with Akua Noni Parker, who joined the Alvin Ailey American Dance Theater in 2008, that I began to realize why the Alvin Ailey Dance theater consistently delivers a flawless, emotion-filled performances. Encouraged and inspired by her father, Akua's journey as a dancer began at the age of three and has taken her from the Academy of Dance in Wilmington, DE, to The Dance Theater of Harlem, and now with the Alvin Ailey American Dance Theater. The one thing that she says she's learned from her journey is discipline.
"We rehearse eight hours a day with breaks in between ... when I am not in rehearsal I'm taking dance classes so this journey is very intense and I've learned a lot of discipline from it," she said.
Since 1958, the Alvin Ailey American Dance Theater has had only three Artistic directors, Mr. Ailey himself, Judith Jamison, and now Robert Battle. In 2011, Mr. Battle joined the theater at the Artistic Director and he is not only keeping tradition with some of the more well known pieces like Revelations and Night Creature"by Alvin Ailey, but is also introducing some new pieces to audiences like Lift choreographed by Aszure Barton, as well as Bill T. Jones' D-Man in the Waters -- a response to the AIDS epidemic.
The Alvin Ailey Dance Theater repertoire tells the stories of not just the African-American experience, but the human experience embodied physically. And I guess this is why they appeal to audiences all around the world. The performing arts matter.
"The Performing arts gives a voice to our communities, so much of our history is in dance and the arts," says Mr. Battle. And just like the great Alvin Ailey said,"Dance is for everybody."
Calling all HuffPost superfans!
Sign up for membership to become a founding member and help shape HuffPost's next chapter