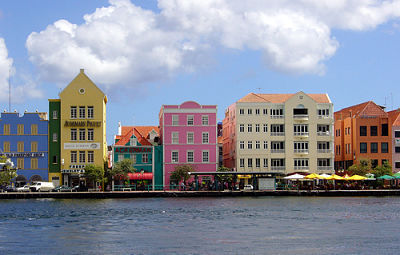 There is an art to traveling -- and it's all about timing.
Two words: Curacao off-season.
Curacao is part of the Dutch Antilles - Aruba, Bonaire, Curacao and St. Maartin - and it's the most interesting of the islands. This tropical paradise, which retains its Dutch identity, is outside the hurricane path. It stays 82 degrees and sunny year-round; its turquoise-blue waters and luscious palm trees beckon.
Plus, it's not flooded with American tourists.
Twenty miles from South America, Curacao is unique among Caribbean islands. Its main industries are the oil refinery and offshore banking, with tourism a distant third. That gives visitors a sense of authenticity.
And it all begins with Willemstad, the capital, famed for its Handelskade, the waterfront of multicolored houses that helped secure its designation as a World Heritage Site.
The charming town is divided into two sections: Punda, home to government buildings, small museums, restaurants and the floating market, and Otrobanda, a lively, sometimes funky neighborhood, with its own eateries and street art just across the river. They are separated by a five-minute ferry ride.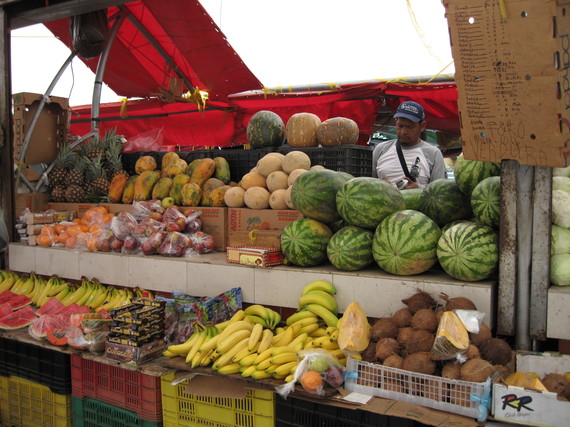 This nation of 150,000 is an amalgam of Dutch and Caribbean culture. A pluralistic society, 68 nationalities call Curacao home. Four languages are spoken: Dutch, Spanish, English and Papiamentu, the native tongue. It even houses the oldest synagogue in continuous existence in the Americas: Mikve Israel-Emanuel, founded in 1732.
Curacao offers balance: There are colorful neighborhoods, Scharloo, Fleur de Marie and Pietermaai, and, for the ecotourist, 35 beaches. Mambo Beach is ideal for swimming, while Grote Knip is known for spectacular sunsets. Hikers will head for Christoffelpark, along with exotic flora and fauna, there are eight hiking trails and various caves to explore. Shete Boka National Park, on the rocky north coast, is a protected breeding ground for sea turtles.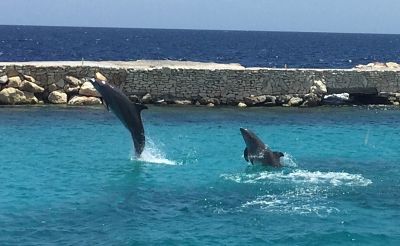 Or consider windsurfing and snorkeling -- the coral and tropical fish dazzle. The Sea Aquarium Park lets visitors swim with dolphins, feed pink flamingos and even touch a shark. Book the five-person Curasub, which descends 1,000 feet, and marvel at the ocean's wonders.
If your taste runs to exotic animals, there is even an Ostrich Farm, complete with crocs and iguanas and an African fare restaurant, Zambezi, on site.
Curacao is an international experience with an intimate feel. (The national currency is the gilder, but dollars are accepted.) Many people rent a car, but the island bus, a small van, stops throughout the island, for $2 a ride.
Art lovers should check out Gallery Alma Blou, located in Landhuis Habaai, a plantation that dates to the early 1700s. Local artists sell art and handicrafts. There's a craft market every second Saturday of the month. And jazz fans take note: Curacao North Sea Jazz Festival, Sept 1-3, 2016, will feature Latin Grammy winner Juanes and Oscar D'Leon.
True, some know the country only by its signature drink: Blue Curacao. The famed Curacao liqueur was the handiwork of a 17th-century Spanish Jew who immigrated to Curacao in search of religious freedom. The Senior family is still involved in the company today. A trip to the distillery includes free tastings, including the newest flavors, chocolate and coffee, and the best prices for the Curacao Liqueur on the island.
For foodies, there are cozy, outdoor bistros, like Rozendaels, or La Bahaia, with a terrific harbor view of the Handelskade at night. Koma boasts the largest rum bar in Curacao. The adventurous can try the Marshe Bieu, in the Old Market, where locals share a long table and enjoy fresh red snapper, among the many fish brought in by Venezuelan boats daily.
Curacao cooking goes gentle on the spices: Often, local "Kryioyo" (Creole) seasonings are served on the side. Dishes reflect the country's myriad cultures: Portuguese, African, Spanish, Dutch. Don't leave without trying the funchi, fried yellow corn mash, or banana stoba, stewed plantains.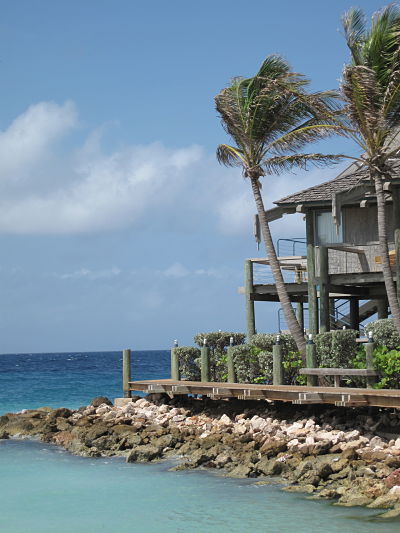 That variety extends to hotels; the country caters to any taste - gay-friendly to high rollers who frequent the casinos at The Hilton and Marriott. Of special note, is the 66-year-old boutique Avila Hotel.
At 150-rooms, the Avila is sleek, intimate and personal, delivering top-notch service and all amenities: private beach, beautiful outdoor pool, spa, free Wi-Fi and a daily shuttle into town, though it's a quick 15-minute walk to the capital. The ocean views from the hotel's Blues Wing, complete with private terraces, ensure you leave the world behind.
Upscale cuisine is a byword at the Avila, which is also a favorite for local weddings. Thursday is jazz night at the Blue's Bar and Restaurant, shaped like a large island hut. The food, particularly the steak, is superb. For high-end dining, The Belle Terrance offers a Danish chef who creates delectable regional dishes, especially the seafood.
One tip for New Yorkers headed to Curacao: The only direct flight is on Jet Blue. It's four hours and the Willemstad airport is easy to navigate. Taxis are plentiful.
Just remember, this is a country so committed to all things wonderful, it invented a special, all-purpose word for it: "dushi." It covers a handful of adjectives: beautiful, terrific, great. Think you deserve a little dushi? Book Curacao.
Popular in the Community