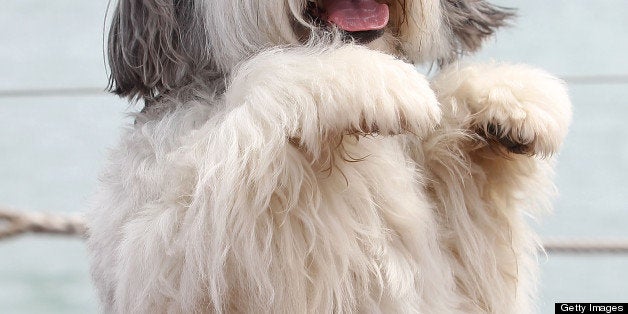 My dog has separation anxiety. As a dog trainer and applied animal behaviorist, I can tell you this: It's bad.
Bamboozle, the youngest of our four dogs, came to us through a client named Karen who'd intervened as the puppy was being transported to a high kill shelter in NYC. On the phone she detailed his story of malnourishment and neglect. Her name for him was Milo. He'd been orphaned the day he was born, and his only sibling died three days later. Before he'd experienced a shred of light or a soundwave, he was completely abandoned. And while he pulled through those early weeks, his adolescent barking had threatened his keepers with eviction. It was then my client got wind of his situation. She and her teenage daughters heroically rescued this puppy and took him in, though they'd never had a dog before. After all, they'd mused, he was small enough to fit in a good-sized handbag -- how hard could it be?
My initial assessment? This family had bitten off more than they could chew. This four-pound, four-month-old dog possessed anxieties that could have put a cup of coffee on edge. Neglected and needy, his barks sounded more like shrieks, echoing through their house whenever he was left alone, or startled by an unfamiliar noise, person, or dog. These everyday riffs constituted about 90 percent of his day. He was also peeing in his crate, snarling at dogs and strangers, and defending his food bowl and chew toys with a tenacity that would bring Iron Man to his knees.
The long-short story? Karen decided that though it was the right time to adopt a puppy, this puppy needed a more experienced home. Together we temperament tested other adoptables while I took this puppy into my home for rehab.
The long short of that story? We had him ever since.
While you can read more of his adventures online, Bamboozle, our canine survivalist, has come full circle. He's a happy, scruffy, somewhat portly bundle of energy who rules the rest of us with his endearing gaze and inexhaustible desire to play. He is housetrained, obedient, and master of so many tricks that he even landed himself an agent.
His one remaining faux paus? His separation anxiety. Nearing his first birthday, the anxious-when-left-alone behavior pattern is age appropriate. Most dogs experience some level of it between 9-12 months of age. But if left unaddressed, separation anxiety can last a lifetime and is a debilitating condition for the dogs who experience it. Beyond emotionally upsetting, its psychic drain can affect a dog's health and overall well-being, not to mention the stress it enacts on a household.
So if Bamboozle is nearly a year, why haven't I addressed it sooner? Well, I've been a little busy. I know -- it's an excuse that fits as poorly on me as it does my clients, but the other truth is that Boozle had so many issues that his separation anxiety was at the bottom of the list. A complaint call from the neighbor, however, highlighting a full hour of perpetual barking helped me to recognize just how desperate our departures left our pitiful pup -- even in the company of a houseful of other pets.
So what's the plan? How does one address a dog with severe separation anxiety?
When I'm called in to help dogs with this condition, I outline a three-tiered approach: behavioral modification, useful products, and medical intervention. In many cases, some simple modifications can do the trick -- a Sarah session cure-all. The secret? Modify the people's behavior even more so than the dogs. Other times, I encourage one or more helpful products that help to soothe isolation anxiety. When a dog's separation anxiety is most severe, I recommend a board certified behaviorist to prescribe short-term medication to help calm a dog as we encourage other relaxation efforts at home.
What was the prognosis for Boozle? He needs the works. I called my friend and colleague, Dr. Ellen Lindell, a renowned board certified behaviorist here in the tri-state area. She prescribed Clomicalm, one of a handful of drugs approved by the FDA, and most commonly used for anxiety disorders with dogs.
Product-wise, I've pulled out my trusty Snuggle Puppy, a product I generally suggest to new puppy and kitten owners transitioning their pets to their new home -- it's a stuffed animal with a heating pad and heart-beat ticker that feels like Mom, even if it doesn't smell like her!
Recently, I've found it soothes anxiety too -- from separation stress to thunder phobias. I've also dusted off and readjusted Boozle's Gentle Leader, which I first used six months ago to rehabilitate his aggressive reactions. This handy collar lies over his nose and clips behind his ears, which mutes his reactivity. How? The nose and the neck are sensitivity points used by other dogs to enact control and respect. Though the Gentle Leader is not for every dog, when it's affective, it's magical.
Finally, I've ordered a small Thunder Shirt: a product I found useful when helping another foster to overcome thunder and reactivity to men. It worked like a charm and I recommend it to clients. Now it's my chance to test it on Boozle's separation anxiety. A Thunder Shirt wraps around a dog's mid-section providing them a feeling of being held.
When it works, it works like the Gentle Leader -- as if by wizardry.
Stay tuned for part two on my Separation Anxiety series where I will sit myself down like a client and list all of Boozle's anxiety-displacement activities, and just what I'm doing to help resolve them! Meanwhile, feel free to submit your experiences and your dog's sensitivities to your absence. While dogs can be phenomenally destructive when you're gone, remember their reactions are beyond their control and should be viewed with empathy, not frustration. It's never easy being the one left behind!
Related