This week was a challenging one for dadmissions and daughter #1. She is 8 going on 18 and we just aren't seeing eye-to-eye. She seemed a little ungrateful for all that she does have, satisfied to just focus on what she doesn't have. So, I got angry a few days ago and gave her an assignment: write me a 100-word essay on why she's grateful. She kicked and she screamed and she protested for several days. I get it. 100 words must seem like an eternity for an 8-year-old. But I stuck to what I said: No new treats or special outings unless she wrote me that essay.
Today, she sat down, got to writing and handed in her assignment. Alicia talked about being thankful for mom and dad who take care of her, thankful for the roof over our heads, the car that takes us places, thankful for little things like her stuffed animals, thankful for joyful things like her piano she enjoys playing, thankful for so many things... 100 words.
In the end, I asked her if she had learned anything. (And thank god she did, because the ending wouldn't have been anywhere near as sweet if she hadn't). She said: "I learned I really do have a lot to be thankful for." I accepted her assignment and we went off on a new adventure. Maybe dad and daughter broke some new ground today. Time will tell.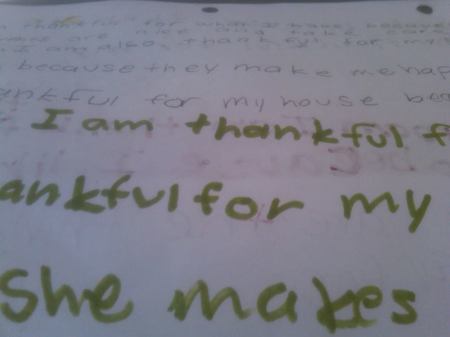 Find me on Facebook at Dadmissionsthebook