The "Daily Show" ran a segment on hydraulic fracturing on Thursday night that featured its "correspondent" Asif Mandvi interviewing people on the controversial oil and gas extraction process known as "fracking."
"Oil and gas companies are quite good at self-regulating or self-policing," Noon told Mandvi. She said she doesn't really see room for improvement and argued that oil and gas companies care about the communities where they operate. "Because the average person doesn't understand fracking," she added, "the environmentalists are able to use fear, uncertainty and doubt to plant ideas into people's minds."
In a prebuttal posted on the conservative news site Townhall on March 17, Noon thanked the "Daily Show" for letting her speak about hydraulic fracturing, but said the experience of being interviewed for the show "felt like three hours of waterboarding."
"I knew I was not the first person to whom they had reached out," she wrote. "Others had turned them down. If I said 'no,' they'd continue down some list until they found someone who'd say yes. I figured it might as well be me because I know that I know my topic."
Mandvi also talked to some residents of Bradford County, Pa. for the segment, who said that fracking has ruined their access to clean water. "Fracking has ruined our quality of life," one resident told Mandvi.
The rural northeast Pennsylvania county is one of many affected by the U.S. natural gas boom in the past decade. Hydraulic fracturing has allowed energy companies to tap into gas within the shale rock formations underlying Pennsylvania and other states. But along with changing the U.S. energy sector, the rise of fracking has come at a price for communities in these extraction areas. A 2011 blowout at a natural gas drilling site in Bradford County has been blamed for contaminating at least three private water wells.
"The oil and gas industry is not being responsible to the people out here," another resident told Mandvi.
"Aasif repeatedly asked me about pizza and whether it was appropriate compensation for a 'fraccident,'" Noon wrote in her op-ed. "I stopped and told them: 'I will not say that word.' Since I was not aware of any fracking accidents, I wasn't going to let them get me on camera saying 'fraccident.'"
Noon wrote that she went into it well aware of how the "Daily Show" handles this kind of interview. "When I walked into the offices of the Daily Show, I felt that I was ready," she wrote. "I told them: 'I know your job is to make me look bad, but mine is to be sure I look good.' I wore a favorite red silk blouse with gold jewelry."
But she wasn't aware of how it would come out until after she'd recorded the segment. "On the plane on the way home, I reflected on the experience and deduced what they were up to."
Before You Go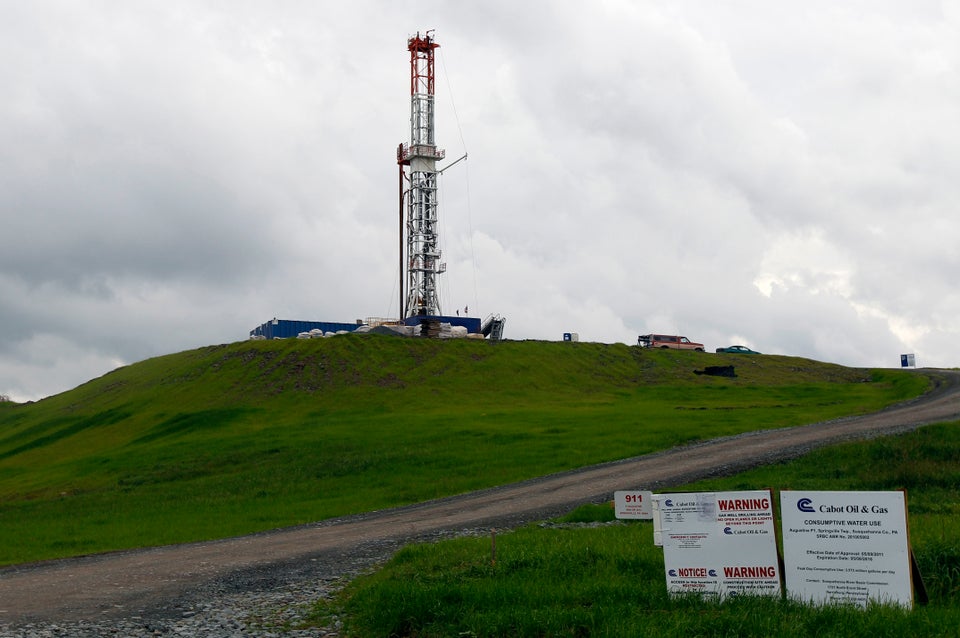 Drilling And Fracking Photos
Popular in the Community