For centuries on end, many men and women were forced into wedlock through a marriage that had been arranged by a matchmaker or the efforts of their parents to bolster the family's wealth and power. Although today's Americans rarely face such pressures from parents who assume that young girls are incapable of choosing a spouse on their own, the practice still thrives in India and other parts of the world.
While an arranged marriage might seem like a winning concept to one's parents, the equation for success was usually based on money, property, social status and political connections. The future happiness of a gay son or lesbian daughter was never a consideration. Reluctant brides were often confronted with horrifying marital prospects they would find impossible to love.
What held true in an impoverished Jewish shtetl (and among peasant families throughout the world) was also common practice in the upper strata of society. Brides were treated as chattel; commodities (not unlike farm animals) whose emotions were irrelevant to any kind of long-term relationship. If a family could engineer a successful marriage, the newlyweds could learn to love each other over time.
Much of the dramatic conflict in two recent Bay area productions was caused by the fallout from an arranged marriage that seemed destined to please a lot of people. Unfortunately, the bride was not one of them.
Long before Family Feud became a popular game show on television, bitter rivalries between tribal clans led to constant battles over land and perceived insults. According to Wikipedia:
A fundamental difference between wars enacted within the same tribe and against neighboring tribes is such that wars between different tribes are, in principle, wars of extermination. The Yanomamö of Amazonas traditionally practiced a system of escalation of violence in several discrete stages: the chest-pounding duel, the side-slapping duel, the club fight, and the spear-throwing fight. Further escalation results in raiding parties with the purpose of killing at least one member of the hostile faction. Finally, the highest stage of escalation is Nomohoni or all-out massacres brought about by treachery. Similar customs were known to the Chimbu of New Guinea, the Nuer of Sudan, and the North American Plains Indians. Among the Chimbu, pig theft was the most common cause of conflict, even more frequent than abduction of women, while among the Yanomamö, the most frequent initial cause of warfare was accusations of sorcery.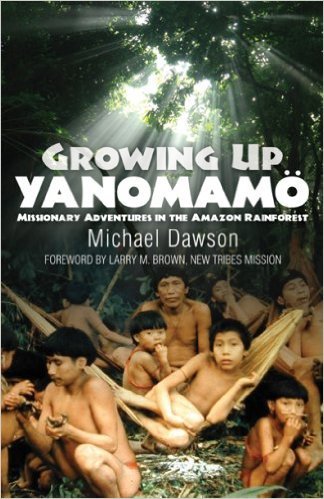 Cover art for Mike Dawson's Growing Up Yanomam'o:
Missionary Adventures in the Amazon Rainforest
Conflicts between rival families have provided a rich source of inspiration for dramatists.
Although originally set in Verona during the 16th century (and revolving around a long-standing feud between the Capulets and Montagues), Shakespeare's tragedy, Romeo and Juliet, has undergone many transformations, with the most popular being 1957's hit Broadway musical, West Side Story.
The historical feud between Mary, Queen of Scots and England's Queen Elizabeth I provided the source material for Friedrich Schiller's play, Mary Stuart (1800), and Gaetano Donizetti's opera, Maria Stuarda (1835).
America's most famous family feud involved the Hatfields and McCoys.
In 1819, Sir Walter Scott published an historical novel entitled The Bride of Lammermoor. Scott's story revolved around the tensions between the Ashton and Ravenswood families, with young Lucy Ashton secretly falling in love with Edgar, Master of Ravenswood. When Donizetti adapted the story for his opera, Lucia di Lammermoor, not only did he create a tuneful and tightly-woven score, he also crafted the most famous mad scene in all of bel canto opera.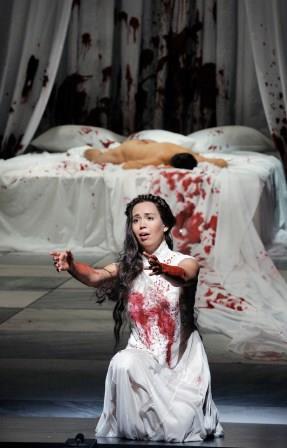 Nadine Sierra as Lucia (Photo by: Cory Weaver)
The San Francisco Opera unveiled a new production of Lucia di Lammermoor this fall that updated the action away from the 19th century and placed it in some indefinable era that could preserve the basic tensions of Scott's novel while trying to portray the power struggle between the Ashton and Ravenswood families as involving not just a patriarchal struggle for dominance between two Scottish clans, but a case of potential corporate ruin as well. As director Michael Cavanagh explained:
Our production of Lucia takes a modern-mythic approach to this great work. The setting is a dystopian near future, where the intense pressures of mega-corporate deal-making are akin to the great inter-family alliances of yesteryear. The production's clean lines and imposing structures create a world that is at once oppressive and starkly beautiful. The production, then, stands as a memorial to eternal love, and serves as a warning to those who would put ambition ahead of family and thus forsake our connections to the past.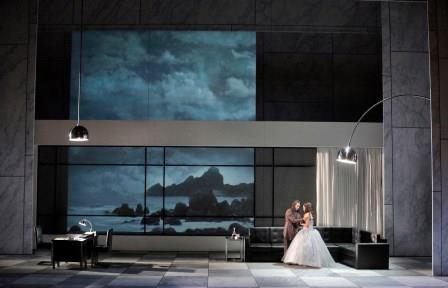 Enrico (Brian Mulligan) confronts Lucia (Nadine Sierra) in a scene
from Donizetti's Lucia di Lammermoor (Photo by: Cory Weaver)
With impressive scenery and projections designed by Erhard Rom, costumes by Mattie Ullrich, and lighting by Gary Marder, the production's rich visuals were strengthened by the use of forced perspective and, in the wedding scene, a cluster of giddily sculpted floral hats for the female chorus.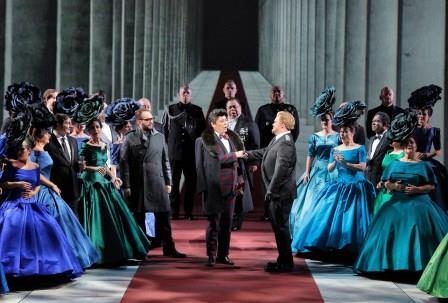 Normanno (AJ Glueckert), Arturo (Chong Wang), and Enrico
(Brian Mulligan) in the wedding scene from
Lucia di Lammermoor (Photo by: Cory Weaver)
While some traditionalists in the audience were horrified by the look of San Francisco Opera's new production, I was absolutely thrilled by it. The design concept created the kind of dramatic tension which has long evaporated from most stagings of Donizetti's opera. The ghost of a girl killed by one of Edgardo's jealous ancestors (which Lucia describes to her maid, Alisa) as well as the ghost of Enrico (which her brother describes as the way he will haunt her if her lack of cooperation forces him to commit suicide) made prophetic appearances at key moments in the opera.
Blessed with two leads who could act and sing the living daylights out of their roles, Michael Cavanagh's stage direction provided Scott's lovers with the kind of tender and amorous body language it could easily relate to.
Nadine Sierra (Lucia) and Piotr Beczala (Edgardo)
in a scene from Act I of Lucia di Lammermoor
(Photo by: Cory Weaver)
Looking a lot more tribal than his rich sponsors, Nicolas Testé made an impressive company debut as Raimondo (the Ashton family's religious counselor). Zanda Švede (Alisa) and AJ Glueckert (Normanno) excelled as Lucia's servant and Enrico's henchman. Fresh from his starring run in Sweeney Todd: The Demon Barber of Fleet Street, Brian Mulligan's booming baritone brought a new sense of economic desperation to Enrico's attempts to manipulate his sister into marrying Arturo (Chong Wang).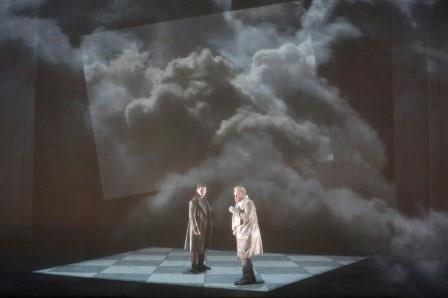 Edgardo (Piotr Beczala) confronts Enrico (Brian Mulligan) in the
Ravenswood scene from Donizetti's Lucia di Lammermoor
(Photo by: Cory Weaver)
However, there was never any doubt that the evening belonged to the two leads. This was the kind of production where Lucia looked physically (as well as mentally) fragile while her Edgardo was obviously not just a lover, but a hero to the young girl.
Thanks to Nicola Luisotti's propulsive conducting, soprano Nadine Sierra (a former Adler fellow who was drafted to replace an ailing Diana Damrau) and tenor Piotr Beczala brought the house down with a winning combination of their solid musicianship, clean singing, and impassioned acting. Unlike so many performances I've seen in the past, there was no exodus of opera queens following Lucia's mad scene. Instead, the San Francisco audience was stoked and eager to hear Beczala deliver Edgardo's death scene.
Under Ian Robertson's direction, the San Francisco Opera Chorus sounded magnificent. This handsome new production was a triumph for David Gockley's administration in its final year of leadership. The following clip contains some footage from the the production.
While Lucia's descent into madness is engineered by her brother's insistence that she marry someone other than her true love, the foundation for Ada Lovelace's romantic problems has been solidly constructed by her overbearing mother who, after a year of marriage to a famous (and famously philandering) poet, was abandoned with an infant in her care.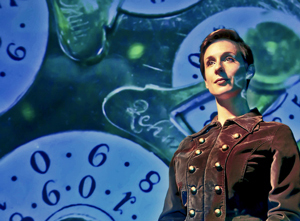 Kathryn Zdan stars in the Central Works world premiere of
Ada and the Memory Machine (Photo by: Jim Norrena)
Because Lord Byron abandoned his wife a month after their daughter was born and left England barely four months later (his subsequent offspring were all born out of wedlock), Ada's mother became a bitter harridan determined to protect her only child from societal gossip about the father Ada never knew. To ensure that her daughter did not succumb to the evil influence of poetry, she focused Ada's attention on the study of mathematics. As playwright Lauren Gunderson explains:
Central Works recently presented the world premiere of Gunderson's new play, Ada and the Memory Machine, starring Kathryn Zdan as Ada with Jan Zvaifler portraying Ada's bitter mother as well as her tutor, Mary Somerville (a polymath in an era when women were discouraged from participating in science). However, after Ada meets Charles Babbage (Kevin Clarke), a polymath whose attention is easily distracted by his next brilliant idea, she finds herself falling in love with a man whom she can bond with on an intellectual level but who remains emotionally unavailable.
Ada's mother had been carefully preparing her daughter for an arranged marriage to William King-Noel (the First Earl of Lovelace). A man who lacked Ada's intellectual strength and would have preferred to have a dutiful wife who could simply provide him with children, Lovelace initially tried to cut off any communication between Ada and Babbage.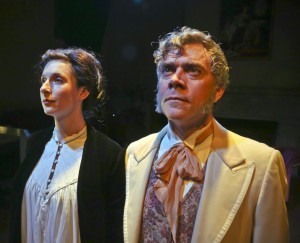 Kathryn Zdan (Ada Lovelace) and Kevin Clarke (Charles Babbage) in
a scene from Ada and the Memory Engine (Photo by: Jim Norrena)
After Ada married the Earl of Lovelace on July 8, 1935, the couple had three children. When she died of ovarian cancer (on November 27, 1852), Ada was the same age as her father when Lord Byron perished. In the final months of their illnesses, both father and daughter may have been weakened by the popular practice of bloodletting. By the time of her death, Ada (who had planned for Babbage to be the executor of her estate) was completely alienated from her hyper-religious mother.
In recent years, Lauren Gunderson has written some exquisite plays about intelligent women making major breakthroughs in the fields of mathematics, philosophy, and science.
In Silent Sky, she dramatized the true story of a 19th-century female astronomer named Henrietta Swan Leavitt who discovered the relationship between the luminosity and the period of Cepheid variable stars -- a staggering achievement that her male colleagues were initially reluctant to acknowledge could have been made by a woman.
In EMILIE: La Marquise du Châtelet Defends Her Life Tonight, Gunderson penned a romantic epic wherein the protagonist must defend her life by tallying her achievements in love and philosophy while searching for a scientific formula that can convince the world of her worth.
What Gunderson achieves in Ada and the Memory Engine is quite remarkable. She manages to capture the cognitive energy and intellectual intimacy that can strengthen a friendship and make it so much more important to an individual than the physical and amorous intimacy dictated by an arranged marriage. In addition, she manages to show the Earl of Lovelace's growing awareness that, while by his rights as a husband, he should have his wife's first allegiance in body and soul, as a man he cannot stimulate her mind as well as another man who, in addition to worshipping Ada, is her intellectual peer.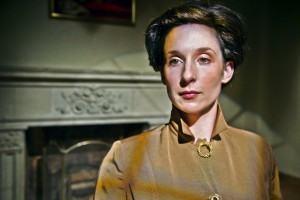 Kathryn Zdan stars in the world premiere of Lauren Gunderson's
new play, Ada and the Memory Engine (Photo by: Jim Norrena)
The play's final scene (which Gunderson wrote first), tackles the age-old question of what happens in the afterlife -- especially with regard to a person blessed with a brilliant mind. After Ada dies, she realizes that she was depending on too many numbers to make Babbage's memory engine function properly. At first, she thinks she should have used only two numbers (1 and 2), but then realizes that the correct numbers should be 1 and 0 (which later became the basis of computer programming).
Having left her fleshly body behind, she also has the long-desired opportunity to finally meet her father, Lord Byron, in the afterlife and discover the influences he has had on her emotional and intellectual development. It's a fascinating scene, beautifully acted by Joshua Schell (who also plays Ada's husband) and Kathryn Zdan and exquisitely directed by Gary Graves. The final moments of the play are underscored with music composed by The Kilbanes that is set to verses from Lord Byron's poetry. As Gunderson notes:
Ada has the mind of a mathematician and the heart of a poet. She is fueled by curiosity and joy, but is constantly battling stress and a painful diagnosis of ovarian cancer. She commits to her passions fully. She tries to follow the rules of her day, but has no problem asserting herself. She has been weak her whole life, but her creativity and acumen strengthen her. She is a mother of three and is friends with her husband, but not in love with him. She harbors a sadness from growing up without a father. She thinks that he would have liked her, been proud of her. She will never know. She adores Babbage and has always wondered what would have become of her if she married him instead. When she dreams, she dreams of impossible things that only the future will see.

Ada is a play I've been wanting to write for years. When Central Works approached me to consider working with them on a new play, I immediately thought it was a perfect match. Their commitment to producing brand new plays, their interest in history onstage, and their flexible aesthetic and productive process meant we could make this thing together and make it something special.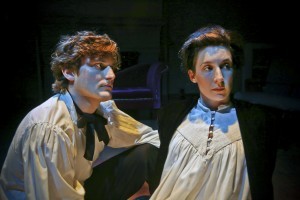 Joshua Schell (Lord Lovelace) and Kathryn Zdan (Ada) in a scene
from Ada and the Memory Engine (Photo by: Jim Norrena)
It should be noted that Ada and the Memory Engine was not just the 49th world premiere produced by Central Works, but the final offering in the 25th anniversary season for this Bay area theatre company known for its "organic" process of creating plays. Tenderly directed by Gary Graves (with handsome period costumes by Tammy Berlin), Ada and the Memory Engine is a rare and special artistic achievement: an intelligent play about intelligent historical people that has been crafted by intelligent theatre artists for an intelligent audience.

Poster art for Ada and the Memory Machine
In an era when people are constantly bemoaning the lack of women in science and mathematics, I was lucky enough to attend performances of David Auburn's play, Proof, and Ada and the Memory Machine on successive Sundays. Together, these plays (coupled with Gunderson's Silent Sky) offer a fascinating curriculum for book clubs and those teaching courses in women's studies.
REAL LIFE. REAL NEWS. REAL VOICES.
Help us tell more of the stories that matter from voices that too often remain unheard.