Quicken Loans founder and chairman Dan Gilbert spent 2011 buying up Detroit skyscrapers, brownstones and parking lots to add to his portfolio of downtown holdings. He even formed a new company, Bedrock Real Estate Services LLC, to manage his real estate ventures.
After three final purchases along Woodward Avenue closed last week, Gilbert now owns seven buildings in downtown Detroit, two parking structures and a parking lot. He controls 1.6 million square feet of space, making him the third-largest landlord in Detroit, behind the city and General Motors.
While the private dealings are undisclosed, in September Gilbert paid $176,000 for the building at 1550 Woodward in the Wayne County Tax Auction, records show. Last week he closed on the Lane Bryant building at 1520 Woodward and the Arts League of Michigan building at 1528 Woodward, both through the city's land bank, and the Wright-Kay Building at 1500 Woodward.
In addition to these properties, Gilbert's portfolio includes (in order of purchase) the Madison Theatre Building, Chase Tower, the Two Detroit Center parking structure, the First National Building, the Dime Building and adjacent Financial District Garage, and the Madison parking lot. He's also leasing 244,000 square feet in four floors of the Compuware Building for Quicken Loans' headquarters, and has the rights to develop the former Hudson's department store site next door.
See a map of Gilbert's holdings below: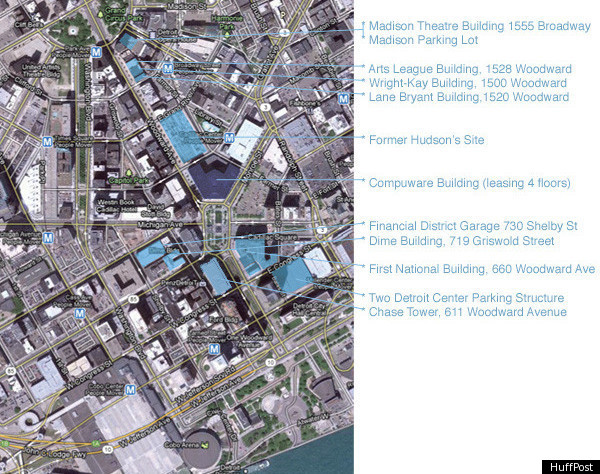 Jim Ketai, the managing partner of Bedrock Real Estate, said the 2011 acquisitions are just "phase one" of Bedrock's move into downtown real estate and development. He said he doesn't know what phase two is, but the company "would like to have more in the future."
Bedrock's focus now will be on renovating its newly acquired property, and quickly. Ketai gave an eight to 12 month timeframe for finishing renovations on the three new properties. And he's not ruling out future acquisitions in 2012.
Ketai cited the need for more residential space as well as additional amenities for potential residents."There's no question the city needs more residential right now; it's full," he said.
Brian Holdwick, the vice president of business development at the Detroit Economic Growth Corporation, agreed.
"We have more demand for residential than we have product," he said.
But Gilbert and Bedrock are banking on the demand for redeveloped housing downtown and along the Woodward corridor.
"We'd love for it to continue to expand, and for Downtown and Midtown to run into each other I think would be great," Ketai said. "They're both very much expanding areas."
CORRECTION: An earlier version of this article confused the Wright-Kay Building and the building at 1550 Woodward Ave. The Wright-Kay building is located at 1500 Woodward Ave., and was bought for an undisclosed amount. The building at 1550 Woodward was purchased at auction, but the sale has not yet closed.
Popular in the Community