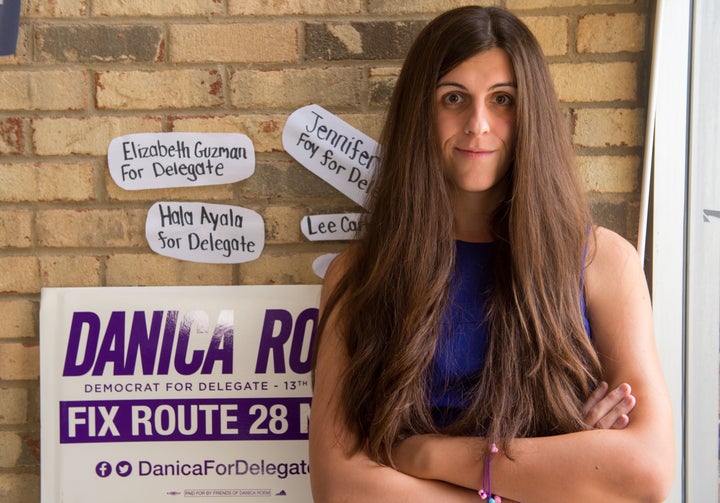 Democrat Danica Roem defeated Virginia Del. Bob Marshall (R) on Tuesday, becoming the first openly transgender state lawmaker in Virginia.
Roem is now delegate-elect for Virginia's 13th House of Delegates district, which includes outer suburbs of Washington.
Roem's historic victory, which was called about an hour after polls closed, elated LGBTQ advocates. The outcome was that much sweeter because Marshall co-sponsored a 2006 Virginia constitutional amendment banning same-sex marriage that prompted LGBTQ activists to dub him "Bigot Bob." Marshall, who once referred to himself as Virginia's "chief homophobe," also introduced the bill that would have banned transgender public school students from using the bathrooms of their choice.
"Tonight voters chose a smart, solutions-oriented trans leader over a divisive anti-LGBTQ demagogue – sending a powerful message to anti-trans legislators all across the nation," Aisha Moodie-Mills, president of the Gay & Lesbian Victory Fund, said in a statement. "Danica defeated 'Bigot Bob' Marshall not because she is transgender, but because she presented a positive vision for her constituents that will improve their lives."
Roem ran in one of 17 GOP-held districts where Clinton prevailed in 2016. Her early win suggested that Democrats were on their way to a good night at the polls.
Roem ran on a platform of improving the state's infrastructure, including State Route 28, raising teacher salaries, and championing LGBTQ and immigrant rights.
Although many civil rights groups have hailed Roem as the country's first openly transgender state lawmaker, Stacie Laughton, an openly transgender woman, won a seat in New Hampshire's legislature in 2012, but Laughton resigned before taking office.
CORRECTION: A previous version of this story incorrectly stated Roem was the first trans state lawmaker in the country.
Support HuffPost
The Stakes Have Never Been Higher
Popular in the Community